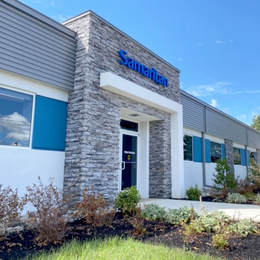 Sponsored Content: A Pillar of the Community
Celebrating its 40th year with a new name, Samaritan maintains its longstanding commitment to providing the highest-quality, compassionate hospice and health care services to the residents of South Jersey.
The vision of the modern-day hospice was still in its infancy back in 1980, but that did not stop a small group of volunteers in Moorestown. They were determined to ensure that hospice care was available to help South Jersey residents live their final months at home with comfort, dignity and quality of life. Little did Samaritan's founders know just how groundbreaking and influential their endeavor would be.

Four decades later, the not-for-profit remains true to its local roots, celebrating its 40th anniversary with several significant announcements, including a new brand, the move of its administrative headquarters to Mount Laurel, and the addition of services designed to provide extraordinary compassion and professional expertise for people living with serious illness or grief.

"We're so grateful to our founders for having the vision and determination to establish Samaritan," says President/CEO Mary Ann Boccolini. "They made a difference in the world, paving the way for us to be the region's preferred provider of life-enhancing care and a leader in the advancement of coordinated, person-centered care.

"We're proud of our legacy of service, caring for tens of thousands of patients and those who care about them. We appreciate our staff, volunteers, donors and community partners who have helped us reach this milestone in our history. We will remain committed to providing hospice care and palliative medicine right here in South Jersey, and now we're expanding to help more people in more ways."

Samaritan was one of the first hospices in the country. Its founders helped lobby Congress to enact the Medicare Hospice Benefit in the early 1980s. That landmark decision opened the door for millions of people to have full Medicare coverage for the helpful range of services included in the Hospice Benefit. In the ensuing years, Samaritan has broadened its scope to include palliative medicine, primary care, grief support, education, and advocacy. Complementary massage and music therapy and volunteer services provided added support. Samaritan's We Honor Veterans program provides specialized care for those who have served in the military.

To recognize all of these services in addition to hospice, the organization is announcing a new brand this month with the powerful, overarching Samaritan name, accompanied by the tagline "Life-Enhancing Care" to convey the intent for all the services provided by the organization's staff.

"We want people to know that we provide a variety of services to help them earlier," Boccolini says. "It's not just about the end of life; it's about enhancing your life."

The latest offering is Samaritan's expansion into primary care through the HomeVisit Physicians group. Dr. Kenneth Giacobbo and his team make house calls to homebound patients to provide the full range of primary care services where they live.

"We're always looking at new ways to meet the needs of our patients," says Dr. Stephen Goldfine, Samaritan's chief medical officer. "When we see patients earlier, we can be even more effective at coordinating care and help people remain in the comfort of home."

Dr. Goldfine is also proud of how Samaritan's palliative medicine services have grown since being introduced in 2009. An approach that alleviates pain and side effects from serious illness or treatment and helps patients express their goals of care, palliative medicine can be helpful from the moment a person becomes ill. Studies have even shown that patients receiving palliative care may live longer with a better quality of life.

"One of our early successes was a young woman in her 30s with lupus, who was hospitalized for pain every other week," Dr. Goldfine says. "With our palliative services, she lived at home for another 18 months, pain-free with her symptoms under control. She reported improved quality of life and reengaged with her family and faith community. It really showed what palliative medicine can do for patients."

Throughout the COVID-19 pandemic, Samaritan has continued to care for patients with no interruption of service. The team implemented protocols to keep staff and patients safe so that nobody would have to be turned away. One of its two inpatient hospice centers was converted to a dedicated COVID unit, telehealth services were implemented, and resources to relieve stress and anxiety were developed.

That ability to adapt and respond exemplifies Samaritan's capacity for innovation time and time again. With continued support from generous donors—many of whom support the Samaritan mission in appreciation for the care of a loved one—the organization will honor the same commitment for the next 40 years and beyond.

"Our patients are the heart of everything we do," Dr. Goldfine says. "Our entire organization is committed to providing high-quality care to patients and those who care about them, with empathy and compassion."

Boccolini adds, "We live here, we work here, and we care for our neighbors, our friends and our families. We're an essential part of our local community and we're so proud and grateful for that."

Samaritan
Life-Enhancing Care
3906 Church Road | Mount Laurel
888-550-4169 |

SamaritanNJ.org





Click here

to subscribe to the free digital editions of South Jersey Magazine.



To read the digital edition of South Jersey Magazine, click here.

Published and copyrighted in South Jersey Magazine, Volume 17, Issue 4 (July 2020).

For more info on South Jersey Magazine,

click here

.


To subscribe to South Jersey Magazine,

click here.


To advertise in South Jersey Magazine,

click here.