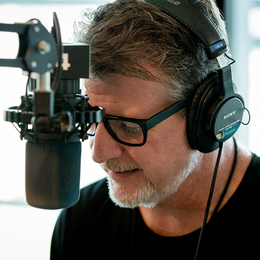 Getting Personal
Preston Elliot, co-host of the area's No. 1 rated radio program, WMMR's Preston & Steve show, on being a pinball wizard, his love for the Beatles and his former obsession with coffee creamer.
When I was in eighth grade I used to do an impression of Wolfman Jack
and was asked to emcee a couple of school events and PA announcements. He was before my time, but I was aware of him from when I was kid and seeing him on The Midnight Special and in American Graffiti. He was a cool character. I can't do the voice anymore though, it would hurt my throat.
I have a black belt in the Israeli martial art of Krav Maga
. But, since I obtained that belt five or six years ago, my shoulder is all messed up and I can't train anymore. However, I think in a fight or flight scenario, I have a little more fight in me and I can defend myself if necessary.
I will beat you at pinball
. I don't own any machines or have a go-to game, but if I happen to be in the vicinity of one, I'll jump on to show that I still got it.
I used to go indoor skydiving weekly
. I'm a thrill seeker, as long as I don't get hurt. It's an awesome sensation and I found it exhilarating. I tried regular skydiving before and it scared me. I did it again because I thought maybe I was too scared and didn't give it a chance, but it was just as bad and I never did it again.
I have ASMR
and the sound of someone typing on a keyboard can relax me to an almost hypnotic state.
I have an absolute undying love for the music of the Beatles and always will
. I can pinpoint one song or album as my favorite; it changes from time to time depending on my frame of mind. But Paul McCartney would be my favorite Beatle. I sat down with him for a face-to-face interview when I was a young, green broadcaster in my 20s. He was gracious, sweet and everything you wanted him to be. I'll never do an interview in my career bigger than that with regard to my own personal fandom. I could interview heads of state, the Pope, it wouldn't match Paul.
My family and I are avid escape room junkies and try to do them weekly
. We are puzzle people, we like brain teasers. My whole family, we do these murder mystery kits that come in the mail where you look at all the evidence and try to follow the steps. It took us a month to figure one out, but they are great.
I have a small freckle on my right earlobe
. I've always been conscious of it, especially every now and then when I find a hair growing out of it. When I was kid, people would think my ear was pierced.
I broke both of my arms at the same time by sliding down a banister once
. I was probably 19 years old at the time, drinking underage as one might imagine. I was over at a friend's girlfriend's house whose parents were out of town. They had this big mansion with a spiral staircase
that went around the rotunda of the front room of their house. I made it two feet and fell all the way to the ground. I passed out and woke up and was like, uh oh, something is wrong.
When I was a little kid I would drink coffee creamers straight out of the containers.
If I was in a restaurant that had those little dishes with six or eight of them in there, I'd drink them all. I'd slam them and then go to other tables if the restaurant wasn't busy and go get the other ones. These days, I take my coffee very creamy and sugary.


Click here
to subscribe to the free digital editions of South Jersey Magazine.
To read the digital edition of South Jersey Magazine, click here.

Published and copyrighted in South Jersey Magazine, Volume 17, Issue 4 (July 2020).

For more info on South Jersey Magazine,

click here
.

To subscribe to South Jersey Magazine,

click here.


To advertise in South Jersey Magazine,

click here.