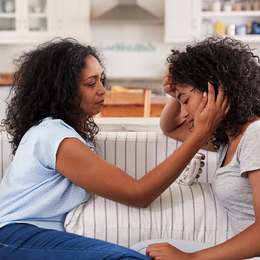 Something to Talk About
Addressing the realities of the pandemic with kids of all ages.
In the throes of her senior year at Bishop Eustace, Julia Gatelein and her classmates had to deal with the loss of some of life's most memorable moments. "They missed everything, but I think she was most sad about missing her senior trip," says Julia's mom, Kim Gatelein. "I think there was some hope in the beginning because things were just pushed back, but then when they were canceled, we saw the writing on the wall that she would not be going back to school. She said several times, 'I didn't realize that day was going to be my last day seeing my friends and teachers together. I would have done things differently.'"
Although Julia is old enough to understand the news surrounding the coronavirus pandemic and the need to slow the spread and keep the community safe, her feelings of sadness are still valid. "She and the other seniors worked very hard to get where they got, and she felt it was unfair," says Gatelein, of Haddon Heights. "And then there was the anxiety of daily life, what we could or couldn't do, if people would be OK. We made sure to keep talking about it with her and my 16-year-old son Jackson. We wanted them to know it was OK to be sad about the things they were missing."
Cherry Hill's Julie Robinson had to deal with the same anxieties of the unknown but with younger children, 6-year-old Sadie and 4-year-old Samantha. Information had to be simplified somewhat.
"Sadie learned about coronavirus at school. Her teacher went through handwashing lessons and she came home and told us about it," says Robinson. "After schools closed, we explained that a lot of people were getting sick, some just had feelings like a cough or flu, but others were getting really sick but we didn't know who had it."
As time has passed, Robinson says it's been hard for Sadie to not see her friends. "We have since seen her best friend but only outside and she asks me why I won't let them play inside and why I'm being so serious," she says. Remote learning was challenging too. "I fought with Sadie to stay focused. She would slump and roll on the floor while doing her lessons."
Robinson says her own anxiety skyrocketed in those early weeks. "I felt like I couldn't eat. Not everyone around us had caught up to how serious this was, so there was a disconnect with how I felt and what was happening around me. It made me anxious but now it's just more manageable," she says.
"For parents to have this job of appearing calm and providing a sense of control when they themselves are scared is the hardest thing," says Dr. Sheryl Berardinelli, senior neuropsychologist at Bancroft. "Kids are distance learning, not seeing friends, but parents are also juggling, managing schedules and activities, checking homework and somehow remaining calm and reassuring."
Children pick up on stress in adults, which is why Berardinelli says parents should continue having conversations with their children and check in on their thoughts. "Children need simple and honest information. It's not recommended to lie or avoid the topic. Take cues from them on what they are ready to absorb. Unnecessary details may confuse or increase their anxiety, and it's OK if you don't know the answer. If your children are older, you can seek that information out together."
Kami Reitano, a resident of Washington Township, has three sons, ages 10, 7 and 3. She and her husband Dom have had to temper the information based on the age ranges. "We really only told them what was necessary or answered their questions when it arose," she says. "Our oldest understands the magnitude of the virus and how people were getting very sick from it and dying and our 7-year-old understands to a degree but we've held out on the details that we hear from social media and the news because that's something I don't think boys at their age should have to process. It's too much for me to process at times!"
Teenagers who are more media-savvy may see an increase in anxiety depending on where they are getting their news. "If they see things that are sensationalized or that only highlight the negative, parents should talk to them about where the information is coming from, and it might be time for a break or to turn off social media," Berardinelli says.
Parents also have to be more observant to ways younger children may express anxiety. "They can't verbalize so it presents differently. They might talk about headaches, tummy aches, unexplained body pain, act withdrawn or become overly affectionate," says Berardinelli. "Parents can be a role model in practicing self-care—taking breaks, resting, exercising and connecting with family and friends. We have been using the phrase 'social distancing' but really it's physical distancing while maintaining social connections."
Gatelein says her daughter focused on running and field hockey training as an outlet for her mental health. "She'll be going to Lehigh University for field hockey in the fall, so she's been working on drills, staying active. … At night we've played a lot of games as a family."
"We have had weekly family movie nights," says Reitano. "We've had them in the past but with quarantine it's opened up much more time to do family things. And now that it's summer, we can go out back and swim in our pool. That helps get the energy out."
Berardinelli says this increased quality time is a welcome fringe benefit of the pandemic. "Some children are feeling reduced stress. Many of them had packed schedules with sports and activities and now find themselves with the freedom to be bored and be with family," she says. "Playing games together teaches valuable social skills—how to take turns, how to negotiate, communicate, cope with losing."
There is no way yet of knowing the long-term impact of this pandemic but as the school year approaches, anxieties could creep up again. Robinson says she is waiting for the school district to come up with the final plan for what school will look like in the fall. "I haven't talked [to the kids] about masks or how school might change because I really have no idea, so I don't want to put it out there," she says.
As of now, Gatelein's daughter will be on campus in the fall. "It will be good for her to get away and be on her own. It's a little scary, but she's a responsible kid who knows what's going on and who will listen to her professors and coaches. ... We try not to live in fear of things. We have to live life to the best we can."



Click here

to subscribe to the free digital editions of South Jersey Magazine.



To read the digital edition of South Jersey Magazine, click here.

Published and copyrighted in South Jersey Magazine, Volume 17, Issue 4 (July 2020).

For more info on South Jersey Magazine,

click here

.


To subscribe to South Jersey Magazine,

click here.


To advertise in South Jersey Magazine,

click here.