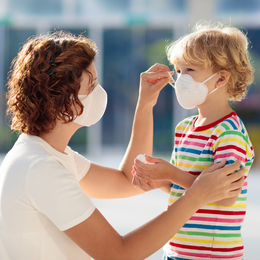 Learning to Adapt
Coping with the coronavirus crisis has been difficult to say the least, but a resilient South Jersey continues to find a way.
When the COVID-19 pandemic arrived at our doorstep in March and turned our world upside down, we knew little about the coronavirus, let alone how to manage it. The unknown aspects of the disease combined with the uncomfortable changes to our daily lives only enhanced the angst and frustration. While we are unquestionably in a better position today than we were back in the spring, the arduous road ahead will continue to test our resilience and resolve.
As part of our ongoing coverage of this crisis, this month we wanted to examine how we are dealing with some unique challenges. We spoke with leaders from local hospitals to get a better understanding of what it's been like for them to manage the pandemic and steer our health care systems' response. Their collaborative and calculated approach made a big difference, but they know the work is far from over.
With the return to school looming this fall, there will be noticeable changes that will alter our educational system. We wanted to hear from several teachers and parents about their concerns—both safety-wise and scholastically as students juggle in-person socially distanced learning with virtual home schooling.
During these tough times, folks have increasingly turned to their religion, albeit in newfound ways. We talked with people of various beliefs to find out how they've banded together and found strength in one another during these tough times. While the way they worship may be different than what they are accustomed to, their dedication to their faith is unwavering.
Lastly, we examine why it takes more than a one-size-fits-all approach when it comes to talking to your children about the pandemic. As kids have their daily routines interrupted and deal with the sting of missing out on major milestones, expressing the range of emotions can be difficult for them to convey. But, with some expert advice, traversing this new terrain doesn't have to be so intimidating.

Click to Read: Banding Together
Leaders from across South Jersey health care systems provide an inside look at managing the COVID-19 pandemic.



Click to Read: Learning the Hard Way


The typical school day will look very different this fall as the pandemic forces changes to our educational system, but are educators and parents ready for what lies ahead?



Click to Read: Relying on Faith


In this time of social distancing, local religious communities are finding unique ways to strengthen their spiritual bond.



Click to Read: Something to Talk About


Addressing the realities of the pandemic with kids of all ages.



Click here

to subscribe to the free digital editions of South Jersey Magazine.



To read the digital edition of South Jersey Magazine, click here.

Published and copyrighted in South Jersey Magazine, Volume 17, Issue 4 (July 2020).

For more info on South Jersey Magazine,

click here

.


To subscribe to South Jersey Magazine,

click here.


To advertise in South Jersey Magazine,

click here.