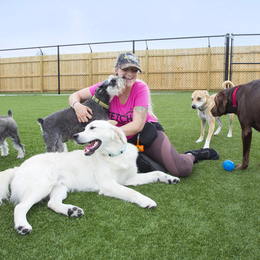 Sponsored Content: A Pet Paradise
Fetch Pet Resort is the newest, state-of-the-art pet resort in Gloucester County offering luxury dog and cat boarding, doggie day care, bathing and training.
Gloucester County recently welcomed a brand-new, state-of-the-art pet resort that caters to every dog and cat that enters through its doors. Fetch Pet Resort opened in mid-February, providing a home away from home for local dogs and cats that may need boarding or day care.
Owner Michael McIntyre saw how animals within the Sewell community were being caged in kennels when they were boarded, inspiring him to create his own facility where animals were treated like royalty. He wanted dogs and even cats to have plenty of space, lots of attention and to be able to feel at home while they were being boarded.
"I saw the need for an upscale pet care facility in the area that also offered 24-hour-a-day staffing and flexible pickup and dropoff," says McIntyre. "We offer 24/7 care which most places don't have because their staff leaves overnight, but our animals are never left alone. Our staff are highly trained. They go through a 12-15-hour online training class as well as 8-10 hours of on-the-job training before they are with the dogs on their own. Each staff member is also CPR trained."
Not only are all of the staff members professionally trained but they also provide every animal in the resort with extra love and attention. Cuddles are given often, each animal has special one-on-one attention, they have bedtime stories and so much more to make their stay feel like home. The facility offers plenty of indoor and outdoor space for the dogs to run around and explore as well as offering suites and penthouses that are designed for comfort. The pups even have a bone-shaped splash pad to play in during the warmer months.
"For our suites the dogs have their own private large room with beds and blankets and they always have water when they are in there. The suites are super clean with
special custom doors, and raised beds," McIntyre says. "Then we also offer luxurious penthouses which have large beds with headboards and they come with a bedtime belly rub, gourmet treats, their own individual TV and a window. Each penthouse is decorated like seashore houses, all named after the Shore points in Jersey and the exterior looks like little Shore houses."
"A lot of dogs are used to having a TV on when they are home, so a little TV and background noise can be soothing for them and makes them feel at home," adds Carolyn Lapps, the general manager of Fetch Pet Resort. "The app that we typically put on for them on the TV is called Dog TV. Often we put on the relaxation station so there is some calming music for them."
Every dog that stays at Fetch Pet Resort is given special pampering, to ensure that they feel at home or on vacation. Fetch also provides these services for dogs that don't really play well with other dogs. These pups spend their days playing one-on-one with the staff instead of in a play group with other pups.
"When dogs board individually, they are given their own play yards and they get private one-on-one time with our staff, including cuddle time or playtime and story time," McIntyre says.
Dogs are not the only animals that enjoy the resort. Cats are able to enjoy the fun at Fetch Pet Resort as well, with extra attention and plenty of space to explore.
"We have cat condos, which are full-size rooms with luxury cat trees in there that they can climb on and play in," McIntyre says. "We have a cat cuddler who comes in and plays with each cat individually because cats don't typically play with each other. So there's a lot more one-on-one time with the cats and then they kind of stick to themselves in their suites but they have plenty of room to move around and explore."
Fetch Pet Resort offers luxury dog and cat boarding as well as a high-quality doggie day care. Within their facility they have four indoor play yards as well as 18,000 square feet of special canine turf outside for the dogs to play on so they do not tear up their paws or get dirty. There are four big outdoor play yards including a 50-foot-long, bone-shaped splash pad, along with three more, large play yards. All the pups that attend the daycare have a ball and wear themselves out playing with their friends. The pups' parents love picking them up as a pooped pup that is ready to relax with their owners when they get home.
"The splash pad is located in one of the big play yards and we can have a group of dogs in there allowing them to go in and out of the splash pad as they please," says McIntyre. "Since we have a lot of dogs, especially labs, that love water and love to play, we are going to make sure that they have that option to go into the water and cool down, especially during the summer months."
After all of the fun and excitement is over, each dog can enjoy a luxurious bath along with nail trimming and ear cleaning, per their owner's request, to ensure that they are nice and clean when it's time to go home.
"We have different types of shampoos, conditioners and luxury bath products," Lapps says. "We do nail trimmings, ear cleaning, teeth brushing—we basically do everything that a groomer would do except cut hair."
"We also do daily wellness checks with all the animals. It's a nose-to-tail checkup every day when they come in and when they leave to make sure that they are healthy," adds McIntyre. "When they are boarding with us, we weigh them every day to make sure they are eating enough and remaining healthy during their stay with us at Fetch Pet Resort."
Fetch's goal is to provide a safe and fun vacation or day of play for every pet that walks through their doors. Why should humans have all the fun?
284 Delsea Drive |
Sewell
Click here to subscribe to the free digital editions of South Jersey Magazine.

To read the digital edition of South Jersey Magazine, click here.

Published and copyrighted in South Jersey Magazine, Volume 17, Issue 3 (June 2020).

For more info on South Jersey Magazine, click here.
To subscribe to South Jersey Magazine, click here.
To advertise in South Jersey Magazine, click here.