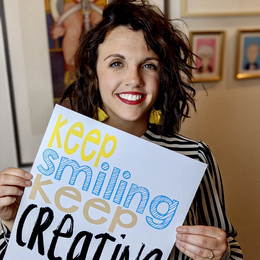 Names to Know
Local people achieving big things in South Jersey and beyond.

Lauren D'Alessandro
For the past seven years, Lauren D'Alessandro has been the art teacher at Centre City School in Mantua, using her artistic ability to help others. She has become fond of the 3D printer the school has, but in March when schools closed for the coronavirus, she used her talents for the greater good by creating more than 1,000 mask extenders for local health care workers. These extenders help to provide comfort for those who have to wear a mask for long periods of time.
Charles Klaus
Haddonfield Memorial High School principal Charles "Chuck" Klaus was recently appointed as superintendent of the Haddonfield School District. He has served as assistant superintendent for the past two years. Klaus began at the district in 1994 as an English teacher and wrestling coach, quickly growing through the ranks to become assistant principal of Haddonfield Memorial High School, then principal of Central Elementary School before becoming principal of the high school.
Rebecca Benjamin
At 10 years old, Rebecca Benjamin started her very own nonprofit, Rebecca's Mission, where she would distribute books to underserved children in her area. Now, seven years later, Benjamin has continued her passion to encourage reading by broadening her distribution areas and including in-class visits. Even during the coronavirus lockdown, the 17-year-old has continued to distribute her books in creative but safe ways such as giving away books during school lunch distributions.
Marly Gates
With the coronavirus lockdown in place, many domestic abuse victims are suffering, which inspired Cherry Hill East senior Marly Gates to create toiletry bags filled with all essential necessities a woman may need. Many people in her community were eager to help her by donating bags, accessories, lip balm, toothpaste, makeup, mini-deodorants and so much more. Each bag gets donated to a shelter for domestic abuse victims.
Miriam Gilbert
Miriam Gilbert, a Voorhees resident, has been raising money for her GoFundMe campaign, Ultra Care for Cancer Caregivers, in order to provide financial assistance, self-care and respite for those who are taking care of a cancer patient. Gilbert is a cancer caregiver for her husband, and during Mother's Day weekend she ran an ultra—an endurance run that is longer than a marathon—before participating in the Dawn to Dusk to Dawn 24-hour virtual 50K and Solo Challenge in her neighborhood, where she was able to show her support for all cancer caregivers.
Brett Levin
As the owner of MHS Lift, Brett Levin has made it his mission to provide help, hope and home for families with seriously ill children. MHS Lift established a scholarship that partnered with Rowan University and the Boys and Girls club of Camden County to provide a four-year full academic scholarship as well as room, board and books. Levin is a board member of the Ronald McDonald House where he hopes to offer a new perspective to help them better serve children and families.


Click here to subscribe to the free digital editions of South Jersey Magazine.

To read the digital edition of South Jersey Magazine, click here.

Published and copyrighted in South Jersey Magazine, Volume 17, Issue 3 (June 2020).

For more info on South Jersey Magazine, click here.
To subscribe to South Jersey Magazine, click here.
To advertise in South Jersey Magazine, click here.