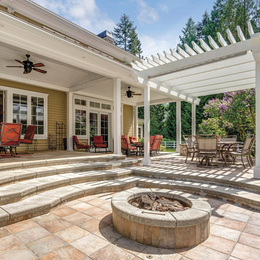 This Old House
Remodeling projects have been top of mind as we spend more time than ever at home.
With millions of people forced to shelter in place these past few months, the increased time spent indoors has led many to begin crafting their home improvement wish lists. Whether it's time for that dream kitchen or bathroom, creating a more functional outdoor living space, or updating the home's exterior to boost curb appeal, remodeling interest is rising as more and more folks look to utilize their home increasingly in the coming summer months.
But, of course, the pandemic has altered so many aspects of our lives and the world of home renovation is no different. To that end, the Builders League of South Jersey (BLSJ)—a trade association of professional builders, developers and remodelers—have been working to help homeowners with several projects while also easing any concerns over health and safety measures that they might have, namely whether or not to allow workers into their home.
Amiano and Sons Design Build is an active board member of the BLSJ and has put this issue at the forefront of their service, according to Joseph Clymer, a design specialist with the company. If a client is comfortable with having work done in the house, masks and gloves are worn at all times, plastic walls are put up during construction and all air ducts are taped off so dirt doesn't circulate. In addition, the amount of workers in the home at any one time is limited and social distancing is a must.
And before anything takes place, a digital consultation is available to further limit the in-person contact. "If the client opts to do a virtual meeting, then I can set that up with them and they can express to me what they're looking to get done. And then I can share on my screen some previous work that we've done that is similar to the scope of work they're looking to complete," Clymer says.
As the temperature on the thermometer starts to climb, residents across South Jersey have started to think about how to better utilize their outdoor living space. Decks, new pools, patios and updated landscaping are popular choices as the idea of a staycation becomes more prevalent with the threat of the virus continuing to linger.
Laura Napolitano was looking to get her kitchen redone along with some other large projects on the first floor of her Cherry Hill home prior to the arrival of the coronavirus. Now she has moved her focus to the backyard. With two little kids running around and both she and her husband working from home, Napolitano needed an outdoor space where everyone could escape.
"We had a patio put down, we are having a shed delivered in a few weeks and also bought a large (temporary) above ground pool," she says. "We also decided to spruce up the backyard since we figured we would be spending most of our time out there this summer.
"We have tried to be thoughtful [during our remodel] because we want to support local [business] during this time but we were also uncomfortable with workers having to potentially risk their health on projects for us," says Napolitano. "This is why we have tried to support local companies as much as possible but primarily with outside work."
Todd Williamson had just purchased his new home in Moorestown in October and was in the midst of a major home renovation before COVID-19 complicated things. He had contracted Cipriani Remodeling Solutions—another board member of the BLSJ—to do a complete remodel of the master bathroom, his children's bathroom and a full guest bath. As the pandemic began to take hold, necessary adjustments were made in order to see the job through.
"They were able to schedule the different trades in such a way that everybody could get in and get their work done. They did all the cleaning and made sure everything not just looked good, but was disinfected," says Williamson, who also worked with interior designers to add window treatments and fresh paint along with new carpet and furnishings.
Anne Van de Rijt, a remodeling designer with Cipriani, says adapting to meet a customer's wishes is always important, but during this trying time it's become even more so as people identify some very specific desires. "One customer said that they wanted a portico over their front door, because all their packages that they were receiving were getting wet in the rain," she offers as an example.
And with so many working at home and kids connecting virtually, rooms are being transformed to not only satisfy short-term needs, but also create a long-term functional space that can be used in many ways moving forward. And it's not always as simple as turning the unused guest bedroom into a home office.
"I was just working on a design for a kitchen and the homeowner was telling me how important it is for her to have a workstation in the kitchen," Van de Rijt says. "They have a little desk now in their kitchen and we're incorporating a drawer for each kid—she has three children—so that all of their papers, homework and mess can go into their own drawer. We're also creating workstations. She has a charging station so that she has a place for all the phones, iPads and laptops and they're not sitting on the counter with all the cords hanging out."
In addition to home office builds, Bob Lewis, president of Closet and Storage Concepts, says his clients are looking to take full advantage of their space with the entire family spending more time together. Kitchen pantries, closet systems and home entertainment centers are always popular choices, but lately there's also been heavy interest another space-saving option—the Murphy bed.
"Interestingly enough a lot of families are finding college-aged children or even younger adults who were out on their own and are now coming back and living with them again. And so we're doing a lot of Murphy beds for that reason. Somebody moves back into the house and you have to convert a room, but you don't want to convert it into a bedroom. So maybe it's the home office and a Murphy bed in the same cabinet system. If your child moves back to the city then you can just fold the bed back up and it's just the cabinet," says Lewis.
Regardless of individual needs and desires, the spike in interest for repairs and renovations could continue for some time as families look to make their living spaces more enjoyable, according to Lewis.
"I think what we're starting to see now is that consumers are turning their homes into sort of a sanctuary space. So home improvement is really becoming more popular during this time," he says.


Click here to subscribe to the free digital editions of South Jersey Magazine.

To read the digital edition of South Jersey Magazine, click here.

Published and copyrighted in South Jersey Magazine, Volume 17, Issue 3 (June 2020).

For more info on South Jersey Magazine, click here.
To subscribe to South Jersey Magazine, click here.
To advertise in South Jersey Magazine, click here.