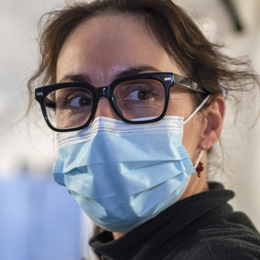 From the Front Lines
We recognize the local health care heroes that have gone above and beyond in the fight of their lives.
The word hero has taken on new meaning of late as so many from all walks of life work tirelessly to try and combat the COVID-19 pandemic. That is especially true when it comes to health care workers, both locally and across the globe. The unprecedented nature of this crisis has thrust them into the unknown with little guidance to rely on. And while the grim nature of the overwhelming death toll is jarring, these dedicated individuals keep on putting up a fight. We wanted to recognize all of the hard work they have done and continue to do as we look to regain a sense of normalcy in our lives.
In addition to hearing first-hand accounts from a few health care workers about their experiences thus far, we also wanted to salute the countless others who have made a noticeable impact day in and day out during this ongoing crisis with a special photo package. These folks are nothing short of amazing, and while they will tell you they are just doing their job and not looking for any accolades, please join us in celebrating them. They deserve that and so much more.
Role Reversal
Dr. Troy Randle, of Virtua Cardiology, certainly has a unique perspective on the COVID-19 pandemic. As a cardiologist, he's treated many patients suffering from the infectious disease due to the many respiratory issues that it can cause. And while caregivers do their best to be compassionate and understanding of what their patients are going through, Randle has firsthand knowledge of exactly what many of them were experiencing, because he also was one of them.
A couple months ago, Randle began experiencing several of the symptoms most closely associated with the virus, including a slight cough, body aches, fever and a persistent headache. A positive test confirmed suspicions, but things were moving in the right direction and he looked to be well on his way to recovery. Then things took an unexpected turn. Had it not been for the quick thinking of his wife, he may not be here to share his story today.
"When I was first diagnosed with COVID-19, I had a strong, sudden headache that continued for two days. It abated for a bit as I recovered from the virus, but one day it came back even worse than before," Randle says. "My wife insisted on taking me to the emergency room; she may have saved my life."
It turns out Randle had suffered a stroke; an attack his caregivers agree was a direct result of having contracted conronavirus. A blood clot had traveled to the vertebral artery in his neck, which caused damage to his cerebellum. Recent studies have shown that a significant percentage of confirmed COVID-19 patients have hundreds of micro-clots in their lungs. It is thought that similar, but larger, clots travel off course to the brain or heart, resulting in a stroke or heart attack for some. Unfortunately, Randle was one of those very people.
"My story fits a larger trend," he says. "Only I am fortunate enough to survive and to not suffer any significant effects from the stroke.
In the days following his recovery, Randle applied for a research grant from the American Heart Association in hopes of participating in studies on the short- and long-term heart and vascular effects of COVID-19. He hopes that he can in turn help contribute to the collective understanding of this atypical virus.
"COVID-19 seems to vary greatly from person to person—and now stroke symptoms are in the mix. I encourage everyone to closely monitor their health, take note of their symptoms and seek medical attention when necessary."
Providing Hope
Like many other health care workers, Sami Abate has been consumed by the COVID-19 pandemic and how it has impacted our lives on so many different levels. And now, thanks to her efforts as director of clinical research with Inspira Health, she is helping recruit and connect recovered coronavirus patients with a Mayo Clinic trial so they may be able to provide convalescent plasma and antibodies to help others who are sick with the infectious disease.
"From a medical perspective, it makes sense," Abate says. "People who got better developed those antibodies. It kind of mimics what your body would do if it could; attack the virus specifically."
In the beginning stages of the pandemic, the demand far outweighed the supply because while many were sick, few had recovered at that point to be able to donate the plasma. As time progressed and more patients began to conquer COVID-19, Abate and her team devised a strategy to contact them and facilitate the enrollment process to be considered donors. The response was immediate.
"Even people who have never been a blood donor before, when we explained the trial to them and what it can do for the patients who receive the treatment, it inspired them. … We had patients who were still in the hospital, and some still on oxygen, and they told us they want to donate. We had a dozen patients who referred someone else to us," Abate says.
Potential donors need to be symptom free for at least 14 days and then they are screened by the Red Cross for eligibility to donate. All donations are then tested for sufficient antibodies. At press time, Abate had helped register 76 people with another 28 waiting to become asymptomatic.
"The donors are so enthusiastic knowing they are going to be able to help," says Abate. "They are so grateful they survived, they want to help someone else. They are showing the best of human nature."
Having been with Inspira for 21 years, Abate is quick to credit her colleagues and leaders who have been supportive of research in the name of evidence based medicine. And she is equally inspired by the many patients who have showed a tremendous willingness to help others during this crisis. "Together, we will get through this. We are showing this pandemic who is boss one patient at a time," she says.
And though she is firmly entrenched in the day-to-day evolution of the coronavirus, Abate finds it extremely rewarding to be playing such an important role in the big picture with regard to this global crisis.
"Someday, I will be an old lady telling my nursing home nurse that I had a hand in fighting this pandemic," she says.
"All In"
As early as the beginning of January, Dr. Cindy Hou was spending as much as four hours a day doing research about a novel virus in China she had begun to hear rumblings about. Though information was scant, the infection control officer with Jefferson Health New Jersey did her best to compile her findings in the event that the disease showed up on her doorstep. Though she has a wealth of experience in the field, this virus was a new entity that forced her and others in the field to learn on the fly.
"This is a time like none other in my career," Hou says. "I've never seen anything where the pace of knowledge is essentially warp speed."
As the COVID-19 pandemic began to creep into the country and eventually into our local health care system, Hou says that her cell number became like the "bat phone," as other doctors would lean on her for whatever knowledge she could provide on the matter. There was a point when she would be called to triage multiple times a day to determine if a patient was likely or not to have coronavirus.
While the pandemic has certainly been a dark cloud hanging over the world's head, Hou is pleased to be able to play a role in helping treat patients while also gaining a deeper understanding of the coronavirus that should only help the level of care evolve over time. During it all, she's experienced the highs and lows of the situation.
"Initially, it was very exciting and I don't meant to say that in a way that downplays everything we've since known about this disease," she says. "But, if you are infectious disease doctor and learning about coming across a new infection that was never before known to man until the end of 2019, this is really exciting work.
"It's also very challenging on the other hand. In my role, you are looked upon by many others for guidance and you have to display your knowledge. I went through many different phases. It was exciting, it was challenging and also a bit stressful. As you know, not all the coronavirus patients make it. On the other hand, it was very thrilling when you have these successes, particularly of the people who are very, very sick."
Realizing how monumental this period of time is, Hou has been inspired by how the health care industry and the community as a whole have come together for the common cause. And while there may be significant challenges still ahead, she is "all in" to do whatever it takes to put these difficult days behind us.
"It's a privilege, really, to be a physician, let alone an infectious disease physician," says Hou. "I don't know that we are shaping the world, but New Jersey was really hit hard and it takes everybody to have an impact and that's what you see happening. It's all hands on deck and it's just incredible."


Click here to subscribe to the free digital editions of South Jersey Magazine.

To read the digital edition of South Jersey Magazine, click here.

Published and copyrighted in South Jersey Magazine, Volume 17, Issue 3 (June 2020).

For more info on South Jersey Magazine, click here.
To subscribe to South Jersey Magazine, click here.
To advertise in South Jersey Magazine, click here.