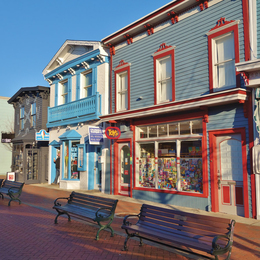 Summer at the Shore
As the state begins to reopen and more and more restrictions are being relaxed, we wanted to get a feel for what life will be like this summer at the beloved Jersey Shore. Will people still flock to the beach and the Boardwalks? How are businesses coping with new guidelines being put into place? We spoke with several business owners, local leaders, vacationers and more to get their sense of what the season may bring. Overall, there is high optimism that while this summer may be unlike any other that we've known; those who love the Shore will do everything they can to make it just as special.
Reopening and Remaining Hopeful
How the Shore business community is rallying to welcome customers and provide service safely this summer.
By Liz Hunter
March and April are like spring training for Shore businesses. Although the weather is cool and unpredictable, this time is used for onboarding new employees, testing new methods or menu items and generally getting prepared for their bread-and-butter season—summer. This year, however, many business owners were unable to open their doors for spring and the economic and emotional toll is being felt from LBI to Cape May.
"COVID-19 causing businesses to close happened at the time seasonal businesses started to reopen. There would never have been a good time, but this was a bad time," says Vicki Clark, president of the Cape May County Chamber of Commerce. "Spring tourism is considered to be a bonus time. The weather is questionable, but there are a lot of weekend events that bring second homeowners and those who live just a short drive away. We lost all of that."
Maggie Day has owned Nesting, a baby and children's retail shop in Stone Harbor, for 10 years. Although Nesting is open year-round with limited hours November through February, as of March 1, the store goes full-time, seven days a week. "March is always a decent month because we take massive orders for spring and summer," says Day. "No sooner had I opened than I had to close."
Although Nesting technically fell under the "essential" businesses classified in Gov. Phil Murphy's executive order, Day felt it would be irresponsible to open with everything going on. "Most of my employees are retired women who are older and I didn't want to put them at risk," she says. In the meantime, online orders continued with a slight increase. After 50 days, Nesting reopened. "I am grateful to be able to do that, but it's nothing like it should be. It's no longer a shopping destination, there's no foot traffic."
The Shore communities also felt frustration at the amount of restrictions placed on them in light of how few cases of COVID-19 have been reported in these towns. Cape May Mayor Clarence "Chuck" Lear says residents were surprised by the need to hunker down, but were not frightened by the news coming out of areas like Washington state. "That sense of comfort and anxiety changed somewhat quickly as we heard reports of the overwhelming number of COVID cases in New York City. As the numbers began to climb in northern New Jersey, people in Cape May were resolute about the merit of staying put," he says.
Lear, who is also a retired police officer, says, "As the weeks passed, there were increasing reports of disappointed locals who wanted to be out and about and of some who were disgruntled by what they saw as inappropriate arrivals of people from northern New Jersey and from nearby states. By this time, Gov. Murphy and the governors of surrounding states had issued 'stay-in-place' orders. Some local people saw those orders as taking precedence over whether the 'intruders' owned a second home at the Shore. The fact that the first reported case of COVID-19 in Cape May County involved a person from New York did not help dispel concerns about out-of-state visitors."
Exhaustion and impatience are familiar feelings. "As time has passed, I have become less patient and more eager to see us get beyond the unpleasant aspects of being quarantined, and wanting to be out and about in our beach community," Lear continues, adding that his condolences go out to everyone who has lost a family member or friend, and hopes for a quick recovery for those who are ill. "I am most eager to move on to whatever our 'new normal' will be and I hope there is no backsliding."
Day, who is also the president of the Stone Harbor Chamber of Commerce, says the business community is exasperated by the lack of acknowledgement of small businesses by the state government. "I understand making decisions for health and safety, but the governor is speaking from on high, telling families what they can and can't do. … Each one of these small businesses is essential to the owner and their family. After 80 days of being closed, having an income is more essential than health and safety. We've had zero cases in this town and we're fighting for people who aren't open. … It's almost as if they don't understand their decisions are affecting people's lives so greatly. I was born and raised here and my parents had a small business so this is close to my heart. To see those stores closed on Memorial Day weekend, I had tears in my eyes."
Coming Together
With a loss in confidence in higher tiers of government, business owners are looking to local leaders and organizations to forge ahead with resources and support for a reopening strategy.
Lear says Cape May city administrators and business partners have worked together for weeks on what plans to put in place for reopening as the governor makes announcements. "The theme and byword for this work is #CapeMayStrong," he says. "We invite everyone to go online to the CapeMayStrong.org website to learn more about COVID protocols and the status of retail stores, dining, lodging, events and activities as we prepare for the summer season with a great deal of enthusiasm and hope." Also available on the website are T-shirts for purchase, with 100 percent of the proceeds going to the Cape May Community Food Closet.
Cape May County's freeholders created a county-wide recovery initiative and were the first to submit a detailed reopening plan to the governor's office. In it, they highlight the county's impact on tourism in the state—$6 billion in direct tourism revenue annually. In 2018 the county's tourism-related businesses created more than 26,000 jobs, according to the proposal, and it outpaces all other counties in revenue for food and beverage, retail, recreation and second home rentals.
"There is no part of New Jersey where tourism is as important as it is in Cape May County," says Clark, who was on the task force for the recovery initiative. "The proposal is deliberate and thoughtful, containing a combination of guidance documents from various industry segments in the major entities of tourism—hotels, restaurants, camping, fishing, boating, breweries and distilleries—and the best ways to open these types of businesses while maintaining social distancing and hygiene in accordance with the Centers for Disease Control and state and local health professional recommendations."
Clark says business owners are anxious to have guided documents to open safely and bring people back to work. "Unfortunately, some have made the decision not to open at all. They feel the regulatory environment is too overwhelming for them," she says. "After 10 weeks of this shutdown, a lot of businesses have not been able to get the PPP loan or any other program support being offered. The longer this goes on, the harder it is for small, independent businesses to hang on."
The hit to tourism revenue, which amounts to some $22 billion for the four Shore counties combined, is eventually going to have a greater impact on the state's economy as a whole.
Lori Pepenella, CEO of the Southern Ocean County Chamber of Commerce, says the organization is helping its 600 members access loans, unemployment claims and CARES Act resources, as well as creating webinars to keep everyone informed.
With a good deal of businesses offering takeout or curbside pickup, the chamber is directing visitors to an online directory. "Recently we were able to launch a tourism-oriented website. It allows people to search by town, find their favorite place to stay, shows a takeout tour," says Pepenella. "
We feel very much a part of keeping the business community together, keeping visitors and residents and consumers alert to some of the things they need to feel confident. Our history has always been to provide this continual line [of communication]."
The Shore is resilient, as proven in past recessions or the devastation of Hurricane Sandy, but this time feels different for those who have weathered it all. "It has an overwhelming reach because there are some businesses that haven't yet reopened and are still trying to figure out what that looks like," Pepenella says. "Economically, as far as representing both interests of the business and consumer, it's challenging, and we want to make sure everybody comes out of this ahead. We're moving in the right direction but moving at different paces."
No matter what, summer will happen. "We are confident summer can be reclaimed, people will come down when the weather warms up and they will find comfort in a place they know and have been representing for generations," Pepenella says. "We're sure we can give people a summer they will be comfortable with and feel confident with."
Open for Business
There has perhaps never been a more crucial time to shop locally, says Day, of Stone Harbor. "Big stores like Walmart and Home Depot didn't feel any pain. Their numbers are up because they were the only game in town—they've benefited from this mess," she says. "But it's the mom-and-pop businesses that this country and state rely on. The state wouldn't function without us. Well, these families can't function without their business. I most want people to know that their support matters in a time like this."
Whether offering takeout only, limiting indoor capacity or bringing items directly to your car at the curb, businesses are doing whatever it takes to keep the lights on. Some are going above and beyond when it comes to safety for employees and customers to ensure everyone's comfort level with the service being provided, often at a cost that will eat into their profits this season but will be worthwhile in the end, say business owners.
Melissa Brown, co-owner of Brown's Restaurant in Ocean City, says seeing is believing for a lot of people. "We want customers to see what we have in place and know that their homemade food is safe," she says. In the kitchen, employees wear gloves, which are changed after each customer, and masks are worn. Known for their hand-dipped doughnuts, Brown's has someone designated to the doughnuts, someone to take the orders and another person who only handles the money, with complete vigilance about hand washing.
"It's a blessing to be able to be here. It's going to be a slow year and that will be hard since last summer we really knocked it out of the park, but you're going to have those seasons where there are things you can't control," Brown says. "We briefly considered not opening this season but after talking to friends and customers, we knew people were ready to get out to eat and see each other. Everyone is going through a tough time but we will persevere and come together."
At Margate Dairy Bar & Burger, owner Chris Clayton is staying ahead of customers' comfort level, not just meeting it. The first priority is with employees and creating a safe work environment. Not only is he taking the temperature of every employee when they arrive to work, but he's using a bio-blast disinfecting spray fogger on their clothes. "Some employees may take public transportation but I can't just use it on them. We set a protocol for all employees to get fogged. … Counters are also fogged in the morning and evening. We're also using a Clean Force eco product that has a 45-second kill rate for viruses on surfaces. We're out there doing the counters and surfaces every 15 to 20 minutes," Clayton says.
He has also painted dots on the sidewalk where people should stand while waiting in line, yet still needs a staff person outside to monitor it.
Costs have gone up with the increase in takeout business and supplies, he says. "Food is now wrapped in foil, then put into a bag with a cardboard insert to hold the burgers, then there are packets of condiments instead of dispensers. … Plus the cleaning chemicals, thermometers and other equipment, retrofitting our counters, etc. I'd estimate I've spent $12,000 on the build-out."
Safety will always trump profit, though. "I started researching early on, what would be the downside of not opening? If I don't open, can I borrow money or do I hand the keys to the bank?" Clayton says, getting noticeably choked up. "What about my son's education, my retirement … everything I've worked for?
"This is a hard undertaking, and we're not going to see a return this year, but I'm looking for legacy even more than reputation. The Dairy Bar has always done the right thing. This is our 68th year and we would like to have another 68," he continues.
The Doors are Open
As the summer season goes into full swing—albeit with noticeable changes—realtors and homeowners are optimistic it will be an enjoyable one.
As businesses down the Shore go through the challenges of adapting to life during the COVID-19 pandemic, the real estate market is also dealing with new restrictions for both visitors and homeowners alike, and some of the plans are altering vacations.
"This is unique to say the least, an unprecedented time in regards to rentals," says Chris Bezaire, president, Cape May Association of Realtors. "We're trying to figure out how to handle a situation we never really encountered before."
In the Spring, vacationers were understandably concerned about their summer plans at the Shore. But as public health trends have been moving in a positive direction and more things have started to open up the last few weeks, that concern is turning into real optimism.
"When the pandemic first started, we got a lot of cancellations out of concern for what's going on
—
all kinds of what ifs," says Allan Dechert, realtor with Ferguson Dechert Real Estate, which serves Avalon, Sea Isle City and Stone Harbor. "But as we've moved through it, received better reports of the numbers in New Jersey and have flattened the curve, cancellations are going down. We're getting an amazing number of inquiries at the Shore. People have so much pent-up desire to get out after being quarantined for two-and-a-half months and they are a little leery of getting on an airplane, so they are thinking about coming to the Jersey Shore.
"I was surprised by how many inquiries we received. The numbers have been way up."
Even more so than this time last year, Dechert says, and not just for the summer, as there's also been a large number of people inquiring about rentals well into the fall when they hope even more restrictions will be lifted. Besides July 4th and August
—
what Dechert calls "prime time"
—
there is inventory, more so in the fall.
Bezaire says the Cape May Association of Realtors left it up to the municipalities and counties to determine the best dates to start allowing seasonal rentals, and the Cape May Board of Freeholders drafted resolution allowing any rentals more than 30 days to start June 12 while short-term rentals [less than 30 days] began in late May. Some towns in Cape May County started a day or two after to "make sure [they] wouldn't get one big hit with vacationers to avoid congestion."
Paul Bourke rents his Sea Isle City house from Memorial Day through the beginning of August. When the pandemic started, he emailed his real estate agents asking to forward the Centers for Disease Control (CDC) guidelines to his renters.
"The CDC came out with short-term rental guidelines, such as removing pillows and comforters and having the renters provide all bedding, and having a cleaning company conduct a deep cleaning every week, things like that," the Mount Laurel resident says. "The cleaning company I'm using does COVID-level cleaning
—
cleaning the light switches, door knobs, wiping down the handle of the dishwasher
—
all the high-touch points."
Bourke took it a step further by giving his occupants a 100 percent refund if they cancel due to being sick or experiencing symptoms of COVID-19 with no questions asked, and would even look to see if there is availability for the same week next year for them to rent.
"My neighbors are year-round residents and are older than I am. I don't want to mess around with COVID and them," Bourke says. "The last thing you want to do is have someone that's sick and get everyone sick in the neighborhood."
Bourke says the only renters who have backed out of their vacation this summer were those who were supposed to go down the week of Memorial Day, and it was not COVID related.
When it comes to the check-in process, Ferguson Dechert Real Estate is making quite a few changes.
"Usually there is a three-hour window between checkout and check-in, and we've expanded that window two more hours, so now check-in is at 3 p.m.," Dechert says. "Cleaners need more time to clean and sanitize before the next guests arrive. Also, instead of having people go inside to pick up their house keys, we are going to have a setup outside the front of our office so we can hand the keys directly to them and practice social distancing, while still making it a pleasant experience."
While rental property owners will adhere to CDC guidelines, Bezaire says he doesn't see the extra precautions being taken having a lasting effect.
"I don't see the extended check-ins lasting once everything is taken care of," he says. "I don't see pillows or bedspreads being taken away forever. Vacationers have to pack a lot of stuff; it makes it more difficult to add one more big item."
"I hope everybody practices the guidelines and social distancing, and wears facemasks," Dechert says. "Just seeing all the interest we have now, I'm optimistic it's going to be a good summer. It is a late start, but hopefully a lot of people will be down here and take advantage of it."
However, not everyone is chomping at the bit to get down the Shore. Justine McGinley and her family have vacationed there just about every summer
—
preferably in Sea Isle City
—
but this year, Disney World was her family's big vacation at the end of June. When they realized going to the theme park wasn't possible anymore because of COVID-19, they started thinking about plan B. The family came to the conclusion they wanted something completely different from the Jersey Shore
—
an area that was private and secluded.
"We chose the Outer Banks in North Carolina," the Erial resident says. "Even though it's a longer drive, the beaches aren't generally as crowded and they don't have boardwalks or common places where people can hang out. We're also able to have a house with a pool for the kids."
Crowded beaches, the draw of the Boardwalk and large groups of people is what the McGinley family was looking to avoid.
"It's more spread out; there are not as many people in a concentrated place. When we were thinking about it, that's what our mindset was
—
to find somewhere we can have a nice family vacation without feeling uncomfortable and without having to be around large groups of people," McGinley says. "We felt this could still be the case down the Shore. I think people are still planning to head down, but our family decided that's where we don't want to be."
Kathryn Quigley, on the other hand, isn't letting anything stop her from being in Stone Harbor, even if it means wearing a facemask and not being able to eat meals inside her favorite restaurants. Adhering to restrictions is something she, her mother and two sons will gladly do.
"I want to be able to be near the water and hear the birds," the Deptford resident says. "I know there are social distancing measures in place and we'll have to be 6 feet apart in line at Springer's (Ice Cream). I know our condo is going to be cleaned and I have no problem wearing a facemask up and down 96th Street. My family and I will social distance on the beach. Just get me to Stone Harbor."
Click here to subscribe to the free digital editions of South Jersey Magazine.

To read the digital edition of South Jersey Magazine, click here.

Published and copyrighted in South Jersey Magazine, Volume 17, Issue 3 (June 2020).

For more info on South Jersey Magazine, click here.
To subscribe to South Jersey Magazine, click here.
To advertise in South Jersey Magazine, click here.