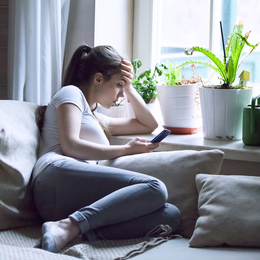 Frame of Mind
Social isolation has long been a problem, but the pandemic has put a renewed focus on our mental health.
May is considered Mental Health Awareness Month and it could not have come at a more perfect time. For the past few months, the coronavirus pandemic has put a halt to normalcy in everyday life. Social distancing rules are being enforced, schools have closed, businesses have shut down, kids and parents are sharing a workspace at home and in-person connections have become lost. But social isolation and mental health issues started a long time ago.
"According to the National Institute of Mental Health, one in four adults experience mental illness in a given year and one in 17 adults live with a serious mental illness such as schizophrenia, major depression or bipolar disorder," Dr. Becky DiLisciandro, the mental health administrator for the Gloucester County Mental Health Board, says. "Also documented, approximately 20 percent of youth ages 13 to 18 and 13 percent of youth ages 8 to 15 experience severe mental disorders in a given year. According to the World Health Organization, depression is a common mental health disorder and one of the main causes of disability worldwide."
Everybody experiences some sense of mental health issues, no matter how large or small their impact is. They can be caused by a number of reasons and can affect a person's life drastically if they are not taken care of.
"Our mental health influences how we think, feel and behave in daily life," says Donna Kiley, director of outpatient services at Penn Medicine Princeton House Behavioral Health. "It also affects our ability to cope with stress, overcome challenges, build relationships and recover from setbacks and hardships."
The impact of social isolation
Dr. Sarah Allred, faculty director of the Senator Walter Rand Institute for Public Affairs and associate professor in psychology at Rutgers University–Camden, conducted a study that focused on the relationship between social isolation and health. Through her studies she discovered how the younger generation was experiencing more feelings of social isolation than their older counterparts.
"We did collaborative work with five health systems across five counties throughout South Jersey and we were just doing a health needs assessment as part of our data analysis and were very surprised to see the strong relationship between loneliness and social isolation and health. And in particular the extra strong relationship in the younger generation," says Allred. "So a lot of the previous work that has been done on loneliness has focused on older adults and how those with less social interaction are susceptible to a variety of health conditions. But what we found is actually that those who are the youngest in our group have reported the most social isolation. So for example, millennials and younger are much more socially isolated than those who are baby boomers and older; they also are two and a half times more likely to report being in poor mental health."
Through her studies and research she has discovered that in young adulthood, there are numerous changes that can be a defining factor for mental health illnesses. There are increased feelings of loneliness due to the many transitions in life, going to college, moving out on their own, a change in their peer groups, etc. But one defining factor was the influence of social media.
"We did one focus group with college students and when we asked them what their health challenges were, they specifically mentioned social media as a problem," says Allred. "So these college students self-reported that the time they spent on social media prevented them from forming meaningful social connections in real life. Comparing themselves to others on social media makes them feel worse about themselves in their own lives and that has the effect of making them less likely to reach out to others."
How to seek help during this time
The meaning of a normal life has changed its course, in-person contact has become a foreign concept and so many people have lost so much more than their routine.
"All of us have lost what we considered normal daily routines that were in place before COVID-19. We hope that many of those normal routines return, but there is a lot of uncertainty," DiLisciandro says. "In addition to loss of normal daily routines some may lose their employment and some may lose loved ones.
"People may be feeling a loss of control over their lives. Will I get sick? Will my family or loved ones become sick? When will this end? These thoughts are normal but do create an increase of worry which is why it is important to protect mental health along with instituting the recommended hygiene practices," DiLisciandro adds.
Trying to adapt to a new way of life and environment can cause anxiety, depression and other mental health illnesses to develop. So those who have never dealt with anxiety before may experience it for the first time. But although our daily routines have changed, so has everything else. There are telemedicine and virtual therapy appointments to accommodate this new way of living.
"We moved quickly to utilize a virtual video platform allowing our staff to resume providing group therapy via video for all of our patients," Kiley says. "We began first with our adults and specialty women's programming and then added in our child and adolescent program as well.
"We have conducted movement groups such as yoga, music therapy, art therapy, education and training groups focused on learning healthy coping skills; and traditional psychotherapy groups [all online]," Kiley adds. "Our adolescent patients have shared that they enjoy having a break from the news of the pandemic and enjoy a respite from the stress and anxiety while attending our group therapy sessions. Therapists are keeping our children engaged by conducting scavenger hunts and finding items in their homes to create resiliency tool kits to help them cope when outside of our group therapy sessions."
Each county also offers its own mental health board to help residents during this trying time.
"The mental health board is an advisory board. In brief, the board examines mental health services and programming contracted through the Gloucester County Board of Chosen Freeholders and New Jersey Division of Mental Health with the purpose of supporting new programs or renewing contracts for current programs," DiLisciandro says. "The board also has oversight of various subcommittees including the Gloucester County Professional Advisory Subcommittee (GCMHPAC), the Gloucester County Crisis Intervention Team Subcommittee (GC-CIT), and the Gloucester County Suicide Prevention Subcommittee."
Recently, Gov. Phil Murphy announced that he will be implementing statewide mental health first aid training for all school personnel from K-12 and higher education institutions. Each participant will be trained on the risk factors and warning signs of youth mental health issues and they will be taught ways to connect each student with the appropriate resources and support.
Ways to combat mental health illnesses
Physical health and mental health go hand-in-hand; when someone is actively taking care of their physical well-being they are becoming stronger. Mental health is the same way; when someone is actively taking care of it, then they are experiencing less stressors.
"Monitor the time connected to phones, social media or other online applications. The brain needs time to process the events of the day, and when connected to the phone or online applications, the brain is not able to have the down time it needs for processing the information," DiLisciandro says. "To limit online and phone usage, start small by stopping usage at least one hour before bed. After you have adjusted to that, pick at least two hours throughout the day you are not connected—perhaps lunchtime and dinnertime.
"I recommend continuing exercises that individuals were engaging in before COVID-19. If that is difficult because gyms are closed, modify by searching for workouts on YouTube or check to see if your gym is offering online classes," adds DiLisciandro. "It may not be the same as going to the gym, but we need to adjust our mindset to find empowerment in making the best of modified practices. In general, any physical exercise will ease anxiety. Folks can dance to their favorite song, take a walk outside, stretch, try breathing exercises, etc."



Click here to subscribe to the free digital editions of South Jersey Magazine.


To read the digital edition of South Jersey Magazine, click here.

Published and copyrighted in South Jersey Magazine, Volume 17, Issue 2 (May 2020).

For more info on South Jersey Magazine, click here.
To subscribe to South Jersey Magazine, click here.
To advertise in South Jersey Magazine, click here.