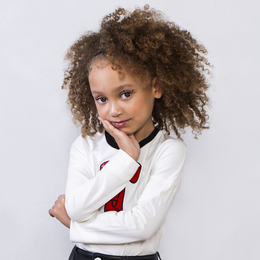 A Precocious Performer
At just 7 years old, actress Mykal-Michelle Harris is stealing scenes on ABC's Mixed-ish and harboring ambitions to step behind the camera.
It's hard not to conflate Mykal-Michelle Harris with the character she plays on ABC's Mixed-ish, a spinoff of the network's critically acclaimed Black-ish, which follows the trials and tribulations of a mixed-race family living in the suburbs in the 1980s. Seven-year-old Mykal-Michelle portrays Santamonica, the youngest of three siblings and the sassiest among her family. Like her character, Mykal-Michelle has a confidence about her that shines through whether she's acting on set or giving an interview on Jimmy Kimmel Live, and it's this self-assuredness that seems to link both her and Santamonica so closely together.
Before her role in Mixed-ish, Mykal-Michelle had recurring spots in HBO's Big Little Lies and Showtime's The Affair. She also appeared in Mariah Carey's 25th anniversary video for "All I want for Christmas is You," released at the end of last year. Kids know her well too as the spokesperson for the popular L.O.L Surprise doll toys.
Originally from Delran, Mykal-Michelle, speaking over the phone, told us what she's learned about the '80s from being on Mixed-ish, meeting Mariah Carey and the ambitions she holds to one day step behind the camera.
You used to live in South Jersey before moving to California. What do you remember about living there?
Yes, I was 4 when I moved. I don't really remember a lot when I moved there but New Jersey is still my favorite home place because there's snow, and I have all my family and it's really awesome.

So, what can you tell me about Mixed-ish?
Mixed-ish is about a family that moved to a cul-de-sac from a commune and they have to try to figure out how to navigate themselves in this new world. The kids try to be cool in school and the parents are trying to learn how to make money and all that stuff. And everybody's trying to figure out how they fit in this new world. And I play Santamonica and she's 5 years old and she is the youngest out of three—and the cutest if you ask me. But, yeah, I really love my job and Santamonica is also confident and she loves her friends and loves her family and she's also playing around with them all the time.

How are you like your character and how are you different from your character?
I am like my character because we both have a very loving family. We both are confident; we're strong and we love girl power. We are a different age but that doesn't mean we have different personalities. We are kind of the same. We both have great style. And she has two siblings. I have three. And yeah, I'm 7 and she's 5. So big age difference.

What do you like about acting on the show? Do you have a lot of fun at work?
Well I don't really call it work. Really, it's just another set of family for me 'cause I love my set mom [actress Tika Sumpter]at my job. And I run around calling them Mom, Dad, Granddad, Aunt DeeDee and stuff 'cause it really is another set of family. And I just love my job. And sometimes we have to stay up late but that means we get to party more. And so I just love my [set] family.

The show is set in the '80s. What have you learned about that era from being on the show?
OK, the first thing I learned about the '80s is a VHS tape. And I learned that they are these things that have like the videos on them and you stick them in the TV. And then, I learned that they didn't have remotes back then so they'd call their kids and be like, "Change the channel for me." So that was pretty weird. I learned about the music. My character loves Miss Cyndi Lauper and Miss Madonna and those are now my favorite two '80s stars. So I love the big hair, the fashion. I like a lot about the '80s. It's a really fun time.

Who are some actors that you look up to? Do you look up to any of the actors on the Mixed-ish set?
I look up to all of them really. But the most I look up to is definitely my [set] mom and my [set] dad [actor Mark-Paul Gosselaar]. What they do and how they do it for a living is really very, very powerful for me. They're really professional and they show me a lot of things like my [set] dad, he taught me how to block and my [set] mom, she kind of like relaxes us and chills us down. So I really love my set parents.

Do you ever get recognized by people in real life?
Yes, I love being recognized so I can help others and help them become who they want to be when they grow up. So I have another project [as a spokesperson for L.O.L Surprise dolls] that I'm doing and I get recognized from kids a lot from that one. And I really love meeting them and asking them how old they are, getting to know them. And they ask me some questions and I really love answering their questions because it's really fun. … And my mom always says it's not about the fame or anything else, it's about the give back. So, I really love giving back to these children.

I heard that your mom is your greatest inspiration. How does your mom inspire you?
She inspires me 'cause she's always pushing me to be the best girl that I always am and she's taught me so many things. And really, she helps me move forward in my life and really helped me to grow and all that stuff. She really is my greatest inspiration yet.

Another woman that I know you've met and you look up to is Mariah Carey and you were in her 2019 music video for her song "All I want for Christmas is You." What was that experience like?
I just blew up. I mean, I was so excited. I was so happy to meet her because before I met her, of course, she was my No. 1 idol. So, like "All I want for Christmas is You" that was my favorite Christmas song. So, when I met her—I don't do this a lot, but I was absolutely starstruck and she was so nice to me. I mean, we talked; she was kind; and now I'm best friends with [Mariah Carey's two children] and we call and text a lot. So I'm so happy that I met her.

In some of your interviews, you've talked about giving back to the community. Why do you think giving back to the community is important?
I really like togetherness and all that stuff and I have this jar that—I don't know how big it is—but it's kind of small and I'm saving up a bunch of money to help the homeless. And we get all this stuff from my job and some people get nothing. So it's really important to help them and help them grow and help them to have food and live. Especially now with the corona[virus] and all that stuff.

What are some things you'd like to do when you grow up?
Oh my gosh, there are so many things that I want to do behind the camera instead of in front along the way in my career. So I want to—of course, I'm already acting; I want to executive produce. So in my spare time at work, I go to the camera guy and he teaches me everything. Like he taught me to steer, how to zoom in and zoom out. And I just want to be behind the camera sometimes. And I guess I want to be a writer and director and I just really want to do all these things. And I'm so excited to do them in my career 'cause I believe I can.

Click here to subscribe to the free digital editions of South Jersey Magazine.

To read the digital edition of South Jersey Magazine, click here.

Published and copyrighted in South Jersey Magazine, Volume 17, Issue 2 (May 2020).

For more info on South Jersey Magazine, click here.
To subscribe to South Jersey Magazine, click here.
To advertise in South Jersey Magazine, click here.