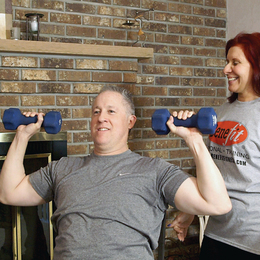 Sponsored Content: Feeling Fabulous at Any Age
With a focus on clients 55 and older, BeneFit Personal Training helps people reach their fitness goals in the comfort of their own homes.
Annleah Berger was in desperate need of some guidance. A few years ago, while in her late 70s, Berger suffered a fall and broke her pelvis in two places. Her ensuing rehabilitation went smoothly, but after it was completed, she was concerned about maintaining her strength and avoiding similar accidents in the future.

Although she preferred to avoid a gym, Berger was also wary of exercising alone. Fortunately, she was able to find BeneFit Personal Training, a national company with South Jersey roots that has become a leader in providing in-home physical fitness.

Now, after two years of working with BeneFit in the comfort and familiarity of her own home, Berger is feeling healthy and confident as she enters her 80s.

"I investigated other companies and BeneFit was reasonable financially," she says. "When I reached out to them, I was assigned a trainer, Francine Browning, and they gave me several references I could call. They all gave Francine glowing reports, so I signed on and we've been together ever since.

"I feel great and I know I'm not going backwards. I would absolutely recommend BeneFit, without a doubt."

Success stories like Berger's have become quite common for BeneFit, which was founded in 1996 by childhood friends Bentley Ritter and Sean Thompson. They were both involved in sports growing up and made a natural transition to personal training, and soon turned their focus to the senior population.


"We saw that there were a lot of people who had suffered because they did not exercise regularly and eat responsibly—people who were close to us," Ritter says. "So we wanted to help other people take care of themselves and lead a healthy, productive life.

"We work with clients of all ages, but the fastest-growing segment of our client base is people over 55. Most people want to stay active, healthy and as independent as possible for as long as possible, and we help them do that while improving their quality of life."

Ritter is now the sole owner of BeneFit and has seen it grow to 20 markets, with its headquarters still in South Jersey. While consumers have many options when it comes to physical fitness, few services are focused on seniors. BeneFit also gives clients the convenience of training at home, which can be especially beneficial during the coronavirus pandemic.

"A lot of our clients are 55 and older, and that is the segment of the population that's at the greatest risk," Ritter says. "You don't want to go to an environment where there's hundreds of people coming through each day, sweating and sneezing on the equipment.

"There are also a lot of people who don't have the time or motivation to get to the gym on a consistent basis. Some people have not exercised in a long time and they're uncomfortable in that environment. We even have a lot of clients who don't drive anymore, so it's difficult to get to a gym. It's a lot easier, more efficient and safer to bring the workouts to our clients' homes."
Clients do not need their own equipment, as trainers travel with dumbbells, exercise balls and elastic bands. A custom program is designed for each individual to fit his or her specific goals, fitness level and health limitations.

Common exercises focus on increasing energy, building strength and improving mobility and balance. Studies have proven that these activities help reduce the risk of heart disease, diabetes and certain forms of dementia.


"You are also less likely to fall and injure yourself if you're strong, flexible and if you've taken the time to work on your balance," Ritter says. "There's an exercise program called the Otago Exercise Program to prevent falls in older adults. We incorporate those types of activities in our clients' programs when balance and stability is a need for them."
Berger has a standing appointment every Monday and Wednesday morning, and her one-hour sessions include walking around her neighborhood, abdominal crunches, stretching and free weights. Browning is always quick with a word of encouragement.

"Francine is very attentive and she watches me very carefully," Berger says. "We've formed a very nice relationship and she's become a very good friend. She's much younger than me, but we've become close and we ask about each other's families."

BeneFit's trainers are known for being upbeat, supportive and tough when they have to be, and each client is also assigned a separate fitness coach who will regularly check in by phone, text and email to make sure he or she is staying on track. The fitness coach can provide everything from motivation to general nutritional guidance on what foods to eat.


"If clients need help with meal planning, they have exercise-related questions or they need help doing additional exercises when their trainer is not with them, the fitness coaches add that additional level of support and accountability," Ritter says. "That's all included in our program."
Those interested in BeneFit can take advantage of a complimentary session with a trainer at their home to determine whether the program is a good fit. Ritter believes they will learn that exercise and healthy choices can make a world of difference.


"This business is very fulfilling, particularly when working with clients who have lost strength, endurance and function over the years," he says. "When we're able to intervene and help them get stronger, more energetic and turn back the clock so they're able to fully engage in their lives, it's very rewarding."

BeneFit Personal Training | Serving South Jersey
888-323-8677 |

BeneFitPersonalTraining.com



To read the digital edition of South Jersey Magazine,

click here.



Published and copyrighted in South Jersey Magazine, Volume 17, Issue 1 (April 2020).

For more info on South Jersey Magazine,

click here

.


To subscribe to South Jersey Magazine,

click here.


To advertise in South Jersey Magazine,

click here.