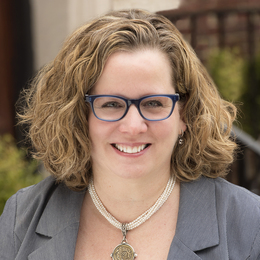 Names to Know
Local people achieving big things in South Jersey and beyond.

Nicole Gillespe
Moorestown's mayor has had an exciting year thus far. After entering her new role in January, she was recognized as an Outstanding Woman of Burlington County 2020 in the area of corporate leadership. She completed two tours with the U.S. Military as one of the few female leaders. After serving five years in the military, she went on to study teaching, completing her Ph.D in science education. With her vast knowledge and compassion, Gillespe has climbed the ladder in not only business but within the community.

Dr. Sean McMillan
As an orthopedic surgeon, McMillan has brought new advancements to the world of pre- and post-operative pain management. Since 2011 he has worked at Lourdes Care at Virtua in Cherry Hill performing opioid-sparing surgery on his sports medicine patients. This new pain management method has been minimizing the need for opioids after surgery, helping numb the nerves around the area so the patient is in less pain afterwards.
John Bishop
After his valiant effort to save a woman's life, this Burlington County resident has been named a finalist for the Congressional Medal of Honor Society's Citizen Honor award. While he was driving on the off ramp of I-295 onto Route 73, he witnessed a man tackling a woman and dragging her into the woods. Leaping into action, Bishop, along with three other good samaritans, pinned the man down until police arrived, saving the woman's life. He is among 27 finalists for one of the highest honors a citizen can receive for his act of courage and self sacrifice.
Pauline Kolodzey
Kolodzey, a counselor at Orchard Valley Middle School in Washington Township, was named Gloucester County Counselor of the Year by the Gloucester County Professional Middle School Counselor Association. She was nominated by her fellow middle school colleagues from across the county. Kolodzey has been working within the district for five years, offering compassion, care and support to all of her students. She will be recognized at the 34th annual New Jersey School Counselor Association recognition awards luncheon.
Terina Hill
Hill, of Camden, is the creator of The Fashion Design Center of South Jersey aimed at helping others learn new skills and trades to generate income. Classes will give students, teens and adults the chance to learn to sew, design and other skills to create their own clothes and accessories. The center hosts classes, workshops, summer camp sessions, guest speakers, artists and events.
Chris and Jessica Bruner
This Washington Township couple decided to help out local families in need by donating more than $10,000 in groceries. During the global coronavirus pandemic, Bruner wanted to find a way to not only keep his employees working but to give back to the community during this trying time. His company, American Construction in Cherry Hill, is buying the groceries and then his employees are helping deliver them to families all around South Jersey.
Do you know a local person who is doing great things? Let us know by emailing
Sydney@SouthJersey.com

.
To read the digital edition of South Jersey Magazine,
click here.


Published and copyrighted in South Jersey Magazine, Volume 17, Issue 1 (April 2020).

For more info on South Jersey Magazine,
click here
.

To subscribe to South Jersey Magazine,
click here.

To advertise in South Jersey Magazine,
click here.