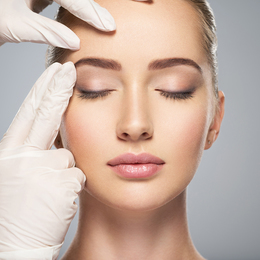 Looking Good
Technological advancements are helping cosmetic patients look and feel their best with safe, non-invasive procedures.

Like so many others across the region and the country, Dr. Steven Davis has been heartbroken to see the effects of the COVID-19 pandemic. But he has simultaneously been inspired by the response of the medical community, and is already thinking about how he can implement changes to his own practice, Davis Cosmetic Plastic Surgery, when life returns to normal.

Davis is a member of the International Society of Aesthetic Plastic Surgery and takes part in weekly webinars featuring doctors from around the globe. He believes a silver lining to the crisis the world is facing will be a renewed commitment to safety.

"I've gotten an opportunity to hear the experiences that these plastic surgeons have had from Italy, Greece, Australia, Indonesia, Saudi Arabia and other countries that may have faced COVID-19 before us," he says. "The overall feeling is that, hopefully when the pandemic ends and everyone is safe, there's going to be a new norm; a new way of seeing patients so that everybody stays safe.

"We understand that when this is all over, people are still going to want to feel good about themselves and look healthy. They've come to look a certain way and they may want to keep up with their procedures, and we just want to make sure we're doing it in the safest fashion and the appropriate way going forward. We're already retooling the office and getting it set up for when everyone is ready to go."

Safety First
With the popularity of injectables like Botox, Juvederm, Restylane and other fillers in recent years, there has been a rise in these services being offered by those who may not be certified or even qualified to do it. Davis believes the trend will now start moving in the other direction, with patients understanding how critical it is to receive appropriate care.

"People may have been a little cavalier in the past with where they were going to get these cosmetic procedures," he says. "Now they might want to go to a real plastic surgeon's office or a real doctor's office, with professionals who know the most sterile and safe way to do these things."

Even while social distancing and quarantines are still in place throughout the state, Davis is practicing what he preaches by offering virtual consultations for new and existing patients. He has devised a "Davis beauty box" in which personalized skincare products can be mailed out to patients' homes in order to keep up with their regimen.

"For people who have already been using the products and are starting to run out, we can mail the beauty box out and they don't have to leave their homes," Davis says. "For people who have never used the skincare products, they can do a virtual consultation with one of our aestheticians or myself and we can talk about the type of skin they have, what they're looking to improve and the products we can offer."

Advancements in the Field
Most patients these days are seeking non-invasive treatment modalities that keep them out of the operating room and come with little to no downtime. One of the more recent advancements to hit the market in recent years is Emsculpt, a body contouring procedure that uses high-intensity focused electromagnetic energy to induce powerful muscle contractions that cannot be achieved voluntarily.

Dr. Danielle Brenza of Ageless Skin & Laser Center offers Emsculpt for the abdomen, buttocks, biceps and triceps. She is one of the few in the area to utilize the technology for arms.

"It's a laser that creates muscle contractions, so it's like doing 20,000 sit-ups, 20,000 squats or 20,000 curls for your arms," she says. "Women and men can both benefit, as long as they qualify and there are no contraindications. It's a muscle-building procedure. It actually makes the area you're treating tighter and more toned because you're creating more lean muscle and therefore there will be less fat."

An arm session lasts for 20 minutes, while an abdomen or buttock session is 30 minutes. "It's not painful; it just creates a muscle contraction and it's very effective," Brenza says. "We usually recommend starting with four treatments and then going on a maintenance schedule. When we get back to normal life [after the pandemic], since so many people have not been able to exercise, this might be a great way to get everything kickstarted."

A brand-new technology that Davis has been fascinated by is called Renuvion. He explains that it involves the fourth phase of matter—the heating of gas to produce plasma—and is ideal for procedures that require precision and control.

"It's a sticky substance that's made when you combine helium gas with radiofrequency energy," he says. "The reason why it's so exciting is because we're using it to tighten skin and make skin shrink. So instead of having to cut away skin that has become loose, for instance in the arms because the patient has lost weight, this technology allows the skin to shrink and tighten. We can do it right in the office and we can use it on almost any part of the body."

Davis believes another major step forward is a better understanding of the nuances of facial fillers. This has led to injectables being used in different parts of the face. "The No. 1 area that people have been focusing on is trying to make the jawline-to-neck transition as sharp and as youthful as possible," he says. "We now have facial fillers that I can inject along the angle of the mandible and onto the chin bone itself so I can make the jawline look sharp and very statuesque."

Coolsculpting, a popular treatment method that uses fat-freezing technology to eliminate fat in certain trouble areas, has also come a long way since its FDA approval in 2009. Davis Cosmetic Plastic Surgery recently opened a new body contouring center adjacent to its main office that focuses on providing Coolsculpting for patients as well as master training classes for other professionals looking to become proficient at the technology.

"We were at the forefront of this technology because we saw that freezing fat was an exciting way to get rid of unwanted fat, and now we have this bank of knowledge from so many years of doing it," Davis says. "We've learned that it has to be applied properly and the applicators have to be placed in the right areas in order for people to really see the results.

"Moving forward, people are going to be looking to avoid an elective surgery if they don't need it. These non-invasive techniques are something we've been focusing on for a long time, even before COVID-19, because that's what people want to do."

To read the digital edition of South Jersey Magazine, click here.

Published and copyrighted in South Jersey Magazine, Volume 17, Issue 1 (April 2020).

For more info on South Jersey Magazine, click here.
To subscribe to South Jersey Magazine, click here.
To advertise in South Jersey Magazine, click here.