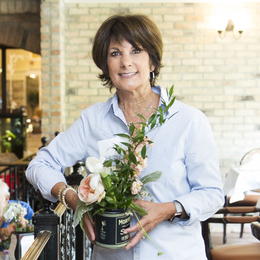 Flower Power
Leona Davis is spreading love and joy through Forget Me Knot, an organization that repurposes wedding arrangements into bouquets for nursing home and hospital residents.
Around midnight on Fridays and Saturdays when most people are winding down their night or already asleep in the comfort of their home, Leona Davis's evening is just getting started. Davis, her husband Tom, and volunteers travel to various wedding venues in the area to collect flowers from that day's receptions that otherwise would have been thrown out.
The next day, they personally deliver the flowers to local nursing homes, hospitals, women's shelters and care facilities throughout South Jersey. Davis recalled the first time she dropped off flowers at a nursing home in 2016.
"When I saw the reaction of people receiving the flowers, their faces became so alive; they were so joyful and their smiles were so beautiful," the Haddonfield resident says. "That's when I knew how important this is and how much we're impacting lives. Something was planting in my head—a seed was being planted for the future."
That seed bloomed into Forget Me Knot, a nonprofit that repurposes flowers to create bouquets that are donated to nursing homes and various organizations. Davis's mission is to spread love, joy and kindness to others, especially those that dealing with sickness or loneliness. It all started when she was planning her daughter's wedding in 2016 and she saw the bill for the flowers. It made her realize that how much money was being spent and for how little time that the flowers would actually be enjoyed and admired.
"We wondered, what happens to them?" Davis says. "We found out they toss them out, which was unacceptable to us. So we had someone collect the flowers at the end of the night and repurpose them so they could go into someone else's hands to enjoy. We tried to find an organization that did just this, but there was none.
"I told my husband we can turn this into a business and he called me crazy. He said, 'Going out at midnight on a Saturday? That's insane.'"
It might sound insane to some, especially since Davis has a full-time job as an elementary music teacher in Washington Township, but she wouldn't have it any other way. Her determination to uplift others and put a smile on people's faces is what drives her—no matter what time of day it is. And this simple gesture has made a positive impact on countless lives.
"We are completed overjoyed by what we see," she says. "Delivering flowers to people that are alone, ill or in a difficult situation, it just fills your heart. I'm all about connecting with those who need a little bit of cheer. It doesn't take much in this world to make a difference. Small acts of kindness go a long way."
She notes because there wasn't anything like this in our area, it took about a year to get her business out there and they had to educate people about the process.
"[In] 2017 we really started picking up weddings and people were understanding our goal—to give back through beautiful flowers, and it hasn't stopped," Davis says.
In fact, it has only magnified and continues to grow today. In 2019 alone, Davis obtained flowers from 90 weddings and since Forget Me Knot was launched three years ago, it has created and delivered an astounding 12,000 bouquets.
"It's something that really resonates with people. No one likes to see flowers or anything to go waste," Davis says. "We are giving couples an option of taking those flowers and paying it forward. It's a beautiful way to begin your marriage and end your reception knowing your flowers will continue to be enjoyed by others."
Forget Me Knot partners with other local organizations to pay it forward as well, such as Bancroft and St. John of God. Davis and her volunteers deliver flowers to those organizations, and their patients—some with special needs and others that have brain injuries—repurpose the flowers themselves. Then St. John of God and Bancroft deliver the bouquets to nursing homes.
"They get to be creative and give back to the community," she says.
Davis is also working to inspire the younger generation. Most recently, she brought flowers to Bells Elementary School in Washington Township—where she teaches—and students in third through fifth grades repurposed flowers into vases, which were then delivered to nursing homes.
"I gave them little tags to write messages. Some write 'I just want you to know I love you and I'm remembering you.' One girl wrote, 'Be kind to one another.' It was very heartfelt. We went through 45 vases and they kept asking if we had more flowers," she says.
"We're giving kids this opportunity to give back, make a difference and make a connection with others," she says. "Oftentimes we have Girl Scout troops repurposing flowers. We have friends that come over to repurpose flowers. We have three generations of a family that repurpose flowers together."
Davis says Forget Me Knot wouldn't be where it is today without the generous help of her volunteers.
"We have a lot of people that volunteer with us; it's heartwarming and I am grateful," she says. "They are so giving and do whatever [ask] of them. They see the joy it brings to other people. It comes natural that they want to give back and also enjoy the company of others.
"I look at our volunteers who have been with us and see the relationships they have created with one another. They are like family to me now, and it's such a beautiful situation. Working with flowers is very therapeutic and these people have the same mindset as you—it's all about giving back."
Recently, Davis was recognized for her leadership, kindness and the overall impact she's made on the community, as she was the recipient of the Camden County Freedom Medal this past January. The award is presented to those who demonstrate the ideals and actions that reflect the principles of Dr. Martin Luther King Jr.
"I was completely surprised and overwhelmed by the award and honor," she says. "It's not difficult to give back and make a difference. It's natural to give people flowers to have a conversation with them. To make an impact, you don't need balloons and a marching band; sometimes it's the simplest things we can do. I am touched that someone wanted to honor us in that way.
"It's not just about giving someone flowers—it's about making an impact on their day."


To read the digital edition of South Jersey Magazine,
click here.


Published and copyrighted in South Jersey Magazine, Volume 17, Issue 1 (April 2020).

For more info on South Jersey Magazine,
click here
.

To subscribe to South Jersey Magazine,
click here.

To advertise in South Jersey Magazine,
click here.