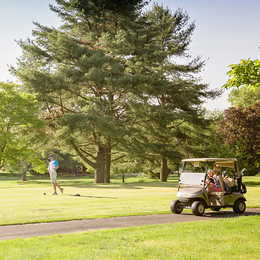 Hitting the Links
We find out what's new and notable at some of South Jersey's premier golf clubs.
With the COVID-19 pandemic causing disruptions to our everyday lives, there are plenty in South Jersey looking forward to getting back out on the golf course to play the game they love so much. So, we took a trip around the area, including heading down the Shore, to find out what some of the top clubs in the region are doing differently this year.
What's new:
Jeremy Dilks has joined the staff as Burlington's new general manager. In addition, the dining menu has recently been updated and the club is now offering a new $100 social membership for interested parties.


What's new
: Members will now be able to text orders to the Halfway House while on the course and have the staff deliver their orders to them. The menu will also offer more food and drink options, including exclusive specialty items.
Special rates
: Little Mill is offering a limited membership for those who want to join a country club but do not play a lot of golf. The golf/social membership allows for only three rounds of golf per month and costs $2,700 for the year.
MEDFORD LAKES COUNTRY CLUB
What's new
: The club has welcomed Trevor Alexander as its general manager and Chris Vanacore as its head golf professional. The outside patio area has grown and now features a fire pit and live music twice a month.
MEDFORD VILLAGE COUNTRY CLUB
What's new
: After 41 years with the club, Leo DiGisi is retiring and Bob Doria (also the director of golf) will take on the duties of general manager. Chris Hutchinson has been promoted to head golf pro and will guide the junior programming this season. Additionally, the Village Grille was renovated with new carpet, ceiling tiles, wallcoverings, table tops and televisions. The men's locker room has also been updated and this fall the swim center building will receive a new façade.
Special events
: Medford Village will host the Golf Association of Philadelphia's Mid-Am Championship qualifier on April 29 as well as the Philadelphia PGA's Jack Jolly/Golf Pride Championship on June 22.
MERCHANTVILLE COUNTRY CLUB
What's new
: The club recently took over operation of its kitchen after it was run by various caterers for the past 20 years. The iconic 80-foot Dawn Redwood tree that existed for the past 20 years along the 13th green has been removed.
What's new
: New superintendent Brandon Perrine has been working on several projects to the course, including the removal of more than 200 trees, adding new contours to every grass playing surface and the reclamation of numerous overgrown areas.
What's new
: In addition to course cleanup and adding some new fencing, the club is also proud to feature golf carts installed with GPS, providing yardage and allowing for virtual flyovers for each hole. The system will allow golfers to connect by Bluetooth to play their favorite music through the unit and offer live scoring. Meanwhile, Bogey's Club and Café made some renovations to the dining area and now feature several local craft breweries on tap.
What's new
: Brian Hecker, who has been with the club since 2011, was named Scotland Run's new head golf professional. Superintendent Jeff England and his team have added irrigation along holes 5 through 8 to create 12 feet of playable rough along the cart path.
ATLANTIC CITY COUNTRY CLUB
What's new:
The tee box on hole No. 4 has been doubled to open up more skyline views. The club has also broken ground on its new outdoor wedding ceremony space. Executive Chef Mike Balog is now overseeing the menus for all of Ottinger Golf's clubs, including Scotland Run and Ballamor, and has been adding new menu items to ACCC's Taproom.
What's new: Sean Furman, the former 1st assistant golf pro from Atlantic City Country Club, is now the head golf professional at Ballamor. He is looking to add several new member activities and events this year. The club is also offering a "close the gate" golf experience for those looking to host a private outing.
What's new
: The club recently unveiled a newly renovated wedding garden. Happy hour offerings have grown and now include eight rotating beers on tap and daily drink specials.
Special rates
: Greate Bay offers special social membership rates that include dining privileges for $200.
What's new
: This spring, Harbor Pines will begin a three-phase clubhouse renovation that will include a new pro shop, pub room and renovated common and banquet areas.
Special rates
: The club now offers "dynamic pricing," with rates based on demand so early bookings are rewarded. Those who download and book tee times through a mobile app also receive specials and discounts.
What's new
: Hidden Creek has several new hires heading into this season: Jon Chapman (general manager), Jay Ewan (director of agronomy), Jeff Parenty (executive chef), Mirza Neimarlija (food and beverage manager) and Meaghan Francella (network institute director). The club also invested in new electric golf carts, upgraded cart paths and exits, extended the practice range and created new parking areas for easier access.
Special rates
:
Hidden Creek is part of Dormie Network, where members can enjoy six private destination clubs under a single dues structure.


What's new
: While the club itself remains private, the food and beverage outlets will now be open to the public and membership will not be required to dine or enjoy a cocktail.
Special rates
: Sea Oaks offers a large variety of membership options from twilight rates starting at $865 and special Monday through Thursday rates starting at $1,635 to corporate memberships starting at $4,995 to annual family offerings from $2,035.
What's new
: This year, the club will debut a new large outdoor patio with a large fire pit and a new dining concept. New events, such as scat games and a Thursday evening steak night, are being added. And in addition to local beers from breweries along the coast, a new handcrafted signature cocktail list will arrive this summer.
Special rates
: New members can benefit from a credit back program upon signing that will give them account credits valued up to $1,900. Also, any members who join before May 1 will receive preferred initiation fees with a savings of more than $1,000.
What's new
: Crews have been working to repair the majority of the sand bunkers on the course as well as removing tall grass from a lot of the waste areas in order to make the more playable. The club is looking to expand its liquor and beer selection, including introducing more local craft brews.
What's new
: Tree removal and continued bunker restoration have been the main focus of the past offseason.
Special rates
: The club has streamlined its membership offerings and now primarily offers weekday and twilight memberships along with prepaid golf rounds. They range from $495 for 10 rounds at specific times to $650 for twilight memberships and $1,500 for weekday memberships.

To read the digital edition of South Jersey Magazine,

click here.



Published and copyrighted in South Jersey Magazine, Volume 17, Issue 1 (April 2020).

For more info on South Jersey Magazine,

click here

.


To subscribe to South Jersey Magazine,

click here.


To advertise in South Jersey Magazine,

click here.