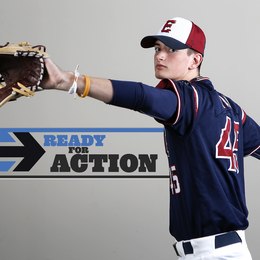 Ready for Action
These standout athletes are holding out hope that high school sports will resume soon so they can show their stuff this spring.

The spring sports season in South Jersey always comes with familiar, distinctive sounds: the ping of a metal softball bat; the chatter of a baseball team; the grunt of a tennis player serving the ball. The escalation of the COVID-19 pandemic has forced schools to close and athletics to come screeching to a halt, and nobody is sure when the silence will be lifted at area fields, parks and courts.

But, like the communities around them, local high school athletes have always been known for their ability to persevere, overcome low points and prepare for the good times ahead. The same can be said of this year's crop of spring standouts, who are holding out hope that the season can be salvaged and they can build on the many accomplishments they have already achieved.


Cole Boyan, Eastern baseball
Boyan emerged as the ace pitcher for one of South Jersey's best teams last spring as a junior, as he went 6-2 with a 1.81 ERA and helped Eastern win a sectional title. He tossed a gem in the Group IV state final, limiting Ridgewood's stellar offense to one earned run on two hits in a heartbreaking 2-1 loss.

SJM: How is the team dealing with the pandemic?
CB: I think we're doing OK. We're just hoping to have a season. We've been battling some injuries but if we're healthy I think we can be really good. I think we can rely on our arms to lead the way and we're hungry.
SJM: You're one of the guys battling an injury, right?
CB: I broke my pinkie but the recovery is going well and I'll be good. I did it playing basketball, which my dad was killing me about. We had a three-on-three tournament and I went to steal the ball and jammed my pinkie. It swelled up pretty good and I went to the doctor and had X-rays. My dad is always telling me that it's easy to get hurt when you're playing another sport. When I came back hurt he said, 'I told you.'
SJM: Were you expecting last year to be a breakout season for you?
CB: Yes. I only threw about 15 innings the year before but I put a lot of work in. I've always been the kind of guy who doesn't throw gas and just has good control. That probably threw off a couple of teams in the playoffs that were expecting someone throwing in the high 80s. I just hit my spots and got outs.
SJM: What do you like to throw?
CB: I just want everything to move. As long as my fastball is moving, along with my changeup, curveball and cutter, I'm usually fine. My changeup is probably my best pitch.
SJM: It was a memorable playoff run for the team last year and you tossed a great game in the state final. Do you think about that game often?
CB: Oh yeah. It comes back all the time. I heard all about [Ridgewood] before that, how they were scoring nine runs per game. We were the underdogs, but we were probably the underdogs for the whole playoffs. We weren't even supposed to get past the second round. We got hot at the right moment and made a great run. I wasn't too upset about the loss because I knew we played hard. I was just disappointed for the seniors who got that close. We'll bring it back for them this year.
SJM: Does it mean a lot to you to wear the Eastern uniform? This is a program with two recent graduates who could make the major leagues in Jack Herman and Davis Schneider.
CB: Those guys are the real deal. When I was a freshman, the team was full of kids like that. They all seemed so much older and they knew how the program was run. They took me and the other young guys in and showed us how things were done. It's cool because now I'm in their spot and the roles have reversed. I'm looking at freshmen the way they were looking at me, and now I'm teaching guys to carry it on. We're usually the team to beat and there's a lot of pride in wearing this uniform.
SJM: Did you ever get to throw to those guys in practice?
CB: They called me up as a freshman and I was throwing to them. It was like, 'Oh boy.' I always got Herm with my changeup. He was always chasing that—it was probably too slow for him. Davis hit me well and so did Jesse [Barbera]. They were all great players so it was good to get that quality competition.
SJM: Were you always a pitcher growing up?
CB: My dad was a pitcher so that's something I always did growing up. But I also like to hit and freshman and sophomore year I was more of an infielder. Last year I focused on just being a pitcher.
SJM: Do you like the control that comes with the position?
CB: Totally. If there's anyone to blame, it's usually the pitcher. You control the game and it goes at your pace. I just feel like if I'm pitching and I do well, I'm contributing a lot to the team.
SJM: What pitchers do you like to watch?
CB: I'm a big Kyle Hendricks fan because he only throws 86-88, but everything moves. He's a pitcher—he doesn't just go up there and chuck. He has to be more fine with where he puts the ball and where he misses. Guys who throw 100 miles an hour can miss because they throw so hard, but he's an artist. I also like the Cubs, so that's another reason.
SJM: Have you been to Wrigley Field?
CB: Yes—it's so cool. I went a while ago when they weren't so good, but it was still great. You're driving through this neighborhood and all of a sudden there's this big stadium, and it's always packed.
SJM: How did you become a Cubs fan?
CB: My dad is from Chicago so he kind of brainwashed me when I was younger. I like all the Chicago teams: Cubs, Blackhawks, Bulls. It's funny because my mom is a Philly sports fan, so it was fun in 2010 when the Blackhawks were playing the Flyers [in the Stanley Cup Finals].
SJM: Do you play any other sports besides baseball?
CB: Not anymore. I played basketball freshman and sophomore year but I stopped to focus on baseball. I also played soccer when I was younger but I stopped when I was 12.
SJM: Do you know what you're doing next year?
CB: I'm going to Penn State-Harrisburg and majoring in criminal justice. My mom is a lawyer so I'd like to go into a similar field. I don't know about law school—that's a lot—but if I want to go into the CIA or something I should have that background in the law. I might do the 2+2 program where you can do two years there and two years on the main campus. It depends on how baseball goes. My family is actually moving out there because my mom works for Penn State, so it will be about 10 to 15 minutes from my house. It's a good fit for me.
SJM: Are you going to miss South Jersey?
CB: Definitely, but I'll be back. I still have a lot of family here and I'll be back to watch some games. My roots are here so I'll never forget it. I like that it's close to Philly and the baseball is great around here.
SJM: Do you have a favorite baseball movie?
CB: It has to be either
The Sandlot
or
Moneyball
.
The Sandlot
reminds me of my childhood—I grew up watching that.
SJM: Have you been bingeing any TV shows during the coronavirus pandemic?
CB: I've been watching a lot of YouTube. I'm actually going out and doing stuff; for example, today I went out and hit and threw a little bit. Basically I'm just hanging around. I don't see my mom that much, so now that I'm seeing her consistently it's nice to have her around. … This is all so weird. It's my senior year so I hope we get to play, but I get it. I'd rather be overprepared than underprepared.
Erika Heffernen, Moorestown softball
A starter since her freshman year, this senior center fielder batted .456 and collected her 100th career hit last season to lead Moorestown to the sectional championship game for the first time in program history.

SJM: How are you dealing with the possibility that your senior season might get canceled?
EH: I cried the other day because I really want to play. We can't practice as a team right now so I've been going outside on my own. I went to the field the other day, but there's only so much you can do with the restrictions that we have. You have to be careful with this virus going around. Basically, I'm just running and doing what I can.

SJM: Of course, we're all hoping the season gets salvaged, but if not you've already had a great career, starting with your memorable freshman season. Did you expect to have that impact right away?
EH: I never expected that at all. I've played softball my whole life and learned so much and I guess it led to that. Coach [Bill] Mulvihill expected a lot out of me and I'm glad I could actually show it. I used to be the ball girl and the bat girl for the [high school] team when I was in sixth grade, so I got to learn the team at that point. When I came up, Coach Mulvihill already knew me and he definitely expected me to start and play.

SJM: Did you bat leadoff that year?
EH: I actually batted second because Caroline Muccifori was there and she was great. I batted right behind her, and she supported me and I supported her.

SJM: You're known for your speed—is that a big part of your game?
EH: My speed plays a big part in what I do. I bunt a lot and I'm learning how to slap, but I also have a big bat. I don't just do one thing—I try to do everything a lefty can do.

SJM: Do you play any other sports besides softball?
EH: Softball is my main focus. I wanted to play other sports, but softball is a year-round activity and it takes up a majority of my time through fall and winter too. My older brother played baseball and so he kind of sparked my interest in softball.

SJM: Last year your team made it to the South Jersey final for the first time ever. What was it like to be part of that?
EH: It was so incredible to make Moorestown softball history. We had never made it past the second round of the playoffs. To make it to the championship game was a feat in itself. I know we lost the game, but the bonds I made with the team and the accomplishments we made along the way are just incredible. I'm so proud of that team.

SJM: If you get to play this season, does this year's team have the same potential?
EH: We definitely want to be able to do that again, and this time win the big game. That's our biggest goal and we were working so hard in the preseason.

SJM: You got your 100th career hit last year, which is a major number in softball. What did that milestone mean to you?
EH: It meant so much knowing that all the hard work I put in for three years led to something. Caroline [Muccifori] actually set the school record with 112, and if we have a season I'm hoping to break that. I think I'm only six away and it's definitely a personal goal of mine. It would be great to leave a mark on Moorestown softball and that would mean so much to me.

SJM: Do you know what you're doing next year?
EH: Next year I will be attending Carnegie Mellon University in Pittsburgh and playing softball. I've always loved Pittsburgh and Carnegie Mellon has been my dream school for as long as I can remember. To be able to play for such a school and such a coach as [Monica] Harrison, it's so exciting. I can't wait to play there, especially if this season is cut short.

SJM: Do you know what you want to study in college?
EH: I'll be studying business; either marketing or financial analysis, one of those two. They have the Tepper School of Business, which is pretty good—I like to brag about it. They also have a big engineering school, but that's not me. I like to use my creative side and I feel like I can do that with marketing. It's always interested me. I wrote an essay for them and I talked about one specific commercial that inspired me to want to go into marketing. It was the Extra commercial with the song "Can't Help Falling in Love" and the guy drawing pictures of him and his girlfriend. It was cute and it really moved me.

SJM: What do you do for fun in your free time?
EH: I like listening to music and watching TV and movies. I just started getting into calligraphy actually, because I watch a lot of videos on Instagram and I want to recreate that. I think it's so interesting what they do.

SJM: Any favorites when it comes to music, TV or movies?
EH: My favorite TV show has to be Sherlock, because it's very mysterious and it involves problem solving and mystery solving, which I find very interesting. It kind of messes with your head a little bit. Music, I really like pop and rap.

SJM: What do you like about growing up in Moorestown?
EH: I started off in Delran and moved to Moorestown in sixth grade. I really love the community atmosphere in Moorestown. I definitely want to live there and have my children grow up there because it's such a wonderful town. Main Street is so beautiful and it's so nice just to walk down at night with all of the lights.

Chris Lyons, Shawnee boys lacrosse
A senior attackman/midfielder, Lyons scored 67 goals as a junior—giving him 151 for his career—and also handed out 34 assists to help Shawnee reach its third straight sectional championship game. He will continue his career next year at Yale.
SJM: How are you dealing with the uncertainty over your senior season?
CL: It's a little depressing. Demotivating is the right word; I don't want to go outside because I don't want to have the mindset of preparing for something that's not going to happen. But I also want to make sure if it does end up being half a season, I'm ready to get back to playing. I've been lifting—that's been my happy medium. But now all the gyms are shut down so I don't know what to do. I think I'm going to resort back to the front yard.
SJM: You're coming off a big junior season for yourself and the team. Did it feel like everything was clicking?
CL: That was a great year. I was really close with all of the guys on the team, which made it that much better. We worked really hard in the preseason and even before that, all winter. There were four or five guys in my yard in the snow. The four leading scorers were all really close. Those guys graduated, but this year it was the same thing. The new guys came in and we were excited.
SJM: You've played in the sectional final every year of your career, right?
CL: Yes, all three years, and we lost every time. We've had a lot of great guys come through, we've just had a hard time getting over that last hump.
SJM: Who do you consider your biggest rival? It has to be either Lenape or Moorestown.
CL: Both Lenape and Moorestown are games that I have to mentally prepare for way in advance. Lenape is more of the in-season rival because we play them twice and it's for the division championship. Beating Lenape is our focus during the season, but once the postseason hits it's all Moorestown because we don't face Lenape in the playoffs.
SJM: How old were you when you first started playing lacrosse?
CL: My mom played in college so I started in first grade, playing two years up with [older kids] like Bailey Pringle and Tommy Shinske. I actually didn't want to play at first because I thought it was a girls' sport. I said, 'No Mom, I'm playing baseball.' They had to drag me to the field, but as soon as they let me loose out of the car, it was a done deal. It's a lost faster than baseball and I fell in love with it right away.
SJM: Do you play any other sports?
CL: I played basketball freshman and sophomore year and was on the state championship team. But I really wanted to play box lacrosse during the winter, which is like hockey without the skates. It's super physical, there are moving picks. It's basically lacrosse in a hockey rink with no rules. I wanted to play that during the winter so I stopped playing basketball.
SJM: What led to your decision to commit to Yale?
CL: I had offers in eighth grade but decided it wasn't the best idea to commit then. Me and my parents came to the conclusion that I wasn't really going to know where I wanted to go to college as an eighth-grader. I didn't even know what classes I was taking in high school or what I was interested in, so there was no point making a commitment. I'm really glad I did that because there's no way I would've found Yale in eighth grade. It's a blessing and a dream to go there. Both of my grandfathers were Ivy League students and my great-great grandfather went to Yale, so it's been in my family for a while. … I was between Princeton, Yale, Lehigh and Georgetown, and I picked Yale very quickly. It was not a hard decision. I went to visit once; I went to one workout and they work 10 times harder than anyone else. It was that noticeable and I fell in love with the school.
SJM: Do you know what you want to study?
CL: I'm going in undecided, but I think I want to study business. I just want to make sure because I have two years before I have to declare.
SJM: Hopefully you have one more season of high school lacrosse, but if not at least you can look forward to your college career.
CL: Yes. I feel so bad for some of my close friends who aren't playing in college and were dying to play their senior year. Some of them hadn't gotten playing time yet and were getting a chance to start.
SJM: If you do have a season, what are your expectations?
CL: I have no doubt we can get back to the championship game. It will be something out of a storybook once we come back, because we'll be going from homeschooling online to six hours of school and then practice. Everyone will be super excited. It's one of those things where you don't know what you have until it's taken away. Even the running won't feel like work because we'll all be ready to go.
SJM: What are your hobbies away from lacrosse?
CL: Other than lacrosse I just enjoy spending time with my friends. I also really like family time. I know some other people don't, but my family does everything together. We'll wake up and go for a run or go for a swim, do our own thing during the day and then come back and have family dinner together. It's my younger sister, who's a freshman, and then my mom and dad and my dog, Kaya. She's a black lab; she's not a puppy but she's only 60 pounds because she never grew. She was supposed to be 75-80 pounds but she stopped growing and now she thinks she's a lap dog. She's really cute and she does everything with the family. When we go running or hiking of whatever, the dog comes too. The dog's workout regimen is way more intense than mine is.
SJM: Do you like going to school at Shawnee?
CL: I love Shawnee. I was really debating going to St. Augustine because my best friend was going there and a lot of great lacrosse players go there. But I wanted to stay close to home so my grandmother could come to my games. … There's something really nice about being 10 minutes away from school and knowing everyone, because I've gone to school with them since kindergarten.
SJM: Do you have any favorite TV shows?
CL: I don't watch much TV. I usually watch sports, but with the whole COVID thing, there's no sports. I'm watching all of the
30 for 30
s on ESPN now. But it's forcing a lot more quality conversation.
Lindsay and Allison Colflesh, Haddonfield girls track
The Colflesh twins have been making an impact at Haddonfield since their freshman year and are poised for a huge junior season. Last spring, their accomplishments included a sectional title in the 800 for Allison and a second-place finish at states for Lindsay in the same event. This winter, Lindsay claimed a sectional championship and Allison had two second-place finishes.
Allison Colflesh
SJM: Are you still hopeful that you'll be able to have a spring track season?
AC: I'm still hopeful because sectionals and states are not until May and June, so there's still a lot of time to prepare for that. But with everything going on I don't think we're going to be as prepared as we were last year for sectionals. We'll see what happens.
SJM: You and your sister have had so many accomplishments already in high school. Does your sectional title in the 800 last year stand out as the one you're most proud of?
AC: Yes, because my sister was sick that day and not feeling her best. We're always there for each other when we need it the most, and when one doesn't do well the other one always picks it up to make her feel better.
SJM: What's it like when you're competing against each other in the same race?
AC: We always push each other during the race. When she's ahead of me, I keep my eyes on her and she's the one who keeps me going. [At indoor sectionals], the 800 was hard on me because I had the 1600 earlier and I [set a personal record], so I was burned out. Looking at her gave me the motivation to keep going.
SJM: Why is the 1600 your favorite race?
AC: I used to be a sprinter when I was younger, but when I started running cross country in sixth grade I became more of a distance runner. For me, running distance gives me more of a recovery in between the race. For the last lap of the 1600, I always like to sprint to get a better time.
SJM: Is it beneficial to have a built-in training partner?
AC: I feel like we help each other in some ways, but she's more of a 400-800 girl and I'm more of a distance runner. When we're doing the same workouts we do end up pushing each other, because we know our running aspects and we know how to motivate each other. But it's more difficult when we're doing different workouts for different events.
SJM: Is there a bond between all of the talented runners at Haddonfield right now?
AC: Yes. A majority of our team are juniors and I think we all help each other out. Whether it's the 800, the 1600 or even the 3200, having each other in front of us or behind us motivates us to go faster.
SJM: What are the best and worst parts about being a twin?
AC: We do have those occasional fights, but we end up solving them and realizing we need to be there for each other. If we're not, then we're not going to be happy in life.
SJM: Do you share clothes?
AC: We sometimes do, but normally we have our own style. Lindsay likes to wear sweat pants a lot and I'm more into jeans. We also have different color choices. I like bright colors like pink and she likes cool colors like blue and purple.
SJM: Are you hoping to attend the same college?
AC: I think it would be nice if we did but I don't think it will happen because we have different interests and different running events.
SJM: What are you looking for in a college?
AC: I'm looking to be a physical therapist and study kinesiology. I don't really mind about the size of the school; I just want a place I can pursue my dreams.
SJM: What are your hobbies away from sports?
AC: Normally I get home from running and just do homework, so I don't really have a lot of free time. But I like to draw sometimes. It depends on how I'm feeling but I like to draw flowers or people.
SJM: Have you always lived in Haddonfield?
AC: I have. I came home from the hospital and I've been in the same house my whole life. It's a nice town to live in and there's a lot of nice people. We meet new people every day and we're close to Kings Highway … so we get to walk around with our friends.
SJM: Do you have a favorite teacher at school?
AC: I like all of my teachers. I don't even have a favorite subject; I just do it all.
SJM: Do you feel like Haddonfield is a supportive school?
AC: Yes. I always go on Twitter and I like seeing how our school is succeeding in sports and athletics. It makes you want to go to Haddonfield and makes you feel welcome.
Lindsay Colflesh
SJM: How has it been completing your schoolwork from home during the coronavirus pandemic?
LC: It's a little hard to adapt but we're probably going to get used to it and then have to go back.
SJM: You and your sister have been making an impact on the Haddonfield track program since you were freshmen. Are you happy with what you've been able to accomplish so far?
LC: I'm very happy. I came from being a goalie in field hockey and starting cross country. I came home from my first day of cross country so excited to run five miles. I'm definitely happy to be doing what I'm doing now and I'm excited to carry it on to college.
SJM: When did you realize that running was a talent of yours?
LC: During elementary school, my sister and I did some running camps in Haddon Township, and during middle school we did a winter track program, just running around the school. When we were little, our mom would take us to this preschool down near Clearview [where she teaches] and we would race each other down the halls. So we were always naturals at it, but it was more elementary school when we really started to like it. Before that we just did it for fun and didn't even realize it was a sport.
SJM: Do you feel like you bring out the best in each other?
LC: We train together a lot, but with the team we're in separate groups because of the time differences. When we're running alone, we always boost each other up because we're very competitive with each other. If one is doing bad, the other is going to do good for the other twin.
SJM: At the indoor sectional championships this year you finished first and second in the 800. Does that feel like a double victory?
LC: When we go up against each other, we always say it doesn't matter who wins because we're going to feel proud of each other no matter what. We both have that appreciation for it.
SJM: Is the 800 your favorite race?
LC: Yes. My sister's is more the 1600, but she loves the 1600 and 800. I'm more the 400 and the 800. I'm more of a sprinter than distance so it's harder for me to pace a long-distance race. In the 800 I know I just have to get through two laps.
SJM: Haddonfield is renowned for track and cross country. Is it special to you to be part of that program?
LC: Yes, it is. Last year we won sectionals and came so close to winning at states. I think we've gotten stronger and faster and I think we can accomplish the goal of winning both sectionals and states if we have a track season. We've grown as a team and we're only going to get stronger.
SJM: Haddonfield has a special group of runners right now, with Sarah Naticchia, Olivia Stoner and Payton Weiner joining you and your sister. Do you all push each other to get faster?
LC: Yeah, we all definitely help each other improve. During workouts we always pick up the person who's last. If we have our teammates around us during training, we can push each other beyond our [best] times and that will help us push each other during the race too. Most other teams don't have that barrier where you're with your teammate throughout the whole race, but we all have similar times so we can finish with each other.
SJM: Aside from running together, do you enjoy having a twin?
LC: The bad part is the arguments we have, but we always make up and realize the arguments are stupid. Overall it's good to have a twin, because if you're having a bad race or a bad day, they'll be there to help you through it. Without someone there, it's a lot different to do it by yourself.
SJM: Have you started thinking about college yet?
LC: Yeah, a little bit. As of right now we're thinking about separating, but if we both like the same college and apply, then we could end up at the same one.
SJM: What are you looking for in the track program and the school itself?
LC: I'm looking for a team with great training and a good middle distance group so I can focus on that instead of doing distance workouts and sprint workouts. I want to be right in the middle, if that makes sense. I'm hoping to major in something technology based because my brother is doing that and our dad is with TD Bank right now, and I find that very interesting. I don't have a preference for the size of the school or anything.
SJM: What do you do for fun away from the track?
LC: I try to hang out with my friends or just hang out with my sister at home and chill with my family.
SJM: Have you been bingeing any TV shows during the coronavirus pandemic?
LC: I don't have Netflix but I do binge watch a lot of shows. Right now my favorite is
Riverdale
but that only comes out once a week. There are a few other shows I like too.
Addi Mann, Cherry Hill East golf
A senior, Mann bested all golfers—male and female—to win the Camden County Tournament last spring. She also tied for 11th at the LPGA High School Classic and competed at the state championships, where she carded an 83. After three years of playing mostly with boys on the coed team, she is the leader for Cherry Hill East's first-year girls program.
SJM: Girls golf has been taking off in the area, with more and more schools offering separate girls teams for the first time, including Cherry Hill East. What does that mean to you?
AM: It's kind of an interesting experience, especially for my senior year since I've been used to playing with the guys the last three years. I love those guys—I play a lot of golf with them and they're always going to be my teammates. We're still trying to figure everything out since this is obviously the beginning for us. We have to figure out what tees we're playing from, what rules we're playing with. Some of the girls do not have golf course experience so we're also trying to figure that out, and obviously this break is not helping. But we're trying to move forward as a team and a school and we'll see how this season goes if it happens.
SJM: Does it seem like more girls are getting interested in the sport?
AM: It's kind of funny what happened with our team. At our first practice I think we had six girls come out and the guys team had about 12. At the last practice that we had, about eight to 10 girls showed up. So it is growing.
SJM: How did you get into golf?
AM: A lot of people ask me that and I wish I had a better story. I really just thought it would be fun. I was driving by Indian Springs Country Club with my mom one day and I was just looking out the window and said, 'I want to try golf.' Apparently, [my mom] tried to discourage me from playing golf because she thought it would be too frustrating.
SJM: It is a frustrating sport. Do you think you handle the adversity well?
AM: I used to be horrible at it, to be honest. My freshman year I was so bad at it. One of the reasons I get better each year is because I try to work on the mental aspect of the game. I used to get really frustrated; I thought that I practiced so much and the game owed it to me. But my junior year is when I realized that the game owes me nothing. It's just a pleasure to go out there, have fun and enjoy it. When that clicked, my mental aspect got a lot better and I realized if I hit a bad shot, then I hit a bad shot. There's bigger problems going on right now. I was playing the other day and I hit four bad shots and made one good putt to par the hole. … All you have to do is wait for that excellent shot.
SJM: Last year was such a successful one for you. Did it seem like everything was clicking?
AM: Yes and no. It wasn't until mid-to-late April that I thought I was having a good season. The county tournament was a turning point. I knew where I was for states, because the top 50 make it and I was right on the cusp, and my front nine score was going to count for [state qualifying]. I ended up shooting 36 on the front, which is 1-over par at Woodcrest and is the best nine-hole score I've ever had there. After that, I was going birdie hunting and having so much fun out there. That jumpstarted the rest of the season for me. It solidified my spot, because I was playing on the coed team at the time and that showed that I wasn't just the token girl on the team.
SJM: Beating all the boys at the county tournament must have been special.
AM: That was awesome. There's a funny story with the county tournament that I just love. It was at Woodcrest and I was very happy about that because it's my home course. I was talking to a guy who worked there at the time about the course layout and he said, 'You need to make five birdies today.' So the entire time, all I was thinking about was making five birdies. … Every time I made a birdie I would yell to my coach, 'I got another one!' At the end of the round I made six birdies and I went up to the guy and said, 'I didn't make five birdies—I made six,' and then I just walked away.
SJM: Is Woodcrest your favorite course?
AM: Yes. They treat me so well there. It's truly my second home.
SJM: If you could pick any course in the world to play, which would you choose?
AM: Either Augusta or TPC Sawgrass. Those are two fantastic courses. I was down at Sawgrass last year for The Players [Championship] and it was awesome.
SJM: Do you follow the professional game?
AM: Yes. I like to consider myself a big student of the game and I love following golf. I like talking about it, but nobody will usually entertain me. They get mad at me at school.
SJM: Who are some of the pros you like?
AM: I like the young guys—rookies like Viktor Hovland, who just came on Tour; Matt Wolff, who's in his second year; and Collin Morikawa, another guy in his first or second year on the PGA Tour.
SJM: You're known for your stylish, colorful attire during matches. How did that come about?
AM: It's funny, because at school all I wear is dark sweatpants and T-shirts, usually black. When I'm on the golf course, golf is what I have fun with and it looks better this way. I was wearing doughnut pants on the course the other day and I told the guy I was playing with, 'You can't play bad if you're going to wear doughnut pants. All eyes are on you, good or bad, so you need to show up.'
SJM: Are the doughnut pants your most flamboyant outfit?
AM: Probably, yes. But these red ones are my favorite. I also have shorts that have $100 bills on them and those are pretty cool.
SJM: What other hobbies do you have aside from golf?
AM: A lot of my time is spent golfing, but I also like to hang out with friends and go to restaurants or do whatever. I also like working out or watching other sports. I'm a big Philly sports fan—go Eagles.
SJM: Do you know what you're doing next year?
AM: I'm going to be attending California University of Pennsylvania and studying professional golf management and playing on the golf team there. It would be awesome to call the golf course my office someday. They have a really good [professional golf management] program and their on-campus golf facilities are fantastic. The dorms are also nice and modern and the campus is nice.
Arjun Mannan, Cherokee boys tennis
Mannan, a junior, is coming off an outstanding sophomore season in which he compiled a 32-2 record and became the first Cherokee player to ever win the South Jersey Interscholastic Tournament. He also repeated as the Burlington County champ and reached the round of 16 at the state singles tournament.
SJM: How have you been keeping your tennis game strong during the coronavirus pandemic?
AM: We can't practice so I've just been hitting with my sister at the community courts. She's 14 and she plays too.
SJM: Last season was such a memorable one for you. Which accomplishment were you most proud of?
AM: Probably winning the South Jersey tournament. The year before, I'm pretty sure I had to pull out with an injury, so coming back and winning [was special]. I didn't even know I was the first Cherokee player to win; I found out after.
SJM: In the final you defeated Moorestown's Peter Leese, who is also back this year if a season can be salvaged. Is he someone you look forward to playing?
AM: Yes. It's always a close match when we play.
SJM: Did you surprise yourself at all with everything you were able to achieve as a sophomore?
AM: I just played a lot and worked hard and tried to get better.
SJM: How did you get started in tennis?
AM: When I was 6 years old I played a bunch of sports. I started playing tennis and found out I was pretty good at it. So I stuck with it and I've been playing since then. I started playing tournaments when I was 8.
SJM: What do you like about the sport?
AM: I like how competitive it is. In singles you're out there all alone, so you have to motivate yourself.
SJM: What are your strengths and weaknesses in tennis?
AM: My volleys are probably my strength and my serve is my weakness. I have to keep practicing and get stronger so I can serve bigger.
SJM: If you end up having a season, what are your goals for your junior season?
AM: I hope to beat my season from last year, win South Jersey again and do better at states. The state tournament is really competitive. There are a lot of kids from North Jersey who are very good.
SJM: Your team reached the sectional quarterfinals last year. Is that something you can improve on?
AM: Yes. We have a lot of new freshmen coming in who seem pretty good. I think we have a good chance of doing better this year.
SJM: Are you a big fan of professional tennis?
AM: Not really. I only watch the Grand Slams. My favorite player is probably Roger Federer. I like how he volleys and comes to the net and puts balls away.
SJM: What are your other interests besides tennis?
AM: I like to do STEM-related things like coding or building remote-controlled cars. I'm interested in studying computer engineering in college.
SJM: Do you want to play tennis in college?
AM: Yes. I've talked to a couple of coaches but I haven't really started the recruiting process yet. I'm looking for a school with a really good engineering program and competitive tennis.
Gianna Monaco, Lenape girls lacrosse
Monaco burst onto the scene last year as a freshman, as she scored 86 goals to set a Lenape school record and added 147 ground balls and 107 draw controls. She helped lead the Indians to their fifth sectional championship game in six years.
SJM: How are you dealing with the possibility of the season getting canceled?
GM: It's very upsetting to have the season halted so abruptly, but I think we'll have a little bit of a season eventually. I'm looking forward to playing as many games as possible.
SJM: Were you surprised at all by what you were able to accomplish as a freshman?
GM: Yes, I was. I was not expecting to come into Lenape with that big of an impact, but I'm glad I did. It was shocking to get my 100
th
point, but I'm glad I could help the team.
SJM: Was there a point that you realized you belonged on the varsity level?
GM: Honestly, I was so nervous my first game and I hit the post six times before I actually scored a goal. I said to myself, 'Oh gosh, this is going to be a bad season.' But as the season went on it got a lot better, and after I figured out how to work with my teammates that's when I knew everything was good.
SJM: What did the goal record mean to you?
GM: I was proud of myself and happy that I did the best I could do. I didn't even know I broke the record until somebody told me. To beat the record as a freshman was insane and I hope my career continues [to be successful].
SJM: Did you watch some of the great Lenape teams before you with Gabby Fornia and Carlee Braverman?
GM: I didn't watch them too much but I knew of them because Carlee used to teach lacrosse. But now I watch Gabby at Vanderbilt and she's an amazing player. It's great to know what Lenape had in the past and I hope I can carry on the legacy.
SJM: I know your dad is the head coach at Paul VI. Is he the one who got you started in lacrosse?
GM: It was actually my mom who got me into it. She played in college at Ursinus and from the day I was born she was always saying, 'Lacrosse, lacrosse, lacrosse.' She was the one who taught me all the fundamentals and basics of lacrosse. So I really got into it, and then my dad started to watch videos and understand the game more. I'm glad he got into it and could become a high school coach. I'm so excited for him.
SJM: Were you scheduled to play against your dad's team this year?
GM: We were just supposed to scrimmage them but it got canceled. We scrimmaged them last year and he was a brand-new coach, so he didn't know any of his players. We beat them by a lot. But we talk about our teams often and he has a lot of good players this year. I was looking forward to a tougher matchup this year and hopefully we can play them in the next two years. Maybe they'll win and maybe we'll win.
SJM: Who would your mom root for?
GM: [Laughs] Obviously she would always root for me. She wants to see me succeed. It can lead to some awkward dinners though.
SJM: If the season can be saved, are you confident that Lenape can get back to the sectional final?
GM: I am pretty confident. I think we have a strong team this year, even though we lost three key defenders and a great group overall. Some of our incoming players just have to get used to the way we play the game. I'm hoping we can beat Shawnee, Cherokee and Eastern—all the strong teams—and bring the sectional title to Lenape.
SJM: Have you started thinking about college yet?
GM: I want to play in college but I don't know where I want to go yet. I want to play at a high Division I school but I'm going to keep my options open.
SJM: Who do you play club lacrosse for?
GM: Ultimate New Jersey in Princeton. They have three teams and I've been there since fifth grade. It's a great program.
SJM: Do you play any other sports?
GM: I play field hockey at Lenape but I definitely like lacrosse more. I do it to stay in shape and be active.
SJM: What do you like to do when you're not playing sports?
GM: When I'm not playing sports or doing homework I like going to the beach, hanging out with my friends or just doing anything active. I'll go running in the backyard with my dogs. Anything that gets me outside being active is fun.
SJM: What's your favorite Shore town?
GM: We have a house in LBI, but I definitely like Ocean City because a lot of my friends are there. Whenever I get an invitation to stay in Ocean City, I jump at it.
SJM: Even though college is still a few years away, do you know what you want to study?
GM: I do. I want to get a degree in biology and enter the physicians assistant program. I'd also like to focus on the sports medicine side because it seems to fit me.
SJM: What do you like about Lenape?
GM: I love the environment. The principal is so sweet and the teachers will do anything to help you. They want you to succeed and they're there to help you along. They're really tough, but it helps you get better.
Jayden Greene, Washington Township boys track
A versatile senior who competes in a wide range of events, Greene is at his best in the 800. Last spring he was a sectional champion in the event, placed seventh at states and 12th at the Meet of Champions, and he was in the top 10 at all three of those meets during this past indoor season.
SJM: How are you dealing with all of the uncertainty over the season?
JG: It's disappointing but I'm hanging in there. I've been training every single day. I wake up and run in the morning through the park since the school is closed.
SJM: What are your goals for this season, if it can be salvaged?
JG: Well, the indoor season didn't really go like I wanted it to, so I'm looking to come out a lot stronger if this season happens. I finally learned my perfect style of running. … I used to feel out the field first, but my last race I [stopped doing that].
SJM: You took second at sectionals this winter in the 800 and also placed in the top 10 at states and the Meet of Champions. Why were you unhappy with the indoor season?
JG: For states and sectionals, I didn't really go when I should have. I got scared. I have learned to not get scared anymore; to go with my gut feeling and not wait until it's too late.
SJM: Throughout high school you've competed in everything from the 100 to the 800, along with the hurdles. Is it important to you to have that versatility?
JG: It was in previous years, but last year and this year I was focusing more on the 400 and 800. They also want to run me more in the 1600 during outdoor.
SJM: Is the 800 your favorite race?
JG: Yes. It's not too far and not too short. I still end up dying in the end, but if I get out slow then I still have time to make it up. There's just something about the race that gets me.
SJM: What is it like to compete on the biggest stage, such as sectionals or states?
JG: I love it. A lot of people get nervous for big races, but for me it's all I think about and I love championship season. It gets me so amped up and excited.
SJM: What are your rituals heading into those meets?
JG: It might sound weird, but for every single meet—not just championship season, but every single meet—I have to wear the same socks and the same pants, sweatshirt and windbreaker. If you see me at any meet, I'll be wearing the same thing. I also listen to the same playlist every single race. Some of the artists are NBA YoungBoy, Roddy Ricch, Tory Lanez, Meek Mill, Lil Uzi Vert and Drake.
SJM: When did you first get into track?
JG: Honestly, I didn't really take track seriously until my sophomore year during outdoor season. I started running as a freshman but I didn't really get into it until the end of sophomore year and going into junior year. That's when I started training and everything. I knew I had speed but track wasn't my main interest; I was more into basketball. … I'm glad I found it and I just wish I would've taken it seriously from the start.
SJM: Do you know what you're doing next year?
JG: I'm going to St. Joe's in Philadelphia for track and field. It's a very beautiful campus and I love the atmosphere and work ethic of the team. They have great coaches, too. They were very welcoming and it seemed like a family when I went there.
SJM: Do you know what you want to study in college?
JG: Business and marketing. My dad is a business manager and does a lot of marketing, and he's taught me so much over the years. It interested me and I know if I get a degree in marketing that it will be easy to get a job with my dad helping me out.
SJM: What do you like about growing up in Washington Township?
JG: We have really nice parks, like Atkinson Park and Washington Lake Park, to play basketball or any sport at. The Black Horse Pike has a lot of nice restaurants to go to. I also like that we can get to Philly in less than an hour, the Deptford Mall is about 15 minutes away and the Shore is close. We have a little bit of everything where we live, so you're never bored.
SJM: Do you have a favorite teacher at school?
JG: I love all of the teachers I have this year. They're all so loving and welcoming. It's upsetting not to see them right now. … Our principal is really cool too. He just sent a video to all of the seniors saying they're working really hard to get our senior trip back and they miss us.
SJM: What interests do you have aside from sports?
JG: My life basically consists of school, training and video games, and that's pretty much it. I have an Xbox but I play a lot of games on my PC because the graphics are better. I like
Fortnite
,
Call of Duty
and
Grand Theft Auto
—those are my top three.
To read the digital edition of South Jersey Magazine,
click here.


Published and copyrighted in South Jersey Magazine, Volume 17, Issue 1 (April 2020).

For more info on South Jersey Magazine,
click here
.

To subscribe to South Jersey Magazine,
click here.

To advertise in South Jersey Magazine,
click here.