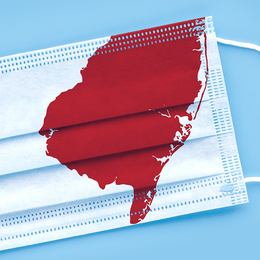 Bouncing Back
As the coronavirus ripples through the country, South Jersey is proving that a united community can meet any challenge.
Like any bride-to-be, Jennifer Napieralski planned every detail of her wedding to perfection. A devoted Phillies fan, the Cherry Hill resident always wanted a destination wedding in Clearwater, Fla., during spring training. Her fiancé Gary Bailey couldn't argue with that, and they set a date for March 22, 2020. But 10 days before the wedding, the couple's world came crashing down.
"It seemed like the coronavirus was the only thing on the news
—
everything was coming out about it," Napieralski says. "We weren't deterred. We figured if the airlines stopped flights, we could drive. We didn't care." But later in the day, the NBA announced it would be suspending its season, and within hours MLB canceled spring training. On top of that, their best man and a majority of their friends backed out, and Napieralski's sister, who suffers from asthma and would have been walking her down the aisle, was questioning her own attendance.
"I was hysterical. We had spent all this money and no one was coming. How could I get married with only 10 people there?" she recalls. "I was beside myself crying all night."
After Bailey helped calm her down, Napieralski called her venue the very next morning, March 13, and fortunately, she was able to transfer everything, including vendors, to a new date in September. "When we looked at the options and matched them up with our photographer's availability, we realized one of them, Sept. 27, was the same date we got engaged in 2018," she says of this tiny bit of silver lining, but her heart remains broken.
"I don't know how to put into words what it feels like to have two years of planning crash down in six hours and there's nothing you can do to stop it. … And to make matters worse, at a time when I want to be surrounded by my loved ones and comforted, we can't be together. … I'm just hoping and praying, come September, everything is fine."
Napieralski was just one of many whose lives were turned upside down in the month of March due to the COVID-19 pandemic. Almost overnight, nothing was normal
—s
chools were closing, employees were working from home, restaurants ceased all dine-in options and large gatherings
—
including funerals
—
were prohibited. As cases spread from county to county, Gov. Phil Murphy issued a stay-at-home directive to help flatten the curve. Suddenly, the term social distancing was a trending topic.
While individuals faced uncertainty, there were others who didn't have time to waste, springing into action to provide essential services and solutions for South Jersey residents. From critical hospital care and nonprofit relief to educational, legal and financial institutions, their quick, coordinated responses have rendered crucial support in a time of deep need. Although there is no clear timeline for a return to normalcy, there is an overwhelming sense of community that this pandemic has created as people rise to the occasion with a steadfast resolve to see South Jersey come out of this stronger than ever.
While the general public may not have taken the spread of the coronavirus seriously until mid-March, organizations throughout South Jersey had been preparing for weeks in advance.
Virtua Health assembled a task force at the beginning of February to strategize and prepare for various scenarios. According to Dr. Reginald Blaber, executive vice president and chief clinical officer, the hospital system has been operating a 24/7 command center with representatives on hand from all divisions of the organization.
Widespread infectious disease is just one of the many routine training scenarios in the organization's safety handbook, and Blaber says, "In regards to COVID-19, Virtua assessed its resources and supplies designed to stop viruses from spreading, and implemented additional training on how to use them safely and appropriately."
Since the outbreak, Virtua has tested hundreds of people who presented with symptoms consistent with coronavirus, many of whom are now confirmed cases, he continues. "Virtua's front-line staff is always prepared for the possibility of infectious diseases and has the education and training to handle those situations appropriately. This outbreak only reinforces the importance of being aware, prepared and responsive."
With that said, Virtua asks anyone who has manageable symptoms of coronavirus to call their primary care provider before showing up at a hospital or urgent care. "By doing so, a clinician can make a plan that ensures the person receives care in a way that does not put others at risk," Blaber says.
Further precautions were put in place on March 16, when the health system implemented a no-visitation policy for all inpatient and outpatient locations. Exceptions were made for certain departments such as labor and delivery, ICU and palliative care. This was followed by the temporary suspension of all elective surgeries and procedures on March 18
—
a measure that allowed Virtua to potentially reallocate and reassign resources where the need was greatest.
The timing of Inspira Health's new Mullica Hill hospital has been a benefit to the region as it deals with more cases of the virus. "The new hospital has more critical care beds, more isolation capacity, a compartmentalized ER that makes it easier to segregate patients who might have COVID-19, more technology that allows for safe remote monitoring of patients and user-friendly virtual communication between patients and staff. Perhaps the most important benefit is that our new hospital has all private rooms, which enhances our infection prevention efforts," says Paul M. Lambrecht, vice president quality and patient safety, Inspira Health.
Inspira has temporarily expanded the number of patient rooms at its medical centers in Elmer, Vineland and Mullica Hill that can be used for patients requiring isolation precautions, which would include patients who have tested positive or are at high risk for coronavirus.
"Additionally, Inspira Health is cooperating fully with the New Jersey Department of Health to assist them with their plans to bring Inspira Woodbury back online as a general acute care hospital to add surge capacity to South Jersey."
All possible sources have been explored to cover the shortage of supplies hospitals are facing. "Our supply chain management team has worked extraordinarily hard, and thought outside the box, to ensure that we have the supplies we need," Lambrecht says. "We have also developed conservation plans for those items in short supply."
Rowan University, as operator of the School of Osteopathic Medicine (SOM), provided an inventory of supplies available should they be called upon. "We reported 3,000 face masks to Gloucester County, so they know what we have, and when the shortage comes, we can transfer them to whoever needs them," says Joe Cardona, vice president for university relations.
In addition, Inspira is working with Rowan to develop and test 3D-printed N95 prototype masks that can be sterilized and reused.
As the medical community deals with the ever-increasing number of patients experiencing symptoms of the virus, the rest of society
—
from businesses to schools
—
had to change course and heed the warnings about staying home.
In light of the Center for Disease Control (CDC) recommendations to keep group gatherings to 10 or fewer, schools had little choice but to shift to at-home learning. Pandemic preparation was not something found in handbooks for most schools, but those in South Jersey had been monitoring the situation. "We had no plans for a pandemic. We plan for emergency closures where the days are made up. That's typical for all of us. But no plans were in place for something like this," says Larry Mussoline, superintendent of Haddonfield schools. "We started really putting plans in place around Feb. 28 and then by March 16, the plans were pretty much solidified."
Most school districts initially announced a two-week closure, yet all of Burlington County schools were directed to close for at least one month. Dr. Carol L. Birnbohm, Lenape Regional superintendent, says the last time her district created any emergency plans for the continuity of education was during the H1N1 pandemic, which were reviewed to see what could be replicated. Working in concert with other school leaders has also been beneficial. "The superintendents in Burlington County are a collaborative group, and we have county conference calls to regularly communicate with each other and share ideas; the pandemic has dominated our most recent discussions. We shared letters and plans prior to the shutdown, and we continue to share and support each other during the shutdown," she says.
Higher education institutions were perhaps one or two steps ahead of local schools. Rowan's Cardona says they were closely following colleagues at the University of Washington
—
one of the earliest states hit with the coronavirus. On March 12, Rowan University announced the remainder of its spring semester would take place online. "A lot of people wondered if we were overreacting in the first two weeks," Cardona says. And even though there was a pandemic response plan in the books, it was all on paper. "You try to follow as well as you can, but soon enough you find factors that throw you off," he says. "But we have a lot of emergency planning and the easiest part of it is coordinating
—
everyone knows how to work together."
With a total of 16,000 people on the main campus, and 20,000 total if you include its county college campuses and health care outlets, Rowan is practically a small city. Rowan did receive its first confirmed coronavirus cases, a resident student on the Glassboro campus and a SOM employee, announced on March 21. It remains to be seen if more will appear, but the hope is that the campus closures have helped derail the spread.
For now, students are logging in online, and for anyone set to graduate in May, there will be a virtual ceremony with hopes for a more traditional ceremony in the late summer. "We still want to recognize and celebrate this achievement and their years of hard work, but the physical act of walking on stage will have to wait until August or later," Cardona says.
The frustration is not lost on the education professionals. "We all feel a great deal of empathy for our students in the class of 2020," says Birnbohm. "This is not the senior year they hoped for, planned for or expected. They will, however, learn an important life lesson that they only have the ability to control the things which are within their control. They must put their energy into those things. We do not have control over the necessary restrictions set upon us, which will cause us to cancel some big senior-year moments. Our students will no doubt feel frustrated, sad and perhaps angry as a result of these cancellations. All of those emotions are OK and understandable."
Teachers have been doing their part to keep students' spirits up. Mussoline says most principals are sending morning videos in place of the usual daily announcements, and Birnbohm says it's common to see tweets from teachers showing their continued dedication.
Perhaps this new world order, as Mussoline puts it, is one of the best lessons for students. "Resilience. Pragmatism. Flexibility. Creativity. Cognitive flexibility. The need for leadership in local, national and state government. You know, these are all key skills and needs that everyone in 2020 will have to exhibit to be successful in life," he says.
Parents are perhaps having to draw on these skills now more than ever as workplaces have either shut down entirely or switched to remote office capabilities. Families across the country are fighting for space on the dining room table, and parents are faced with balancing the role of teacher and entertainer for their kids, while maintaining productivity as an employee.
Steve and Erica Botto of Washington Township have been taking it day by day. They have a son in third grade and a daughter in kindergarten. Erica is a teacher and Steve works at First National Bank of Elmer. "For the most part, we're all working in the dining room so we can all help each other if the kids have a question," says Steve.
"It's definitely difficult and frustrating at times, but there's nothing else we can do. We try to break it down throughout the day, finishing assignments and then taking a break for lunch or recess to make it feel like a normal school day," he says. But it's a tug of war for attention. "It's hard to manage teaching a 9-year-old from a laptop or tablet and then turn and focus on what you need to do for your own job."
Haddonfield's Claudia Oceguera was about to start four months of travel to Asia, Latin America and Europe for her job with FMC Corporation in Philadelphia until everything was canceled, sending her homebound with her husband and two sons, 17 and 12.
"Sometimes the three of us are in conferences at the same time, so we took different parts of the house as our respective spaces to avoid distractions," she says. Keeping the normal routine has maintained some sanity for the family. They wake up to alarms, have lunch at noon and exercise before dinner. "I believe that discipline and structure are very helpful to avoid feeling lost or anxious, and so far that has worked very well for all of us," she continues.
That said; the new reality hasn't been without its challenges
—
or comic relief. While on a conference call making a presentation to a group of people from Asia and Europe using Skype, Oceguera's Alexa device announced one of the daily before-school reminders for her kids. "It was very loud because I was sitting right next to Alexa as she said, 'Leo and Diego, don't forget to brush your teeth and comb your hair…' I was so embarrassed. … Everybody in the call was laughing out loud," she says.
Oceguera says she feels for parents who have younger, less independent children at home. "One of my employees is in that situation. She has two little children, and her husband is working from home, too. They have to take turns to work, otherwise it would be impossible. And as a manager and as a mother, I totally understand what they are going through and I've been very flexible with her."
Employers are taking this unprecedented time into consideration to make accommodations for employees to work remotely, but not without some guidance. David Rapuano, partner in Archer's labor and employment group and a member of its coronavirus task force, says a pandemic is "one of those future problems that most employers
—
for good reason
—
haven't planned for and aren't well-equipped to deal with." Solutions are being developed on the fly. "I would say that the people I've talked to are trying to come up with solutions that are fair, with a moral component and business component to them," he says.
Since this is not an event with a finite end
—
such as a flood
—
there is a degree of uncertainty for businesses. "Another thing is that the closing of schools is something in my almost 30 years of experience I've never seen on a wide scale," Rapuano says. "That really creates a significant new element to this situation because many parents don't have any resources to take care of kids outside of the ones that are closed. … For most people the bulk of child care is through school, and many of the other institutions providing child care are closed as well."
But businesses want to keep their employees working
—
they'd rather not shut down entirely
—
which makes the ability to work remotely more than just a perk. "I think this is going to spur companies to have a much more robust remote working capability," Rapuano says. "I'm not saying everyone's company will go remote, but at the same time companies will start seeing remote work as more than just an employee benefit. I think companies will start to think more about having remote work capabilities in place as a form of insurance against dislocations caused by viruses."
Not every industry has the ability to work remotely, however, and the prospect of job loss has been very real for many people. The federal government moved quickly to create a bipartisan solution with the $2 trillion Coronavirus Aid, Relief, and Economic Stability Act (CARES Act), giving emergency relief to small businesses, hospitals, individuals, state and local governments and education.
Stan Molotsky, founder of SHM Financial Group, says the stimulus is a step in the right direction. "It's something that's a positive, it can't hurt," he says. "It shows politicians can, on occasion, do something together."
He encourages people to look beyond the day to day. "The glass isn't half empty, it's half full," Molotsky says. "Things will get better, and consumers have some terrific opportunities to keep the economy going and get great deals. If you need a car, if you have a surplus for stock market investments, and if you can refinance, absolutely do that to take advantage of the rates."
Supporting local businesses is one of the primary ways residents can do their part to contribute to the economy
—
something as simple as ordering dinner from a nearby pizzeria can make a difference. The restaurant and hospitality industry was one of the first to experience hardships as a direct response to the pandemic. Marilou Halvorsen, president of the New Jersey Restaurant & Hospitality Association, says this industry is the largest private sector employer in the state, making the economic revenue it generates essential. Members noticed almost immediately a dip in customers prior to the governor's decision to close dining rooms and allow takeout only.
"The decision to allow restaurants to keep operating with takeout is good in that it will help to retain some of the back-of-house employees, but it's not going to be great long term
—
many have already lost their jobs," Halvorsen says.
She points to the Paycheck Protection Program within the CARES Act, geared toward retaining employees or used for utilities and other operating expenses, as something members want to explore for relief.
Other industries have been spurred by the crisis to find new avenues to keep their staff employed while also doing their part to help the community.
Pennsauken-based Disc Makers' core business is CD and DVD manufacturing for independent artists, but on March 19, the business pivoted to producing face shields. "We saw a drop in our business almost overnight after President Trump announced travel restrictions," says Tony van Veen, CEO of DiY Media Group. He talked to staff about cutting back hours and pay cuts, and layoffs were on the table for discussion. But as news reports surfaced about the shortage in protective gear for medical personnel, van Veen's wife suggested his company try to help.
"We knew we couldn't sew masks, but we have an assembly operation, so I challenged my team on a Thursday morning to create a prototype, which we had by Friday, and we spent the weekend setting up workstations and finalizing the product, and by Tuesday we started production. We turned on a dime," he says.
Not only did this accomplish a goal of keeping the staff working, but secondarily, it addressed a real need in the market. The company has heard from nearly every major hospital in South Jersey, Philadelphia and Delaware, as well as up and down the East Coast and as far as Los Angeles.
As a business owner, van Veen says it was important to be transparent. "We were frank with employees
—
our top priority was their health and the business' survival so we could all have a job when we're all through this," he says. "People want the place where they work to be successful and to survive, and we have a supportive staff. Maybe they were in customer service or graphic design, but they are making face shields now and it beats the alternative of not having a job, plus they really have a sense of pride about how this is helping save lives."
The cleanliness of essential businesses is top of mind as well, and Brian Budd, owner of Power Washing Pro, has stepped up to make his company's sanitizing services available for these locations. Budd and his staff continue to hear from residential customers who are looking to make their living environments cleaner while they are home, but on the commercial side, there has been a surge of requests from supermarkets and other storefronts.
Much of their work on these businesses is done off hours, he says, and includes sanitizing shopping carts. "We have commercial trucks with hot water systems with 180-degree water and a cleaning solution that kills 99.9 percent of germs
—
it will destroy any kind of virus," Budd says, who adds that employees work in safe distances, wear masks and goggles and travel in separate vehicles to job sites.
"Everyone feels a sense of commitment to do the right thing. It's important for all retailers
—
even small restaurants doing takeout
—
to keep the areas clean and safe for customers," he continues. "We also feel we're pitching in to do our part to stop the spread."
Even for Train Wreck Distillery in Mount Holly, the financial hit of this pandemic isn't holding them back from filling a need in the community. Instead, this family-owned spirits-maker obtained a special dispensation to start producing hand sanitizer
—
a precious commodity these days.
Using guidelines from the World Health Organization, David and Aaron Diamond, the father-son owners, are not only making the sanitizer, but giving it away to those who need it most. "We're happy to help and want to do anything to help the community out, especially the fire department, EMS, police, nurses, doctors
—
a lot of those people come in and support us and now it's time to support them," says Aaron.
In addition to holding specific giveaways outside the distillery where local first responders can come pick up the sanitizer, Train Wreck has also fulfilled a 300-bottle order for the United States Postal Service, and donated to a nursing home in North Jersey that was dealing with a number of positive cases. They were also in the process of filling an order from a supermarket in New York City.
"This situation
—
it's hard and hurting us," says Aaron. "We had been doing really well and paying off our bills and then this happens. But we'll get through it
—
we'll keep chugging."
One of Fred Rogers' most popular sayings that he attributed to his mother was, in times of crisis, "Look for the helpers…" and this experience is no exception.
Those helpers are all around us in South Jersey, whether it's those businesses shifting their models to produce much-needed supplies or nonprofit organizations and even regular people giving their time and skills.
Faced with unemployment or pay cuts, or the loss of school-provided food, some residents may be relying on organizations like the Food Bank of South Jersey (FBSJ) to put meals on the table for their families. The coronavirus is making a mark in the region as representatives from the FBSJ say there has been a 200 percent increase in requests for food, and could increase to 300 percent in the coming weeks.
That hasn't stopped it from expanding and strengthening its food distribution capacity.
Lavinia Awosanya, chief development officer, says the Food Bank has maintained full operation and is extending its mobile food distribution throughout the region and has 180 agencies in its network to make sure food goes out to people as quickly and as safely as possible, including emergency food boxes to individuals and families.
"We are working closely with state and federal officials to conduct operations in the safest and most efficient ways possible
—
as well as adhering to the CDC's strict guidance to distribute food in as low- to no-contact ways as possible
—
keeping social distancing protocols a priority at all food distribution sites throughout our region," says FBSJ CEO Fred C. Wasiak.
"Many people are asking how they can help, and there are two primary ways
—
volunteering and donating funds online," Awosanya says. "Food is always good but one thing you don't think about during a food drive is the logistical challenge, especially in a time like this when there is limited access to the building or some staff is working from home." There is a designated coronavirus donation page on the Food Bank's website as well as a link for those interested in giving their time.
"We will get through these days of uncertainty
—
and we will be more united than ever," Wasiak says.
There are other creative ways to volunteer as well, says Michele Epifani, past executive director of the Volunteer Center of South Jersey and current vice president of programs at Jersey Cares. The organization has been reaching out to see what is needed among its nonprofit partners.
"As we find out what they need, we put their messages out there and the opportunities on the website, and we also have instructions about the safety precautions these organizations are taking so people aren't afraid to help," Epifani says. "There are also virtual ways to volunteer, such as calling a local senior center and having conversations with the residents or decorating the outside of their windows."
The pandemic has taken a toll on nonprofit funding, including the Volunteer Center of South Jersey, which had to postpone its annual Taste of Community fundraiser until August. "This event helps us carry on our day-to-day operations, so monetary help is useful right now. Gift cards make wonderful donations because a lot of these organizations need supplies for hygiene kits for example."
Epifani says she is inspired by the people who have started their own initiatives. "I see a lot of grassroots organization
—
neighborhoods coming together and young people shopping for and delivering groceries to the at-risk populations," she says. "That's a very good thing."
Others have taken action in response to the need for medical supplies. CURE Auto Insurance launched a "Drive for Docs" initiative to collect N95 masks from auto body shops in the region. Eric Poe, Esq., CPA, COO for CURE Auto Insurance, says ancillary occupations such as construction workers, painters and auto body shops all use these types of masks to protect themselves from toxic chemicals.
"Because we are a local insurance provider, we have direct relationships with these shops," Poe says. "And when we reached out for this act of goodwill, there was an immediate response. It was amazing to see because these shops could have kept the masks and gloves for themselves."
Although this moment in time is unprecedented, Poe says it reminds him of how 9/11 united us. "I lived in New York City during 9/11 and sometimes I almost cry watching how we sit and bicker on TV these days about all of our differences, then something like this reminds us we're all human, and at the end of the day we all recognize that it's in human nature to care about other people," he says. "We have to think about the caregivers, the nurses and the other people who are not even on the top wage scale, walking into hospitals and treating strangers. We might have completely opposing views, but we all share a common fiber."
Humanity sharing a common thread couldn't be better expressed in this pandemic than from a community of sewists making masks.
Melissa Rothman, an artist and designer from Cherry Hill, heard that the CDC was recommending for medical professionals to wear bandanas on their faces when N95 masks begin to run out. "My sister and her fiancé both work in New York City hospitals where they come into contact with many sick people every day," Rothman says. "I knew immediately that I would be able to sew something a bit more effective and at the very least more dignified for them."
Rothman initially used a pattern for woodworking masks, but the result didn't seem tight enough to be effective. That's when she discovered a bunch of Facebook groups with sewists sharing resources and working together to make and distribute masks using a pattern posted by Deaconess, a Midwest-based health network. With the help of the health professionals in her family to tweak the design to accommodate a filter and a wire insert over the nose, Rothman got to work.
She has shared her journey on social media, which has generated donations and motivated others. "The response has been overwhelming," she says. "I've had many bags and boxes of fabric and supplies dropped off to me and more monetary donations than I initially knew how to use. Knowing this issue was one I couldn't solve with just two hands, I recruited others to help me. We were able to purchase supplies for them with the donations as well. The fact that so many are willing to become singularly focused on being a part of the solution has brought me a feeling of camaraderie, even in this time of isolation."
Rothman estimates that she has made upwards of 200 masks and counting, which have been distributed to the Children's Hospital of Philadelphia, Boston Children's Hospital, NYU and Cooper University Health Care, to name a few.
Although these masks are in no way a replacement for N95 masks, there is still a bright side, she says. "If there's a silver lining to be found, it's that we are still able to look out for one another and find a strong sense of community during a time when we are forced apart. I hope that my masks and the thousands being made by other sewists let our health heroes know that we are grateful to them and have their backs no matter what."
These efforts haven't gone unappreciated in the medical community, adds Inspira's Lambrecht. "Individuals and businesses across our region have generously donated masks, goggles and other needed items. Contractors, nail salons, hardware stores and sewing clubs have stepped up and supported us. A number of local restaurants and food vendors have donated meals for our hardworking employees. The response from our communities has been heartwarming, and we are grateful," he says.
Virtua's Blaber is not surprised by the acts of generosity from average people either. "The outbreak has been a reminder of the uncommon courage, commitment and compassion of people who work in health care," he says. "They are often referred to as heroes, and that is well deserved."
There is no doubt that America and South Jersey especially, are resilient, and will one day soon feel a return to what we considered normal. In these times of reflection on preparation, response and appreciation for what we have, there is a sense of hope with each passing day for a better future.
"As a community, I believe we all should learn there are things that exist that are too big to tackle alone," concludes Lenape's Birnbohm. "In a time of crisis, the human spirit survives by allowing people to set aside differences and to connect with those whom they would not normally connect. Wouldn't it be great if we did not need a crisis to accomplish this?"


To read the digital edition of South Jersey Magazine, click here.

Published and copyrighted in South Jersey Magazine, Volume 17, Issue 1 (April 2020).

For more info on South Jersey Magazine, click here.
To subscribe to South Jersey Magazine, click here.
To advertise in South Jersey Magazine, click here.