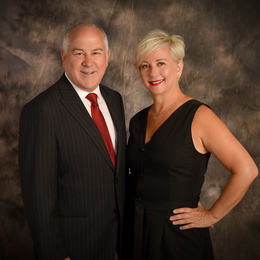 Sponsored Content: Calm, Cool and Collected
With almost 30 years of experience in real estate, Gina Ziegler is able to guide her clients smoothly and successfully through the stressful event of selling or buying a home.

The tumultuous world of real estate—where anything can happen, and often does—is incredibly stressful for the average person going through the process. But in those times when the unexpected occurs, issues arise and the deal appears to be in jeopardy, it is easy to pick out Gina Ziegler.

She is the one who is completely cool under pressure, willing and able to solve whatever challenges are in front of her clients.

"That comes with experience," says Ziegler, a longtime real estate agent in South Jersey. "I've been through the easiest of transactions and the most difficult, but my clients can always count on me. I don't expect them to know what to do since they only sell a house once or twice in a lifetime—I do it every day.

"My partners and I have a wealth of experience, and when you have experienced people guiding you, it makes it much easier going through a real estate sale. It's a stressful time that becomes stress-free."

Ziegler and Brian Menchel form The Ziegler Menchel Realty Group at Keller Williams, and together they have 55 years of experience and countless successful sales. With a dedicated, full-service team that includes a certified professional home stager and four full-time, licensed real estate professionals, they look forward to assisting a wide variety of clients throughevery step of the transaction.

The Ziegler Menchel Realty Group recently joined forces with KellerWilliams, one of the most respected names in the business.

"Keller Williams is really ahead of the times in the real estate industry," Ziegler says. "Our team is moving in that same direction and we were happy to join this fast-moving real estate company. Basically, when clients call on our group they get two very experienced agents working for them and a team of support. We are always available to service our clients."

Ziegler knows that a big part of her role is to allay her clients' fears and concerns during the ups and downs of a sale. She is not the type to get easily rattled, and when the transaction is at its breaking point, that is when she is at her best.

"I listen to what the concerns are and I can easily calm the situation, offer the best resolutions and keep everyone moving in the right direction."

Another nerve-wracking experience comes during the home inspection, when problems such as termite damage or draining issues may be discovered. "The inspector often finds a lot of things wrong with the house, or at least it seems that way," Ziegler says. "Though we can't make the problems go away, we know how to resolve them."

Ziegler also puts more effort than many in the industry into the presentation of her listings. Before putting a home on the market, she works with the client to make sure the house can show at its best.

"Thirty days before the house actually hits the market is the most critical time," she says. "This is where experience and knowledge are most important—preparing the home for sale and preparing the seller to move.

"The three things that sell a house are price, location and condition. When a homebuyer walks into your home, perception to the buyer is everything. We show our clients how to create appeal, which in turn creates value."

Ziegler's experience is also beneficial to her buyers. Not every client is going to be able to afford a house in the perfect location, but she can help guide them to the hidden gems and negotiate a fair price. "It's a matter of listening to their wants and needs and introducing them to opportunities that meet those wants and needs," she says.

At the end of the day, buying or selling a home is usually a life-changing experience. Ziegler and her team will ensure that the deal gets done without any hiccups. "Real estate is a complicated process with so many factors involved," she says. "We want our clients to know that they can count on us every step of the way."
Ziegler Menchel Realty Group

9000 Lincoln Drive E., Suite 130 | Marlton
856-441-6800 |
RealtorInMarltonNJ.com
To read the digital edition of South Jersey Magazine, click
here
.

Published (and copyrighted) in South Jersey Magazine, Volume 16, Issue 12 (March 2020).

For more info on South Jersey Magazine, click
here
.

To subscribe to South Jersey Magazine, click
here
.

To advertise in South Jersey Magazine, click
here
.