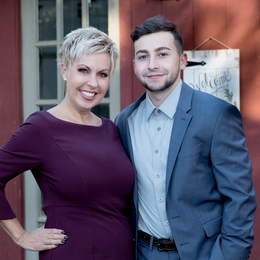 Sponsored Content: A Brave New World
Respected real estate agent Gina Romano has branched out and started her own company, and excellent customer service remains the cornerstone of her business.

There are many qualities that make up a successful real estate agent, from an engaging personality and knowledge of the housing market to negotiating skills and a relentless work ethic. But one trait that stands above them all, at least in Gina Romano's eyes, is the willingness to form personal connections with clients and find out what makes them tick.

After all, how can one be expected to discover the perfect home for clients without fully grasping their wants and needs?

"A lot of times in our industry, agents don't work every day, so they don't get to know their clients well," Romano says. "Our company is very much people-driven; we get to know our clients and find out how they live and what their family is about. Then we're able to fit them into the home that works best for their scenario.

"Real estate is about relationships, so we focus on building those relationships. That's what makes our organization a little bit different from everybody else's."

Romano has followed that philosophy ever since breaking into real estate more than 15 years ago, and it led her to a thriving career with stops at several well-known firms. But early last year she began growing dissatisfied with the large, corporate setting, and realized she could better serve her clients by branching out on her own.

Although she freely admits to being nervous about the venture, she bravely and confidently took the leap, and Romano Realty was born in September. Located on Main Street in the heart of Mullica Hill, people can expect the personal attention and friendly interactions that might be missing elsewhere.

"It was a little scary, but it's going extremely well, "Romano says. "The public has been very supportive and it hasn't hindered my business in any way. If anything, it's growing.

"I just got tired of the large franchises, because I felt like they cared more about the bottom line than the consumer. I like to provide a high level of service and a personal touch, whereas a lot of the larger franchises have lost that along the way. So it seemed like a natural fit to move int oa role as a broker and a leader."
It was important to Romano to fill out her team with like-minded individuals, and she couldn't be more proud of the staff she has assembled. It includes a new construction expert, several agents who specialize in first-time homebuyers and a commercial broker to head the new commercial division.

"I treat my clients like family and friends, and that philosophy is embedded in my company now," she says. "I'm very particular about the people I bring on board. They have to represent the company well and have the same standards."

Another member of the team is Luke Romano, a marketing specialist who also happens to be the youngest of Gina's three sons.

"I'm more traditional and like to build relationships, but Luke brings a whole other dynamic because he's from the younger generation," she says. "He was brought up on social media, he has strong video skills and he knows what people are looking for. He played a huge role in designing our logo and it's been fun to work side by side with him."
While Romano Realty extends its reach all over South Jersey, there is a particular focus on Gloucester County and desirable communities such as Mullica Hill, Woolwich Township and East Greenwich.

Romano herself has been a longtime resident of the county and believes people appreciate the preservation of farmland and open spaces. There is a small-town feel, but at the same time Philadelphia, the Shore points and bustling areas like Cherry Hill and Marlton are just a short drive away.

"There are a lot of great things happening in the area, especially in Mullica Hill," Romano says. "The recent opening of the new Inspira hospital was huge, and retail is also moving into town. At the same time, they have a Main Street that makes you feel like you're in a Hallmark movie. I believe that Mullica Hill will be similar to Moorestown in Burlington County and become the hub of Gloucester County. They've figured out a way to bring old school and new school together and it's working."

Romano Realty's office is proof of that concept, as it is situated in a barn that dates back to the 1890s, yet has a modern, comfortable interior with a coffee bar and big-screen TV. Romano encourages prospective buyers and sellers to stop by and get to know the team, and she is eager to help in any way she can.

"Even though the company is new, I'm not new to the industry," she says. "I've built a brand over 15 years and this was the time to take it to another level. Even though I'm an owner now, I still love to sell houses. It became a way of life for me and that will not change."

Romano Realty
53 North Main St. | Mullica Hill
856-434-4050 |

RomanoRealty.net



To read the digital edition of South Jersey Magazine, click

here

.

Published (and copyrighted) in South Jersey Magazine, Volume 16, Issue 12 (March 2020).

For more info on South Jersey Magazine, click

here

.
To subscribe to South Jersey Magazine, click

here

.
To advertise in South Jersey Magazine, click

here

.