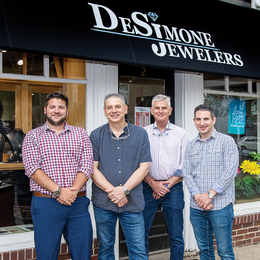 Sponsored Content: From Their Family to Yours
DeSimone Jewelers, now in South Jersey, continues a four-decade tradition of offering customers one-of-a-kind pieces in a friendly setting.

Whether they are in the market for a new car, a couch or a pair of shoes, most people prefer not to be pressured by pushy sales people. That is especially true when it comes to jewelry shopping, as an aggressive approach can take the joy out of hunting for the perfect engagement ring or anniversary gift and sour the whole experience.

Fortunately, a respected business with nearly 40 years of experience on Philadelphia's famed Jewelers' Row recently moved to downtown Haddonfield. At DeSimone Jewelers, the hard sell is never an option.

"It's not like that at all—this is a family business and there are no salespeople working on commission," says Nick DeSimone, a second-generation partner in the company. "We treat people like family. It's not the type of place you walk into and deal with us once and never see us again. We pride ourselves on service after the sale, and with a vast majority of our customers we get to know them and their families. It becomes a lifelong relationship."

Founded by brothers Will and Lou DeSimone in 1981, DeSimone Jewelers spent many years manufacturing pieces for other jewelers and developing its own strong customer base through word of mouth. Situated on the third floor of a building on Sansom Street in Center City, walk-in traffic was rare.

That changed last year when the family— including Nick and Mike, the sons of Will and Lou, respectively—left Philadelphia and moved closer to its South Jersey roots with a shop in Haddonfield's historic shopping district. Its loyal clientele followed, and now new customers are discovering the top-notch service, unique pieces and innovative ideas that define DeSimone Jewelers.

"Everyone we've met has been extremely inviting and supportive," Nick says. "Haddonfield is a neat throw-back town with a lot of little shops. At the same time, the area seems to have a lot of younger families moving in and fixing up homes. It's forever growing."

DeSimone Jewelers stands out from many of its competitors in that all of its pieces are custom made using computer aided design (CAD) and laser welding. Will and Nick are known as two of the most renowned CAD designers in the area, and Lou is an equally regarded master jeweler who has his hands on every single piece that comes through the shop. Mike has quickly become an expert diamond setter under the apprenticeship of one of Philadelphia's finest.

"We're different from your typical chain jewelry store and even the local jewelry stores. As far as I'm aware, not a lot of places do their own work in-house," Nick says. "Basically, every engagement ring and wedding band and just about everything we make is one of a kind. It's a cool experience for the customer to see the design come to life, from the conveyance of the idea to a computer-generated rendering and then the finished product."

The company specializes in made-to-order engagement rings. Appointments are recommended, as the clients are thoroughly educated on the attributes of a diamond and the important factors to consider. "We've found that our customers boast about the fact that we take the time to break down the characteristics of a diamond and provide the best bang for the buck within budget."

The client is also given the opportunity to see both natural and lab-grown diamonds. The major difference is simply the origin—the earth or a laboratory—and the man-made variety has been gaining traction.

"It's probably the largest growing trend in the jewelry industry right now," Nick says. "In the beginning, I think a lot of jewelry stores were scared of the idea. They were scared it would tarnish their reputation and scared of what it would do to the value of natural diamonds. But Will and Lou have always had a good idea of where the industry is headed. Throughout the years, we were one of the first in the area to do CAD, one of the first in the area to do laser welding, and now we're one of the first to offer lab-grown diamonds."

DeSimone Jewelers does not push one style over the other, as both can be used to create stunning rings. There are certain benefits to lab-grown diamonds, however.

"We give the customer the option; we show both and explain why a larger, whiter and cleaner diamond can cost less than a mined diamond," Nick says. "Lab-grown diamonds have the same optical, chemical and physical properties as mined diamonds, not to mention they are ethically sourced and 100 percent conflict-free.

"It's greener for the environment as well, because nobody is mining the earth for them. In the younger generation, a lot of people are more socially and environmentally aware, so that's important. A lot of celebrities are also wearing these now, so that makes the public more interested."

No matter what customers decide, they are sure to walk out with a beautiful, custom-made symbol of their love and commitment. And once they have purchased their engagement ring, it's a safe bet they'll return in the future.

"We love when they come back for push presents or anniversary gifts," Nick says. "We have a showcase full of necklaces, ear- rings and bracelets too. Our forte is the engagement rings and wedding bands, but we pretty much offer everything."

DeSimone Jewelers
2 S. Haddon Ave. | Haddonfield
215-625-0320 |

DeSimoneJewelers.com



To read the digital edition of South Jersey Magazine, click

here

.

Published (and copyrighted) in South Jersey Magazine, Volume 16, Issue 12 (March 2020).

For more info on South Jersey Magazine, click

here

.
To subscribe to South Jersey Magazine, click

here

.
To advertise in South Jersey Magazine, click

here

.