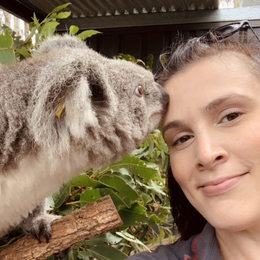 Names to Know
Local people achieving big things in South Jersey and beyond.

Taran Amicone Kinder
As a world traveler and animal lover, this Berlin native volunteered at the Woodford Cedar Run Wildlife Refuge for almost a year before she was accepted into the Koala International Volunteer Program in Australia. Kinder was able to help rescue and rehabilitate koalas and other wildlife from the bushfires that were causing several species of animals to be at risk of extinction. Kinder was one of the few who dropped everything and flew across the world to save thousands of animals.

Luca Zadeh
Born with Down syndrome, 13-year-old Zadeh has spent most of his life struggling with sensory issues and other difficulties, but that has not stopped him. The Voorhees native has been gifted with numerous medals from all over the world thanks to his mother Denise's friend and mentor, Maria van Pelt who currently lives in Boston. She has become an advocate for Zadeh by running marathons in his name to raise funds and awareness of families with children just like him.

Eric Ascalon
Ascalon, a Cherry Hill resident, will be chairing the 18th annual Garden State Film Festival (GSFF). The GSFF wants to promote independent filmmaking throughout New Jersey and with a background in business and legal services, a strong interest in film-making and being a member of the GSFF board, Ascalon was the perfect candidate for the position. As vice president of development for Pennsylvania-based Catalyst Experiential, he deals with the creation of innovative outdoor advertising.

Scott D'Antonio
From a heavy metal drummer to a local contractor, D'Antonio has been able to utilize his skills to help families with special needs by raffling off a "Day of Service" ticket at charity events he hosts. Once a month, D'Antonio and his team will help a family in need by renovating their home. As his charitable acts grew, so did his fan base, allowing him to partner up with NJ On Air to create a TV show called Hometown Heroes featuring all of the amazing work that the community does for each other.

Bryana Turner
As the new face of the Girl Scout Shortbread cookie boxes, 14-year-old Turner, from Lindenwold, has been soaring in the spotlight. As one of five Girl Scouts who helped redesign the cookie boxes, Turner was selected to appear on the Food Network for her community service efforts. She will be featured in a four-part series called Girl Scout Cookie Championship, where she will be turning cookies into edible shapes like glaciers and beaches. She was also featured on The Kitchen, a network chat show that promoted the program.

Danyle Heilig
After 21 seasons as Eastern Regional High School's head field hockey coach, Heilig has announced her retirement. Her remarkable tenure included 21 state championships, the No. 1 ranking in the country nine times, a 153-game unbeaten streak, and eight Tournament of Champions titles. Although her love of the game is strong, her desire to be home with her family drives her further into her next path in life.

Do you know a local person who is doing great things? Let us know by emailing

Sydney@SouthJersey.com

.



To read the digital edition of South Jersey Magazine, click

here

.

Published (and copyrighted) in South Jersey Magazine, Volume 16, Issue 12 (March 2020).

For more info on South Jersey Magazine, click

here

.
To subscribe to South Jersey Magazine, click

here

.
To advertise in South Jersey Magazine, click

here

.