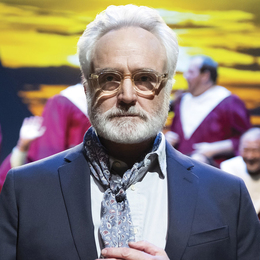 In Tune
Personally and professionally, Bradley Whitford lives in perfect harmony.

Never in his wildest dreams did longtime area resident Bradley Whitford imagine that his childhood desire to perform would lead him from Broadway to the White House—or at least to The West Wing.

Whitford attributes his 34-year career to a combination of luck, opportunity and preparation. This classically trained Juilliard thespian began his career in 1985 on an episode of television's The Equalizer, followed by a role in the movie Dead as a Doorman. But it was his theater roots that changed his destiny.

In 1990, he played the leading role of Lt. Daniel Kaffee in Aaron Sorkin's dramatic Broadway play A Few Good Men. This marked the beginning of a long-running collaboration between the two cinematic heavyweights. Nine years later, when Sorkin was creating The West Wing, he cast Whitford as White House Deputy Chief of Staff Josh Lyman. The role earned Whitford the first of three Emmy Awards for Best Supporting Actor.
"I came from a theater background, and so did the vast majority of the cast members on The West Wing, and the stage forces you to be audacious," he says. "So, if you have the opportunity to do both, I think it makes you a better actor. And it's always a great deal of fun to change things up."

With all seven seasons of The West Wing now streaming on Netflix, Whit-ford can look back on the experience with pride. He feels incredibly fortunate to have enjoyed so many triumphs throughout his career, including Perfect Harmony, his latest comedy on NBC.

The 60-year-old actor grew up in Wayne, Pa., and lived there from ages 3 to 14, before moving to Madison, Wis. He still has strong ties to Philadelphia's Germantown and Chestnut Hill neighborhoods, as well as the Main Line; he visits his sister and other family members and friends in the area as often as he can. In fact, when the topic of Philadelphia comes up in conversation, his mind wanders to one of the area's seminal foods: "When I come back home, I always want a hoagie. After all, who wouldn't?"

'Feels like Home'
Whitford's professional life continues to soar. He can say the same about his personal life, given his recent marriage to fellow actor Amy Landecker. The couple worked together on two shows: Hulu's The Handmaid's Tale; and Transparent, an Amazon Studios drama about a family dealing with their father's transition to the opposite gender.

Whitford, the father of three, and Landecker, the mother of one, were married on July 17.They had a few days for a "semi-elopement with our children," he says. He's happy to admit that nearly everything about married life has exceeded his expectations.

"It has been great and really busy," he adds. "Since I met Amy, my blood pressure has dropped. It's been such a calm, loving and supportive relationship from the very beginning, and spending time with Amy truly feels like home."

His Hollywood résumé is peppered with film hits such as Kate and Leopold with Meg Ryan, The Post with Meryl Streep, and Saving Mr. Banks with Emma Thompson and Tom Hanks. His TV career, aside from the roles in shows already mentioned, has included prominent roles in The Good Guys, co-starring Colin Hanks, Sorkin's Studio 60 on the Sunset Strip, also starring Matthew Perry, and Trophy Wife, co-starring Malin Akerman.

His trick to not being typecast is "to do completely different kinds of acting" to the point that he can't apply the same approach from one project to the next.

"I feel so embarrassingly fortunate for the opportunities that I am getting," he explains. "When you are a guy pushing 60, and you get to be in a movie like [the 2017 thriller] Get Out, that sort of pops in the industry; it opens even more opportunities. So, I feel like an incredibly fortunate guy."

Although he has received many accolades, Whitford says every nomination is an honor. It was quite special to be nominated for an Emmy as Guest Actor in The Handmaid's Tale. Spoiler alert: He won.

"I was so in love with that show [that] I felt like I got a guest shot on The Godfather Part II," he says. "I don't get intimidated, but on the set of The Handmaid's Tale, I felt relieved when I was nominated for the Emmy, because I knew I had pulled it off."

But, it's almost inevitable that things circle back to The West Wing. For a long time, Whitford never watched a third of the show's seven seasons' worth of episodes. But when fellow The West Wing alum Joshua Malina did a recent podcast, it spurred Whitford to go back and see them. He's proud to say the show "holds up."

"Everyone keeps talking about [a re-boot], and I think we would all do it in a second, but it's all in the hands of Aaron Sorkin," he says. "I kept thinking there is a fear of doing it. I used to say on that show,

'You want to get out before your banana turns brown.' It was such a wonderful experience that you don't want to sully it with a lesser version. But if Aaron could find a way, I'm sure he would. But there is nothing in the works."

Out of the Darkness
These days, in the NBC comedy Perfect Harmony, he plays Arthur Cochran, a former Princeton music professor who stumbles into choir practice at a small-town church to find an oddball group of singers that is out of tune in so many ways. The show also stars Anna Camp (Pitch Perfect) as an upbeat single mom looking to find the best in everyone.

Considering the many heavy dramas he had under his belt— Transparent and The Handmaid's Tale, among them—Whitford says it felt like the right time to be at the center of a comedy.

"There has been a lot of darkness in the world, and I've been acting a lot of darkness, so it was time for a comedy," he says. "I think it's a time when it is really important to see a bunch of different people who have conflicts with one another. Yet, you can't really stay mad when you are singing a song together. So, I think it's a good sort of message to put out in the world right now."

He goes so far as to suggest that his personal journey drew him to the show.
"I went from a big public high school in Madison, Wis., to a small Eastern school where I was initially scared to talk in the class," he recalls. "Then, finally, I got the guts to talk and we were reading some Greek play, and I said, 'Boy, it's just amazing, like the queen's wonton desire for the king.' And everybody laughed. But if I think you are trying to express wanton lust, I always think of the word wonton," referring to the Chinese dumpling often boiled in soup.

He can laugh about it now. After all, everything turned out OK for him in the end.

To read the digital edition of South Jersey Magazine, click

here

.

Published (and copyrighted) in South Jersey Magazine, Volume 16, Issue 12 (March 2020).

For more info on South Jersey Magazine, click

here

.
To subscribe to South Jersey Magazine, click

here

.
To advertise in South Jersey Magazine, click

here

.