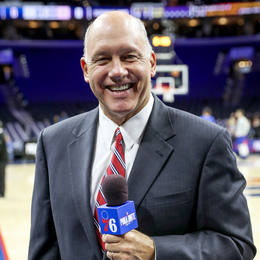 Getting Personal
Philadelphia 76ers radio play-by-play man Tom McGinnis on his impressive sports career, the places he likes to visit on the road and why there's no place like South Jersey.
Even though I made our high school hall of fame and played college basketball, I peaked as an athlete at 12. As a Little League baseball pitcher I threw a perfect game and three no-hitters. And our junior high basketball team went 64-0.
Traveling all over the country
and with so many nights on the road, one of the ways I entertain myself is going to the theater. I've seen over 200 shows on the road.
My father was a lawyer and a banker.
The law fascinates me. Again, on the road I often go to court to observe. Last year I made it to the U.S. Supreme Court in Washington, D.C.
Growing up in our small town in Illinois
the library was right across the street. That stimulated a lifelong love of reading, which I'm trying to pass along to my kids—but the phone is winning.
I began my career as a television sportscaster
at the ABC affiliate in Charleston, South Carolina.
My family loves living in South Jersey.
We are close to where my wife Robin grew up and near her family. Plus, the Jersey Shore is a fixture in the summer.
We take family vacations with my brother and sister
and their families. There's 14 of us and our kids get to spend time with their cousins.

I called two seasons of professional hockey on the radio earlier in my career.

I had to wear a corrective brace as a teenager for scoliosis.
I love what I do for a living.
I hope it shows our kids, who sit next to me occasionally at games, that being passionate about their career matters.

To read the digital edition of South Jersey Magazine, click

here

.

Published (and copyrighted) in South Jersey Magazine, Volume 16, Issue 12 (March 2020).

For more info on South Jersey Magazine, click

here

.
To subscribe to South Jersey Magazine, click

here

.
To advertise in South Jersey Magazine, click

here

.