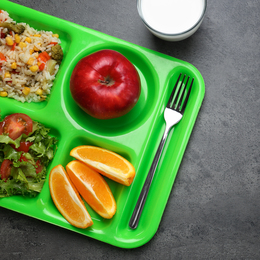 Food Fight
The Cherry Hill School District's policy on how to handle outstanding lunch debt made national headlines and prompted plenty to ask: When does lunch money become more than dollars and cents?

For so long, school lunch was the butt of jokes, full of punchlines about mystery meat and putting the "slop" in sloppy Joes. Thankfully, that is no longer the case and more appealing and nutritious meals have become the norm as the world gravitated toward becoming more food conscious. But after a recent controversy cooked up in the cafeterias of Cherry Hill, a new conversation is taking place, one that is having a ripple effect across the region.

School lunch debt is a three-word phrase that many South Jersey families have fortunately never given much thought. What may seem like a trivial concern when considering things like mortgages, rising college tuition or sky-rocketing medical bills, has become front and center in a new debate.

The Cherry Hill School District made headlines late in the summer of 2019 when it proposed a new policy that ruffled the feathers of everyone from local parents to 2020 presidential candidates. In an effort to close the gap on overdue lunch bills, the district floated the idea that students who owed $10 would be served a tuna fish sandwich as part of an alternative lunch. If the students had racked up a debt of $20 or more, they would be denied lunch entirely until the balance had been paid.

"We opted for tuna fish over peanut butter because we know that our little ones would probably very happily eat peanut butter and jelly sandwiches until the end of time," Assistant Superintendent Lynn Shugars said during a summer school board meeting.

The public outcry was vast and immediate. Students and concerned residents organized in protest over what Cherry Hill East Class President Oliver Adler called a "badge of shame."

The district went back to the drawing board, issuing a new policy that would hold back extra-curricular privileges from students owing $75 or more in unpaid meal debt. This included barring the students from attending prom, field trips and buying yearbooks.

It may seem harsh, but according to Cherry Hill School District Superintendent Dr. Joseph Meloche, there is a plan in place to curb this problem.

"The multi-step process of addressing unpaid meal charges includes written letters, personal phone calls, the offer of application forms for free/reduced price meals, and face-to-face meetings with the parents and district staff members," Meloche said in a statement. "It can stretch over nine weeks or more before additional action may be taken, which gives parents multiple opportunities to communicate hardships and complete paperwork to alleviate past debt and future costs. … Unpaid meal charges will not impact participation in sports, music programs, educational field trips, or other co-curricular opportunities."

Once again, the response from the public was loud, pushed only further by the charged energy of an election year. "This is cruel and punitive. Every kid needs and deserves a nutritious meal in order to learn at school, "tweeted Democratic presidential candidate and Sen. Elizabeth Warren on Oct. 21, while promoting her plan to cancel all meal debt and meal plan availability. Senators Cory Booker—who was running for president at the time as well— and Bernie Sanders followed suit.

New Jersey Rep. Donald Norcross also issued a statement reading, "Free school lunches should be available to every student who needs one. No exceptions."

Food for Thought
Cherry Hill schools serve over 11,000 students every day, and 20 percent of those students utilize the National School Lunch Program (NSLP), a federal meal assistance plan that offers free and reduced-price lunches to families that meet certain standards based on poverty lines.

Standard lunches at the township's elementary and middle schools cost students $3 a day; high school students pay $3.10. Students who don't have money at lunch time were given their meal but carried that debt with them.

According to the School Nutrition Association's (SNA) 2019 School Nutrition Trends Report, 75 percent of the 570 national districts they studied in 2017/18 reported having unpaid meal debt. Across those districts, the SNA says that debt accumulated to $10.9 million, rising 70 percent since the 2012/13 school year, with a 43 percent increase in the last year alone. According to the New Jersey Department of Agriculture (NJDA), "individual school districts are required to keep records of lunch debts, but are not required to share these with the state," which makes measuring this as a statewide problem difficult.

"As school districts are not required to report the number of unpaid lunches to the NJDA, the NJDA does not have a mechanism to monitor school debts," the department said in a statement to South Jersey Magazine. "Budgeting decisions are decided by each individual school district."

Over time, the debt in Cherry Hill racked up to$14,343, with more than 300 students owing $10 or more. In the past, the school board had chosen to forgive the debt, wiping out close to $26,000 in the years before 2019.

New Jersey joins Hawaii and Pennsylvania as the only three states where school districts have the authority to deny food to students in some extreme cases. Meals cannot be withheld from students who qualify for the NSLP.

Around South Jersey, policies and their enforcement vary by district, but many including Evesham, Haddonfield and Washington Township state that if the inability to pay is "reasonably suspected to be indicative of child abuse or neglect," the school may report the parents to the state Department of Families. There, however, has been no evidence of such measures being taken.

"We have a policy that eventually does compel us to contact certain agencies should a bill go unpaid and we fail in our efforts to get it rectified," says Joseph Bollendorf, Washington Township superintendent. "This is to ensure that we are not dealing with an issue of neglect and nothing more. For the most part, the department has not been exorbitant."

For the record, Washington Township offers every student the same lunch and currently has no plans for an alternative lunch policy. "We believe strongly that our kids need to eat for the well-being of their bodies and minds,"Bollendorf says, adding that it's not uncommon for staff members to pitch in and help out when there are children in need.

Mount Laurel schools saw a slight increase in lunch debt at the beginning of this school year which caused them to reassess their procedures and thus they have begun reaching out to parents sooner when accounts are in arrears, according to Marie F. Reynolds, the district's director of communication services.

"We have never denied a student a meal and that practice is consistent," Reynolds says. "Obviously, we hope parents who order lunch for their child will pay for that service out of fairness to all, but our cafeteria service continues to run efficiently and in the green."

Reynolds points out that not all cases are black and white and in some instances it could be a result of parents who may be eligible for assistance, but are otherwise reluctant to apply.

"We really do try and assess the cause for overdue accounts, and often will contact the counselor in a given school to see if they know of a particular difficulty a family maybe facing that would cause the account to drop. That will sometimes result in a better understanding of the child and help for the family from the school community," says Reynolds.

More Than a Meal
For now, Cherry Hill's highly publicized policy remains in place, as does the debt.

Dr. Vibiana Bowman Cvetkovic wants it gone entirely. Cvetkovic has her Ph.D. in childhood studies and is the librarian emerita at Rutgers University Libraries. She is also a parent of Cherry Hill graduates, and her grandchildren are in the school system today. She was vocal in her opposition of the outstanding debt policy at a school board meeting in October.

"I felt that the Cherry Hill School Board was making a decision based strictly on a monetary basis without reflection on the impact on the well-being of the children of our public school system. As a former early childhood teacher I would argue this sort of social shaming creates an insecure social atmosphere for the children in our district who will be impacted by this policy," Cvetkovic says.

Cvetkovic co-runs Child's World America, what she describes as "a nonprofit whose mission is to be an advocacy group that addresses issues concerning the health and well-being of American children."

"There are many reasons that parents can't pay bills," she says. "There are a large number of social and economic factors that come into play: language and culture barriers; physical or mental health issues; and an inability to meet with school administration because of no time off. In addition, there are new federal policies regarding paths to citizenship and the acceptance of public assistance."

Help Wanted?
TheSNAreportsthat56.4percentofschools with meal debt nationwide have utilized financial assistance provided through donations to curb debt. That includes Northeast Pennsylvania's Wyoming Valley West schools, which were facing a debt crisis in 2019 as well. After the school threatened to place students with unpaid meal balances into foster care, Todd Carmichael, the CEO of La Colombe Coffee and husband to Cherry Hill native and Philadelphia Flyers' national anthem performer Lauren Hart, wiped out the school's almost $23,000 in debt through a donation.

There is also a Florida-based nonprofit called School Lunch Fairy, which raises money online to pay off debts nationwide. The nonprofit claims to have donated to 36 school districts in 17 states—including donating $1,000 to Collingswood schools in 2017.

Enter Steve Ravitz. The retired president of Supermarkets of Cherry Hill with Ravitz Family Markets was browsing Facebook this past September when the lunch debt story popped up on his feed. Ravitz commented that he would be "happy to solve this issue" and pay off the $16,500 debt.

Charity is nothing new to Ravitz and his family, who launched the Ravitz Family Foundation in 1996, aimed at making pointed donations that would impact the community. Today, the foundation is a multi-million dollar organization that provides everything from after-school programs and crisis care to Thanksgiving turkeys and prepared meals to families across our area.

Steve's son, Jason, serves as the foundation's secretary while also filling the role as deputy mayor of Voorhees, and he's seen firsthand the effects of food insecurity.

"I was on the school board for the Camden County Technical School, and that's when I learned that there are kids all over the area that only eat at school," Ravitz says. "My kids go to school in Voorhees and I know it happens there. We see it."

Ravitz and the family claim that after his father offered to clear the debt, he was met with resistance. "There were so many different excuses about why there couldn't be donations," says Ravitz.

The school board said that they reached out to the Ravitz Family Foundation in a public statement from Dr. Meloche issued to South Jersey Magazine by the district.

"The district was made aware of a local businessman's apparent offer to address the issue of unpaid meal charges. The district reached out to that business, and has not yet received any response," the statement reads.

Since that statement was released, Ravitz says his father has been inundated with false accusations. "We were angry. The board of education administration told the media that my dad never made a formal offer, and anyone that knows him knows that when he commits to something he keeps that word. No one's ever questioned him before, they never have had reason.

"No good deed goes unpunished. That's what happened to my dad. He was just trying to solve a problem they should have solved in the first place. My dad worked hard his whole life, he doesn't deserve to have his name slandered and dismissed in his retirement," says Ravitz.

Making a Meal Plan
The next step in this saga goes all the way to the State House.

Assemblywoman Pamela Lampitt of the 6th Legislative District, covering parts of Burlington and Camden counties, joined several other Democrats within the Assembly in introducing two pieces of legislation to curb the issue at the start of 2020.

"The issue of students being denied school lunch and shamed for unpaid school meal balances has made nationwide news in the past, but I never imagined that it would happen here in New Jersey and I was even more saddened to see it happening in my community. Cherry Hill is not the only school district grappling with this issue, with many others throughout the state struggling with this very same problem," says Lampitt. "This unfortunate situation has made it clear that action is needed at the state level to provide additional clarity and guidelines to school districts to ensure that no child is forced to go hungry during the school day."

The first piece of legislation, A-5902, would require New Jersey schools to increase availability for the free or reduced meal program, while also prohibiting retribution for unpaid debts and banning debt shaming. The second, A-5903,requires school districts to establish "school meal funds" that would cover unpaid meal debts.

The school meal fund would also make it mandatory to accept donations made to clear debts in schools; donations like Steve Ravitz's.

"We're happy that Pamela Lampitt introduced legislation; we applaud their efforts and support it," Ravitz says. "It's very commendable that Assemblywoman Lampitt took the ball and ran with it. Her heart is in the right place."

Both policies passed almost unanimously in Assembly at the end of the January 2020 session but stalled after that.

It was re-introduced for the upcoming session and will move onto the full state Assembly before moving onto the Senate for a final vote.

"I hope that with the guidance of this legislation, we will underscore our state's commitment to feeding every student," says Lampitt. "Last session, Speaker [Craig] Coughlin doubled down on this priority by allocating state funding to provide free school meals to all students participating in the Reduced Price School Meal program. It is important that our school districts also stand with us in our commitment to feeding every student."

Additionally, in late January, Gov. Phil Murphy signed a bill that appropriates $4.5 million in funds to cover the student cost of reduced-price breakfast and lunch meals served to public school students who are deemed eligible. Effective July 1, all students determined to be eligible will receive the meals at no cost.

What's Left Over
While the state prepares for a future of lunch legislation, Cherry Hill Township remains resolute in its decision, while stressing that students and parents are given a variety of opportunities to clear their debts.

"The practice that guides unpaid meal charges has never and will never affect students who qualify for free or reduced-price meals," Dr. Meloche said in the board's public statement. "It is our greatest hope and our primary goal that, with the increased outreach to all families in arrears, we would never reach the point of revoking privileges from any student."

Cvetkovic sees an end to lunch debts in schools as a way to promote what she loves about the township. "The diversity and multiculturalism within Cherry Hill make it an interesting and robust place to live and a culturally rich place within to raise children. As a community Cherry Hill citizens need to advocate for all our children and all those children need to be treated with dignity."

For JasonRavitz, it's a bit more simple than that. "There are hungry kids in these schools. It shouldn't happen. It can't keep happening," he says, stressing that he wants to see Cherry Hill find a solid solution to this problem. "They should just focus on doing their jobs, so that people like my father don't have to solve their problems."

- Peter Proko contributed to this story

To read the digital edition of South Jersey Magazine, click

here

.

Published (and copyrighted) in South Jersey Magazine, Volume 16, Issue 12 (March 2020).

For more info on South Jersey Magazine, click

here

.
To subscribe to South Jersey Magazine, click

here

.
To advertise in South Jersey Magazine, click

here

.