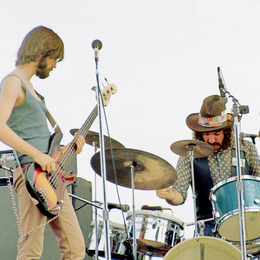 The Sound of Music
Looking back on South Jersey's rightful place in rock 'n' roll history
Perhaps no pop culture topic has been more hotly debated than the birth of rock 'n' roll. Who was the first: was it Elvis? Chuck Berry? Bill Haley? Or some more obscure performer who will never get the credit? And where did it happen? Well, if you ask anyone from South Jersey, it happened here.
This area has always been at the forefront of cultural phenomena, and music is no exception, dating back to 1901 with the founding of Victor Talking Machine Co. in Camden. Victor went on to sign Enrico Caruso in 1903, and he went on to be the first person to sell one million records. Artists who joined the label included Bing Crosby, Duke Ellington, Louis Armstrong and Woody Guthrie. RCA purchased Victor in 1929, but in its Camden offices, the likes of Elvis and Frank Sinatra passed through to sign contracts.
After World War II, music in America took a dramatic shift. The big band jazz era was being replaced by something else, but it didn't quite have a name. It bridged the genres of rhythm and blues and country, led by guitars, bass and drums, and people couldn't get enough. Fortunately, for those living in and around South Jersey, there were plenty of places to hear this music live, and as you'll find out, these places influenced the careers of dozens of music's hottest stars. And there's no debate about that.
PART ONE
The Scene at the Shore
How our beloved summer playground became a hotbed for rock music.
In the Postwar Economy, Americans entered a new era of prosperity and the country's middle class grew. The rise in incomes resulted in the baby boom, and ushered in an age of good feelings and happiness. For many local families in and around South Jersey, that likely meant taking a vacation to one of New Jersey's best features: the Shore. And with the construction of the Garden State Parkway happening in the mid '50s, it was easier than ever to get there.
Coastal towns began their renaissance as summer resorts, responding to the demand of visitors with more motels, restaurants and entertainment venues. Wildwood in particular became the epicenter, with more hot spots than could be named: The Hurricane, The Starlight Ballroom, The Riptide, The Rainbow Club, the Hof Brau and the Bolero. Their neon lights lit up the Boardwalk advertising some of the biggest names in music: Louis Prima, Johnny Mathis, Louis Armstrong, Tony Bennett, Sammy Davis Jr. and a cutting-edge African-American band called The Treniers. These names were known for performing in Las Vegas, but summers were spent in Wildwood, where they each had residencies at their respective clubs: The Treniers at the Riptide Club, Mathis at the Bolero, etc.
"More than Atlantic City, more than Philadelphia, more than any other spot, Wildwood had the clubs to feature artists of this caliber," says Jerry Blavat, the longtime oldies disc jockey and owner of Memories in Margate. "Back in those days, recording artists would book these clubs in Wildwood for exposure and to perfect their act. Wildwood became the Las Vegas of the East Coast."
Acts were catering to a younger audience in Wildwood, too. College-age kids spending weekends or entire summers there came in droves in search of the edgiest sounds—the louder, the faster, the more sexual in nature—the better. Although it didn't yet have a name, the sound they'd been waiting for—rock 'n' roll—arrived on Memorial Day weekend 1954, when Bill Haley & His Comets took the stage at the Hof Brau Hotel and played "Rock Around the Clock."
It was the anthem of a revolution, speaking directly to a generation that was ready and willing to party into the wee hours of the morning, and put Wildwood on the map.
"When you look back at that scene, all of the greatest entertainers in rock 'n' roll had their debuts in Wildwood, from The Treniers, who really were a prelude to that quintessential rock 'n' roll sound, to Joe Turner, Chubby Checker or Frankie Valli. It was the mecca of music—you couldn't find this in Atlantic City at the time. Atlantic City was for the parents, but the kids in Wildwood wanted something new," says Bob Pantano, host of the Saturday Night Dance Party on 98.1 WOGL.
Early in his career in the '60s, Pantano would spin at record hops, a tradition that began with American Bandstand in Wildwood, first hosted by Bob Horn and then Dick Clark. Often in attendance at these record hops—before becoming a recording artist in his own right—was Philadelphia's Bobby Rydell.
Rydell spent almost every summer in Wildwood growing up; in fact he thinks every summer of his 77 years has involved Wildwood one way or another. His grandmother owned a boarding house on East Montgomery Avenue, adjacent to Kelly's Café and Fox Park. He looks back fondly on those summers spending the days on the beach, teaching Canadians how to body surf, and hearing the sounds coming off the Boardwalk.
"When I was a kid, maybe 13, I used to stand outside the Rainbow and listen to a group called Georgie Young and the Rockin' Bocs," says Rydell. "Georgie Young was the most talented saxophone player—he played alto, tenor, baritone, the flute, the clarinet. … I have been a drummer all my life and I would listen to them and think, one day I just want to sit in and play one tune with them. Lo and behold, my first hit record was called 'Kissin' Time' in 1959 and they were the backing group with Georgie Young on alto sax. It's amazing how it came full circle."
Of course, Rydell joined the lexicon of Wildwood stars when his own career brought him to perform at Phil & Eddie's Surf Club for years, and he cemented his position in history with the release of "Wildwood Days," the town's anthem, in 1963.
The song was originally recorded by the Dovells, who shared the Cameo record label with Rydell. Knowing Rydell's personal connection to Wildwood, label founder and songwriter Bernie Lowe brought Stephen Gerrick, a music arranger, down from New York to rework the song. "He created a totally different version and I'm very proud to be associated with it—what a great record," Rydell says.
Another familiar name who climbed to stardom on the international stage is Charlie Gracie, Philadelphia's first native rock 'n' roll star. Following the hit song "Butterfly," Gracie played a 10-day gig at Club Avalon in Wildwood, before jet-setting off on a tour of the UK. When he returned, he headlined with The Treniers at the Bolero, which had hosted the likes of Tony Bennett and Johnnie Ray and the Platters.
"Wildwood was a catalyst," Gracie says. "Groups like The Treniers—you listened and just couldn't sit still. … I played every joint down there." Venues included the Hurricane, the Riptide, Diamond Beach, Club Avalon and for 25 consecutive summers (ending in 2005), Gracie played at Moore's Inlet.
In 2007, Wildwood dedicated a street in his name: Charlie Gracie Avenue, just off Atlantic Avenue and near the current Bolero Resort.
Gracie has continued to tour in the UK and, as it turns out, learned that he inspired one of the world's most beloved musicians—Paul McCartney. "When I met Paul for the first time, he pulled me aside and said he came to see me on my tour in 1957 when he was 15. He said I was instrumental in The Beatles' career. … I had never thought of myself that way, but it was such a nice thing for him to say," Gracie says, adding that he has developed a friendship with McCartney, who wrote a portion of the foreword in Gracie's autobiography, Rock & Roll's Hidden Giant.
Imagine growing up in Wildwood during this renaissance. For natives like Ernie Troiano, former mayor, it was an embarrassment of riches. "I remember as a young boy walking up and down the streets seeing the names of the acts at every club. There was every major act you could think of," he says. And it wasn't uncommon to see these stars around town, like normal people.
"My aunt had a luncheonette at Pacific and Burke avenues, and during the summer you could see Chubby Checker, the Mills Brothers, the Treniers, Lionel Hampton, eating breakfast and lunch. And they'd all play softball at Fox Park," Troiano says. "I remember one time crossing the street and seeing someone who looked familiar—it was Johnny Mathis. It was a who's who in Wildwood."
One of the most exciting aspects was the afternoon jam sessions on Saturday or Sunday afternoons. Members of all of the different acts would pop into a random club and just start improvising together. "These jam sessions were packed," Troiano says. "People would come off the beach in their bathing suits and try to get in. From 2 to 4 p.m. there were more people lining up than any other time of day."
Wildwood wasn't the only town attracting major acts down the Shore, though. Up the road in Somers Point, a place called Tony Marts was billed as the "Showplace of the World," and enshrined itself in the ethos of rock 'n' roll.
Founded by Anthony Marotta Sr., an immigrant from Sicily, in 1944, "The Mart" as it was often called, stood on Bay Avenue. At first it was a regular tavern with entertainment by piano players and Italian acts from Philadelphia and Atlantic City, but Marotta was constantly expanding and fixing the place up. His son Carmen says one act changed the trajectory of Tony Marts and turned it into an iconic nightclub.
"My father said Len Carey changed it all. He was a protégé of Spike Jones' comedy swing band in New York City and he formed Len Carey and the Krackerjacks, playing traditional New Orleans jazz and swing as our house band," Carmen says. "Instead of throwing beads as was New Orleans tradition, Len threw Crackerjack snacks into the audience and he would parade on stage. By the end of the '50s, Tony Marts was a raging entertainment place."
Bill Haley's group also appeared at The Mart, along with Conway Twitty, Joey Dee and the Starliters, Del Shannon—who had the No. 1 song in the country at the time (1961) with "Runaway"—Duane Eddy and the Rebels, and Mitch Ryder and the Detroit Wheels. The early '60s were the golden years for Tony Marts.
One major discovery was made at The Mart, an event that solidified its place in rock music's history. It was around 1964-65 when Conway Twitty told a struggling band known as Levon and the Hawks—who had previously played with Canadian rockabilly bandleader Ronnie Hawkins—to go see "Tony" at The Mart for work. Marotta hired them and the group started to headline in the summer of '65, playing six nights a week, four sets a night, for $1,300 a week. Word traveled about the group, eventually making its way to Bob Dylan's people.
"Dylan's management was trying to make him into an electric artist. One of his managers was from Toronto and said, 'If this is the band that used to play with Ronnie Hawkins, there is no better band for Bob,'" Carmen recounts.
And so it was that Marotta received a call in the old wooden phone booth in the back of the club from Dylan himself, offering Levon Helm and his band $5,000 to come to Woodstock to record music and play as his backing band for some tour dates. Marotta even vetted the call, checking with his connections in New York, says Carmen. Once it was verified, they had a cake for Levon and the Hawks and said goodbye. Two years later, "Music from Big Pink," the debut album from The Band, was released and the rest is history.
Before Bill Haley & His Comets, he performed as Bill Haley and His Saddlemen at Twin Bar in Gloucester City. Formed in 1949, Bill Haley and His Saddlemen played a mix of country, hillbilly-jive and early rock.
Conditioned Air
It was too hot to perform in Vegas during the summer, and before the era of air conditioning, Wildwood marketed a gimmick called "conditioned air," which was simply the natural cooling effect of the wind blowing off of the ocean. "The Starlight Ballroom had grates under the floor, so when the tide came in under the Boardwalk, it would create cool air in the ballroom," says Ernie Troiano.
1960: An 18-year-old Chubby Checker introduces "The Twist" for the first time at the Rainbow Club
Sammy Davis Jr. was the first black person to stay at a motel in Wildwood Crest. The area was heavily segregated at the time, and black artists could rarely stay in the same hotel where they were performing. While on stage at The Manor, Davis asked his audience if he was so great, why couldn't he stay at their hotels or eat at their restaurants? Ralph Johnson, owner of The Carousel Motel, jumped up and invited Davis to stay at his place, which was unheard of in the '60s and turned numerous heads. *(as told by Ernie Troiano)
Songs featuring "Wildwood"
"Wildwood Boogie" by Charlie Gracie, 1955
"Everything's Wild in Wildwood" by the Treniers, 1955
"Wildwood Days" by Bobby Rydell, 1963
"Wildwood Blues" by Nazz, 1968 (inspired by Todd Rundgren's post-high school gigs in Wildwood)
Filming for scenes from the 1982 movie Eddie and the Cruisers took place over the course of 20 days at Tony Marts, the same year the club closed for good. The Mart's iconic "Follow the Arrow" neon sign is recognizable in the scene featuring the song "Wild Summer Nights."
"South Jersey has always had a vibrant rock 'n' roll scene. Wildwood was the flash point of rock 'n' roll with Bill Haley & His Comets, rockabilly pioneer Charlie Gracie, Chubby Checker and the Dovells. The Geator filled the airwaves and hosted the dances and continues to do so today. … When I think of South Jersey I can't help but recall my old pal, Collingswood's Ben Vaughn, who left the bar scene to shape the sound for millions of American homes with his television and soundtrack work." – Greg Harris, Rock & Roll Hall of Fame president & CEO
PART TWO
Hippies Come to Atlantic City
How one local festival helped set the stage for Woodstock.
It's almost impossible to believe how much happened in America during the summer of '69 unless you lived it. From the withdrawal of troops from Vietnam and the Stonewall riots to the moon landing and Manson murders—it's arguably one of the most interesting eras in the country's history.
Occurring in August 1969, the Woodstock Music Festival was among those pivotal events, the stories from which have become legend—people abandoning their cars and walking along the New York State Thruway, running out of food, two deaths (and two births), and Jimi Hendrix's rendition of "The Star Spangled Banner." The fame—or infamy—of this festival would lead many to believe it was the sole counter-culture music event in the summer of '69. It wasn't.
Kick-started by the Monterey Pop Festival in 1967, there was a surge of festivals across the country that followed, including the Atlantic City Pop Festival, held exactly two weeks before Woodstock, from Aug. 1 to 3 at the Atlantic City Racetrack. Organized by Larry Magid, the booker for the Electric Factory who later became a partner, the AC Pop Festival was not originally intended to be a New Jersey-based event.
"We wanted to do it as close to Philadelphia as possible because it was where our audience was," says Magid. "The Atlantic City Racetrack came up, and it was a controlled environment with fences already in place, and it worked. All we needed to do then was build on that concept of what defined a festival."
For Magid, he believed that involved finding not only the hottest acts, but giving people a cross-section of artists—and he felt it should be held over the course of three days. Within a week of announcing the event in Atlantic City, Woodstock was announced. "Woodstock was initially marketed as a two-day festival, with a focus on folk music on Friday and Saturday would be rock acts. There was no Sunday," he says. Michael Lang, Woodstock promoter, later referenced this in his book The Road to Woodstock, saying that was worried the AC festival was going to take his audience away, which resulted in Woodstock becoming a three-day event.
"This was 1969 and there was really no formula or pattern to base this on, but I think if they had kept it to two days, they wouldn't have had the issues they had," Magid says.
Undeterred, the AC Pop Festival booked a lineup just as notable as that other festival. Headliners included Iron Butterfly, Procol Harum, Joni Mitchell, Santana, Johnny Winter, The Byrds, Creedence Clearwater Revival, Jefferson Airplane, B.B. King, Janis Joplin, Canned Heat, Frank Zappa, Joe Cocker, Little Richard and many more.
To a young journalist working for an underground alternative weekly like Jonathan Takiff, this festival was a shining moment for youth culture in Philadelphia. "It was a good mix of acts. Larry was well entrenched in the business and knew all the buzz acts, like CCR, Jefferson Airplane and Janis Joplin—they were probably the most well-known going into the festival. He knew the next big things to break, like Procol Harum who had this British-Classical-influenced progressive/synth rock vibe, and some eccentric acts too, such as Southern soul performers Booker T & the M.G.s," says Takiff, a longtime entertainment and consumer tech writer in Philadelphia. "Some would argue this lineup was better than Woodstock."
Snagging newcomers Santana, who would release their debut album later that month, to play AC Pop for under $1,000 was a highlight, yet it's their Woodstock performance that gets all the credit. Crosby, Stills and Nash would have played their first gig in Atlantic City, but backed out. "They weren't ready and needed more rehearsal time, so they canceled," says Takiff. "In the Woodstock documentary, you see Crosby, Stills and Nash and Stephen Stills tell the crowd, 'We're scared sh**less.' That moment could have been in Atlantic City."
A learning experience came for Joni Mitchell too, who stormed off the stage at AC Pop after only a couple of songs, complaining that people weren't listening, and subsequently pulled out of Woodstock. "Joni would have been successful in the right time slot," says Magid, "which would have been at night, with just the lights on her and drawing people's attention. But for whatever reason, her manager wanted her on early on Friday, and I explained that people were just getting out of work, first they would want to get a beer and unwind. But he insisted she go on. The same thing happened at the Isle of Wight Festival a year later in England. … We played Tim Buckley in the evening and he was well-received and brilliant. It was 1969 and we were all learning as we went along."
Despite that bit of drama, Magid says there was only one scheduled performer who never made it on stage and that was Johnny Winter. "He was an albino and could not be in the sun, and we assured his manager that we had a roof and he wouldn't be facing the sun, but he didn't show up on time," says Magid. AC Pop was strategically programmed, with barely any lapse between acts thanks to a rotating turnstile-type stage, and had to adhere to a strict 10 p.m. curfew. Frank Zappa and Buddy Miles Express played in the afternoon, and by 5 p.m., when Winters showed up late, Magid had to make a judgment call on how to close the show.
"Little Richard was going to be our closer, and I had Janis still to go on or Johnny, and I thought we really had to get Janis on. It started raining during her set but she was great," says Magid. "Then I had to put on the most exciting act to finish it and leave people with a great feeling, so I put Little Richard on. He had no ticket value other than being a wonderful act and that was my decision. He played all through the rain and it worked."
AC Pop Festival was a successful and profitable event, with almost no issues from a concert-goer's perspective. "AC had fences; it was an established venue with bathrooms and running water and concessions. When they did run out of food there were places nearby to go and bring food back in. It wasn't a logistics nightmare that generated these scary headlines like Woodstock," says Takiff, who adds that because it was a commuter festival, many people were easily able to go back home and sleep in their own beds for the night.
Magid says there were some headlines about a group of kids who broke through the fence, but it was overblown. "Some kids camped out in the nearby woods and at some point on Saturday afternoon, maybe about 50 or 60 of them broke through the fence and made their way into the audience," he says. "We stood there in amazement and nobody was upset. We thought it was kind of funny, and what was the difference—we were sold out anyway."
AC Pop and the other regional festivals of that time, held in Miami, Atlanta and Denver, never get much credit, but it doesn't diminish what it meant to Magid and those who attended. "AC was as successful as any other festival, and it helped build the culture of that day that was so important to cities like Philadelphia and it was important for us to help that culture explode and create a bigger scene," he says.
"The sense of community that people grabbed at in Woodstock was similarly found at AC Pop," Takiff recalls. "A lot of people in 1969 were treated as outsiders but people felt this sense of community and here was all of this music feeding off of that spirit."
Honorable Mentions
South Jersey's suburbs have their own place in music history, and we've covered a few of them before.
The Boss Plays the Erlton Lounge
In our March 2012 issue, writer Randy Alexander details the meteoric rise of Bruce Springsteen and his South Jersey connections. From his performance at Uncle Al's Erlton Theatre Lounge in Cherry Hill in August 1973 to the Satellite Lounge in Cookstown in '74 and two shows at Burlington and Camden County colleges, local kids were witnessing the birth of a rock icon. Later, the album art for Darkness on the Edge of Town and The River were shot at photographer Frank Stefanko's Haddonfield home.
Throughout the '60s and '70s, the Latin Casino was South Jersey's hot spot for entertainment. Located in Cherry Hill on Route 70 (where Subaru later stood), the Latin Casino welcomed Frank Sinatra, Dean Martin, Sammy Davis Jr., Jimmy Durante, the Temptations, Liberace, Ella Fitzgerald and more. As detailed in our July 2014 issue in an article by Randy Alexander, it was the place to see and be seen, before it closed in 1978.
The Camden County Music Fair
This outdoor amphitheater hosted musicals, Broadway shows and musical groups, including an under-the-radar performance by Bob Dylan. On Aug. 3, 1963, under a red and yellow tent at the cusp of Haddonfield and Cherry Hill, Joan Baez introduced the practically unknown Dylan to join her for a few duets, a practice that became customary throughout her tour that month.


To read the digital edition of South Jersey Magazine, click
here
.

Published (and copyrighted) in South Jersey Magazine, Volume 16, Issue 12 (March 2020).

For more info on South Jersey Magazine, click
here
.

To subscribe to South Jersey Magazine, click
here
.

To advertise in South Jersey Magazine, click
here
.