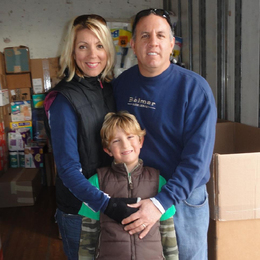 A Kind Gesture
One Moorestown family is showing others that it doesn't take a lot to make a real difference.
In a world of tragedy, trauma and grief, the one bit of shining light is kindness and a family of three from Moorestown has shown its community how generous and helpful it can be during times of struggle. Nancy, Henry and their son Colin DiPasquale lived in Monmouth County when Hurricane Sandy hit the Jersey Shore, and instead of becoming immersed in fear, they rose above. They sought out creative ways to help those in need by doing kind gestures, and eventually started a non-profit—The Local Acts of Kindness Foundation—which launched on Nov. 13, 2019 on World Kindness Day.

"Our son had heard us talking about how families lost everything, kids lost everything, so he got a couple of boxes and put some of his toys in them; he was around 7 at the time," says Nancy, president of the nonprofit. "There was a whole area in Monmouth County that you could drop off stuff in this abandoned parking lot and you drive up, you drop off, then you leave. So we were going to do that and we thought,'Let's just reach out on Facebook and see if any of the neighbors or anyone wants us to do that for them, we'll fill up our car and we'll head over there. So we went to the local park and we posted just a really quick post to the local group Facebook page saying we were going to be there at the park between one and three, and it took off."

There were dozens of people that came out to donate, filling up the DiPasquales'entire car, inspiring them to think bigger for their second round of donations.

"We couldn't get everything into the car, so we thought, 'Let's try somethingbigger,'" says Henry, CFO and vice president of the nonprofit. "The second time we were going to do it,someone had commented and said, 'I have a truck if anyone is interested.' It turned out that she was a mom in the district who was the president of a trucking company," Nancy offers. "She wasn't really directing it to us but just anyone in general, it was like a 56-foot tractor trailer and we jumped on it."

After getting permission from the town to have the tractor trailer on park grounds and gathering a slew of volunteers, the Tractor-Trailer challenge began. The DiPasquales started coming up with creative ways to challenge their community to spread kindness and help those in need during tough times.

"People really don't know what to do in the face of disaster or tragedy, [but] they want to do something," Nancy says. "Everyone wants to help, they just don't know how to help."

They continued the challenge in 2017 when Hurricane Irma hit Florida and again in 2018 when Hurricane Michael hit North Carolina. In2019, thankfully there were no disastrous hurricanes but it allowed for the DiPasquale family to officially start its nonprofit. The Tractor-Trailer Challenge is just one of the many programs they coordinate.

"Our son decided that over the summer he would do Senior Serenades, where he would go to local care facilities and play piano for a while," says Henry.

The Senior Serenades incorporates three nursing facilities that their son Colin goes to with a few of his band members to bring music and smiles to those who may need it. Another challenge that they brought into the holiday season is the Trim-A-Tree Challenge, where they asked local businesses to raise money for those less fortunate in a unique way.

"The challenge was to have theoffices of the businesses or organizations fill the tree with $5 gift cards instead of ornaments and they would hang the gift cards onto the tree," Nancy says. "After five days we would go and collect the trees from those that participated, and then we took the gift cards and donated them to local families in need."

The family involvement doesn't stop there; even their golden-doodle, Tad, has gotten into the spirit, inspiring the non-profit to start the Rescues Speaks program. Nancy—who has a background in voiceovers—works together with her family to create videos that bring personalities to all the animals at the Burlington County Animal Shelter that need homes.

"We get their information from online—so we don't make anything up—we just go with whatever the description of the pet is and if they have a certain need or certain characteristics, we'll mention that in the video in our best dog voices," says Nancy.

With so much devastation and hard times within the world, the DiPasquales wanted to bring light and encourage action within the community to do something that made an impact. They started a page on their website—called Local Acts—encouraging people to write about their local acts of kindness, whether they themselves have done it, they were the receiver or they were simply a witness to a kind gesture.

"Everybody is affected by that, the recipient, the doer and the actual witness is definitely affected," says Nancy. "There is a lot of stuff out there that isn't positive and we feel like this is a great way to counteract that."

"People should see these good acts happening, it doesn't always seem like we have them," Henry adds. "The news isn't always the best but we want to try to spread some good news."

The Local Acts of Kindness Foundation has a promising future ahead of it with a few programs coming down the pike, including the Kindness Therapy program. It will encourage cancer survivors to write anonymous notes to those currently undergoing treatment to lift their spirits.

"There is such a connection there and sometimes that's a lifeline for people to know there are people who understand and who have gone through it and have come out on the other side," Nancy says. "To validate the feelings that they have and really to have a connection and have an understanding."

The nonprofit has plans to encourage the younger generation to promote kindness as well through its Kindness Couriers program. The family will give small grants from their very own pockets to local non-profits or those who are seeking community hours at school.

"We want to be able to encourage other nonprofit groups like the Girl Scouts or the Boy Scouts or anybody in the area to come up with their own kindness challenges based upon our criteria to reach as many people as you can, witnessing, affecting or doing kind acts," says Nancy. "It is our mission [to spread kindness], it's a personal passion and … we want to do more of it."

To read the digital edition of South Jersey Magazine, click

here

.

Published (and copyrighted) in South Jersey Magazine, Volume 16, Issue 11 (February 2020).

For more info on South Jersey Magazine, click

here

.
To subscribe to South Jersey Magazine, click

here

.
To advertise in South Jersey Magazine, click

here

.