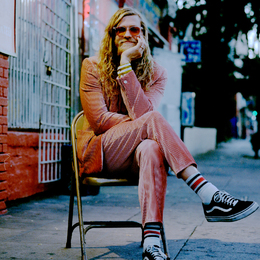 Finding Balance
Allen Stone delivers his smooth vocals on new album and tour.

Allen Stone has a voice that is quite possibly smoother than oil. But that's no accident as this bluesy, soulful musician has been hitting high notes in his silky falsetto and crooning out bass notes to a loyal fan base for more than 10 years.

"My voice has been cultivated on the road," he says. "I've been singing my tail off for close to 12 years, living out of a suitcase, singing in front of audiences."

A lot has changed in those 12 years. For one thing, he's achieved some notable success with high-profile TV spots on shows such as American Idol and the Today show. But he's also, in his words, grown as a musician. That's evident on his new album Building Balance, a collection of songs in which he delves into some new sounds.

"During this process, I was like, 'Wait. Why do I have to be constricted to do this,'" he says. "I love hip-hop. Why can't I do a song that has some hip-hop flair to it? I love folk music. Why can't I do a folk song? I love rock music. Why can't I just explore these tastes that I have?"

The album comes at a time in which Stone is reflecting on some major life milestones: hitting his 30s, getting married and becoming a father. Finding balance within all that change, he says, is the idea behind the new album.

While spending some time at home in Spokane, Washington, Stone spoke with South Jersey Magazine about his new music, his Building Balance tour (which hits Union Transfer in Philadelphia on March 1) and why he loves singing karaoke with his fans.

Have you always been a fan of soul and R&B?
Well, I grew up on gospel music originally, but from gospel I kind of got into the normal and classic Caucasian rock music like Weezer and The Verve Pipe and Red Hot Chili Peppers and I went that route for a minute. And then when I was 16 or 17, somebody showed me a Stevie Wonder record and I was like, "Yo, what is this? This is bonkers." Growing up in a Christian home, I was not sheltered, but my folks just didn't have that music in the house. And when I found that, it sort of opened up this window of, "Oh. There's like old music out there that's really good and really special."
In 2018, you appeared on American Idol and did some duets with the contestants. What was that experience like?
It was a blast. I came out of Seattle. Andthe Seattle music scene—it's still kind of living in the shadow of the grunge era a little bit where, [everybody thinks] independent music, and pop music is the devil. We like our artists to be on the fringe and whenever they make the crossover to the pop world, we shun them alittle bit. And I kind of came up in that and I come from the ideals of the independent music world and the KEXPs and the KCRWs. And so in that sense, a show like American Idol is—you kind of turn your nose up at it. Right? Because it's a little bit like too pop and it's too pretty and it's too packaged.


… I thought, "If 10 million people enjoy this show and it's going to put my music in front of 10 million people, then I'd be an idiot to turn it down." And so I went to the show and it was the greatest experience ever. Everybody was so nice and the contestants were so cool. And I got to meet Lionel Richie, who I've obviously just been a huge fan of forever. … And then Katy Perry was just an angel and Luke Bryan was so nice to me. … Like I said, for so long, I enjoyed being on the fringe of the pop world. And then there's so many good people involved in that world. … And it was a very welcoming and joyful experience.

How do you approach songwriting? Do you find it therapeutic?
Songwriting is frustrating. For me, singing is therapeutic. Because I found myself in a situation, which is a great situation, where the livelihood of my family is based off the art and how successful my art is, that I find myself overthinking all the songwriting like constantly. … And so I'm not present in the moment. I'm kind of thinking about how the song can potentially continue to provide for my career and provide for my family and provide for my fan base. A good songwriter's present all the time.

… And I do find myself in that place sometimes, 50 percent of the time. The other 50 percent of the time, I'm just in my head worrying. …Whereas if I'm playing and singing live … I'm totally in the moment with the audience because you get that feedback right away, instantaneously.

Is the goal for you being in front of an audience and doing the actual performance?
Yeah. It is. And that's how you get paid too. I've never gotten a check from a CD or from a recording. I get paid when people buy a ticket and they come to the show. Because nobody buys records anymore. The record has always just felt to me like an expensive flyer for the show.

You mentioned your family and I know you recently had a baby with your wife. How do you like parenthood?
I mean, it's a blast. It's like the greatest gig I've ever had being a dad. And I've been so lucky to have a partner like my wife who's just solid as a rock.

Do you think it'll be tough to go on the road without your family or will they be joining you at any point of the tour?
We've yet to kind of sow those seeds as far as is the family going to come out and do the tour life with daddy constantly or is it going to be a satellite thing. Roody is still super young right now. He's like 9 months. Just had his 9-month checkup yesterday. So yeah. I mean, we'll cross that bridge as it comes.

In 2019, you did a karaoke tour where you invited fans on stage to sing with you, which sounds like a lot of fun. Why did you want to do that tour?
Well, it's a good way to connect with the audience. I do these VIP experiences. People pay an extra premium to come early to meet me and to get a picture, see sound check, all those things. And more often than not, I would be getting folks coming up to me going, "Hey, can I just sing like a verse of this song with you?" And I was like, "Yeah. Ok, sure. Let's do it." … And I'm like a karaoke fiend. I love doing karaoke and it's a great way to promote a record too.

… And we threw it together and I brought out my best friend, who's a really talented actor, and we threw together this fun sort of variety-style show. And I think we hit the nail, man. People were really excited. I reckon we'll do it again.

What is your go-to karaoke song to sing?
Well, there's two songs I always go to. "Gangsta's Paradise" by Coolio. That always brings the house down. And then "Let's Stay Together" by Al Green is another one that people just love.

Tell me about your latest album Building Balance.
Building Balance is a record and a collaboration of songs that I recorded over the last four years. This record is a culmination of a lot of different things: one, growing up, turning 30, becoming a man, getting married, having a kid, all the life movement and growth that comes with those sorts of things. And then on top of that, also feeling secure in myself as a musician.

… And so simultaneously when I'm growing and learning how to be just a better man, a better adult, a better husband, I also had this really wonderful growth as a musician and an artist. And that's why it's called Building Balance. I think we're constantly on a journey toward progress and balance.

What can fans expect from your tour?
This tour is going to be just like every other tour that we put together. It's going to be a big joyful love fest of good songs and good energy. … I want people to come to the show and just to feel connected to a community of music listeners, to feel connected to the music and just have a safe evening that pulls them outside of the hustle and bustle that life can throw at you. And me and my band, I think we do a really good job of that.

To read the digital edition of South Jersey Magazine, click

here

.

Published (and copyrighted) in South Jersey Magazine, Volume 16, Issue 11 (February 2020).

For more info on South Jersey Magazine, click

here

.
To subscribe to South Jersey Magazine, click

here

.
To advertise in South Jersey Magazine, click

here

.