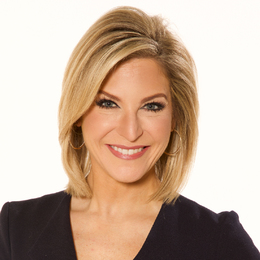 Getting Personal
We go off camera with CBS3 anchor Jessica Kartalija to find out about her side gigs as an actress, her favorite things about motherhood and why she steers clear of the kitchen.

A chat with my dad every day is a must.
I call him every night on my drive home from work. He is in San Diego, so it's three hours earlier for him, and the perfect time to recap our day.

On the road again … goin' places that I've never been. I love to travel; ideally on the sand in the summer and on the slopes in the winter. I grew up skiing and head west every winter to ski with my family. In college, I studied abroad in Spain and travel whenever I can.

Just you watch and don't blink. I have (very) small roles as a news reporter/anchor in the movie Transformers, House of Cards and the new M. Night Shyamalan series Servant.

A walk to remember was across the stage at my master's graduation at Johns Hopkins University. I was anchoring at CBS Baltimore, my son was 4 and it was an incredibly proud moment to share with my family.

Being a mom … with a son who loves being "down the Shore" means spending a lot of time on the beach. We love going during the offseason, when there are fewer crowds. It also means stopping at Maria's Italian Cookie Cupboard in Marlton for sweets on the way home.

My local roots are … dirty blonde. As newscasters, we get asked a lot about what we are wearing, how often we color our hair and what lipstick color we are wearing. We have an amazing stylist named Nancy Amoroso who takes care of this for us, so we can focus on covering the news.

Spell check doesn't work with a name like Kartalija. People mispronounce my name all the time. We are Serbian and my husband is Italian, so his last name isn't much easier to pronounce. Probably best to stick to Jess!

People always ask about Ukee Washington. Everyone wants to know if he is as wonderful as he appears to be on television. Ukee is a class act, a mentor and a friend, and certainly the best in the business. I consider myself very fortunate for the opportunity to work with such a local legend.

Don't ever try my cooking. It's brutal.

To read the digital edition of South Jersey Magazine, click

here

.

Published (and copyrighted) in South Jersey Magazine, Volume 16, Issue 11 (February 2020).

For more info on South Jersey Magazine, click

here

.
To subscribe to South Jersey Magazine, click

here

.
To advertise in South Jersey Magazine, click

here

.