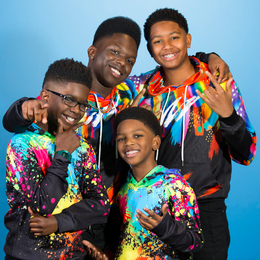 Band of Brothers
These four young siblings from Voorhees with musical family ties are singing their way into stardom.

It's a Thursday afternoon in mid-December at Eastern High School and the halls are buzzing with energy as four brothers make their way to the school's TV studio where this interview and accompanying photoshoot are set to take place. Fresh from the barber with matching outfits and wide-eyed smiles, this quartet of siblings is ready for its close-up. But first, a phone call. One of hip-hop's biggest acts is on the other line and he wants to see if the boys will stop by a studio to record some tracks for his highly anticipated new album. Normally, this would be a no-brainer. But, they first have to see if they can fit it into their tight schedule as they are about to head to Madison Square Garden to sing the national anthem for the second time in just a few months.

It's seemingly just another day in the life for the Morris boys—Wanyá II ("Big Boy," 15), Wanyá III ("Chulo," 14),Wanyá IV ("Tyvas," 12) and Wanyá V ("Rocco," 9)—who are perhaps better known these days as the up-and-coming singing group WanMor, a hybrid of their first and last names. While the distinction of all four of the boys being named Wanyá may catch your immediate attention, their name could possibly sound quite familiar as well. That's because their father is also named Wanyá Morris, and he just so happens to be one of the members of the legendary R&B group Boyz II Men.

With that pedigree, one would think the WanMor boys would be poised to ride their father's coattails, but not only are they focused on hitting it big; they want to do so on their own merit.

"He gives us advice here and there, but he's focusing on his music career right now and we are focusing on ours. It's a bonus that he's our father, but we would like to make it on our own. We'd love to have our own spotlight; that would be great," says Big Boy.

"It's great to have somebody that's bringing us up, being the sons of Boyz II Men, but sometimes we just want to do it ourselves," affirms Tyvas.

And not only can they trace their talents to their father, their mother Traci also has her own background in the music industry, having been part of a girl group in the '90s that was once signed to Quincy Jones' Quest Records. In fact, when prompted, the boys credit some of their earliest musical memories to her, reminiscing about doing chores around the house as Mom played music and exposed them to different artists. These days, she shuffles them around from their growing list of appearances, trips to the vocal coach, countless rehearsals and makes sure they stay on track with their home schooling.

"Our mother … she's like the mentor right now," says Rocco.

After spending just a few minutes with the boys, one quickly recognizes that for as young as they are, they are highly polished without being overly coached. And it's easy to compare them to other integral adolescent R&B groups from the past like The Jackson 5 and New Edition, with their impressive vocal harmonies and choreographed routines. But, the group is doing much more than just mimicking those who have come before them; they know their history.

When asked to name some of their favorite artists, they not only cite modern day influences like Bruno Mars, Billie Eilish, Chris Brown and Camilla Cabello, but also those who paved the way like The Delfonics, The Stylistics, Stevie Wonder and Billy Preston.

"My favorite groups are the ones who made a change in history," says Tyvas.

Now, WanMor is looking to make its own history and if recent events are any indication, they are well on their way. When a portion of Broad Street in Philadelphia was renamed in singer Patti LaBelle's honor, the boys were on hand to wow the crowd. They made it to the second round on America's Got Talent. More recently, they made it to the semifinals on Nickelodeon's America's Most Musical Family and after bringing down the house with their rendition of the national anthem at a New York Knicks game, famed film director Spike Lee took notice and vowed to work with the boys in the near future.

And their momentum shows no signs of slowing down. Later this year, they are slated to appear on the NBC talent show Little Big Shots, hosted by Melissa McCarthy. They are also in the process of finalizing a recording contract and there is talk of a reality show.

"To watch the boys transition from when they first started out to now has been mind blowing," says their mother, Traci. "I'm very proud of how much stronger they've grown vocally and the level of confidence that's shown in every performance. I believe they have a strong future in the music industry."

The boys feel it too. Practicing for as many as five hours on some days, they have seen their growth and know there's potential for them to do something special.

"We practice a lot to better ourselves. It's a business now and there's a purpose behind it," says Big Boy, who also mentions the need to have fun and enjoy the ride, a sentiment echoed by the others. "Our mindset is it's not a job if you just have fun," Chulo says. "It drives us to keep striving to be the best group."

"It feels like a hobby," says Tyvas. When they aren't on their "WanMor grind," the boys are very much like other kids their age; playing sports and video games. But the conversation always comes back to the music.

"I tried out for football, basketball and soccer, but I wasn't really into sports at that time. My sport was singing. I even sing my way out of trouble," quips Rocco.

With their growing presence and the whirlwind of jetting back and forth from South Jersey to Los Angeles, rubbing elbows with industry notables and all the excitement they've encountered thus far, the boys know the journey is even more special because they are doing it together. Before they are a group, they are brothers.

"It's fun, the road to success. It's very cool and I like doing it with my brothers," says Chulo.

"I love my brothers, they're cool," says Big Boy. "We argue sometimes, but we'll get right back together. … We know we can sing and when we sing and let loose and have fun, I think we do very [well]. I'm not nervous."

"I can't say I don't get nervous," young Rocco admits to laughter from the group.

As WanMor prepares for the next chapter in their ongoing story, they are asked to envision where they'd like to be five to 10 years from now.

"Five to 10 years from now," Big Boy says, "I would like to be performing in front of massive crowds."

"Super Bowls," injects Rocco, before Big Boy contemplates the ultimate goal. "We would like to be on of the greatest groups of all time," he says.

To read the digital edition of South Jersey Magazine, click

here

.

Published (and copyrighted) in South Jersey Magazine, Volume 16, Issue 11 (February 2020).

For more info on South Jersey Magazine, click

here

.
To subscribe to South Jersey Magazine, click

here

.
To advertise in South Jersey Magazine, click

here

.