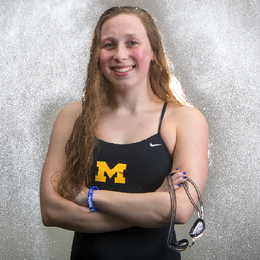 On Top of Their Game
These varsity athletes score big in more ways than one.

Allie Waggoner, Moorestown girls swimming
A junior who is particularly talented in the distance events, Waggoner placed second in New Jersey in the 500 freestyle last year and also competed in the backstroke at states. She is looking to lead the Quakers to their third straight state title this season.
SJM: What's it like to do club swimming for the renowned Jersey Wahoos?
AW: It's a lot of fun to be with your friends and everything. Every day, you have to work hard. I definitely [looked up to] the Kowal girls [Grace and Molly], who are now at Ohio State, when I was younger. They also swam distance and they showed me that you can always keep improving.
SJM: Would you say the distance races are your specialty?
AW: Yes. I swim the 500 free [for high school] and I also swim the mile and the 1,000 for short course. They sound like they're terrible, but I enjoy swimming them. You have to be very open-minded on how you're swimming. The key for me is to just stay focused.
SJM: Did you start swimming at a young age?
AW: Yes. Both of my parents were swimmers so they got me into the water early. When I was younger I was doing all of the events, and probably around middle school is when I started the distance events.
SJM: What are your goals for this high school season? Is a state title at the top of the list?
AW: Definitely, and also helping the team win a state championship again.
SJM: What is the atmosphere like at states?
AW: It's incredible. It's a lot of fun with all of the teams and top swimmers there. It can be [nerve-wracking], but if you just relax and take it in, it's fine.
SJM: When you took second last year, did you know the whole race that you were putting together a good time?
AW: I did not. I really didn't think I was close at all. Obviously, I knew I could do it, but I was really surprised and happy. I saw all of my teammates and coaches cheering and it was really special.
SJM: As a team, Moorestown has won state titles the last two years. Are you confident you can do it again?
AW: I am. We have high hopes. … We're all so close and it's like a family. I love swimming with all of them.
SJM: What has it been like having your sister Maddie on the team this year?
AW: It's been great. We're super close and I think being on the high school team together will just help our relationship grow. We do both relays together, the medley and the free.
SJM: Have you started looking at colleges yet?
AW: I have. [The recruiting process] is going well. My top choice is Villanova. It's not too far and I really like the team and how it's like a family. It reminds me of my high school team. [Former Moorestown swimmer] Andrea Fong is actually a junior there and she always says good things about the school.
SJM: What do you like to do in your free time?
AW: In school I take ASL, American Sign Language, and I really like it. Last year they asked me what language I wanted to take and they were offering ASL, so I decided to take it and realized I really like it. I also like my [pottery] class; I made a vase bowl that is in the shape of Mickey Mouse's shorts and pants. That's my favorite thing I've made so far.
SJM: Are you a big Disney fan?
AW: Yes I am. I think I've been there 15 times and it's a lot of fun. I love the Magic Kingdom but my favorite ride is probably the new one at Star Wars Galaxy's Edge, Smugglers Run. We went on opening day and woke up around 3:30 in the morning. We waited a little less than six hours, but it was worth it. It was wild—all of the big Star Wars fans were there and everyone was rushing to get there, but it was a lot of fun.
SJM: What do you like about growing up in Moorestown?
AW: All of the people there are so friendly and it's a really nice community. We live close to Cinnaminson, but Main Street is only a short drive away and we've biked up there before.
SJM: Do you have a favorite teacher at Moorestown?
AW: I have a lot but I would say Mrs. Daly, my ASL teacher. She's so nice and pretty funny and always there for you.
Cooper Pontelandolfo, Cherokee wrestling
Pontelandolfo, a junior, came into high school with high expectations after a stellar youth career, and he has lived up to them. Last year he went 38-8 with a district title and placed sixth at states at 132 pounds, and he is gunning for a state championship this season.
SJM: Has wrestling always been your passion?
CP: Literally for as long as I can remember, it's been what I've thought about every single day. During school I think about wrestling and my life kind of revolves around wrestling. Sometimes I can get burned out, but I just take a little time off and I can't wait to get back. When I hurt my knee [this past fall], I couldn't wait to get back on the mat. Just sitting at home every day and doing nothing was terrible.
SJM: Did you have surgery on your knee?
CP: Yes, I think it was in October. I had to take two months off and it was terrible. But it feels really good now. I wear a little knee pad over it and it's fine.
SJM: Who got you interested in the sport?
CP: My dad got me into it. I remember I went to a Cherokee rec practice and I was getting beat on by some older kids, so I started crying. But I kept going back, and each time I was crying less and less and I kept getting better. I just stuck with it.
SJM: Do you think wrestling is the most challenging sport at the high school level?
CP: Yes. The season is a grind, just going in there every day and beating the crap out of your partners. I'm lucky because my best friends are on the team and we go through it together. It's so nice having guys like Nick Aromando, Andrew Aromando, Natty Lapinski and Sal Tagliaferro with me.
SJM: Was last year memorable for you, winning your first district title and placing at states?
CP: Last year was a nice taste of it, because freshman year didn't go as well as I wanted. It was nice knowing I could be at the top. This year, I'm going for it all. I don't want to just be on the podium—I want district, region and state titles. I want it all.
SJM: I'm sure winning a state title in Atlantic City is something you've dreamed about for a long time.
CP: I've been dreaming about it since I was a little kid. I would watch the interviews with the kids; they seemed so old to me and I couldn't wait to get there. It's gone by so fast and now I'm here. Pretty soon I could be one of those kids getting interviewed in Atlantic City.
SJM: Did you ever go to states as a fan?
CP: Me and my dad would always go and watch the Cherokee kids. It was like a little vacation; we'd get a bite to eat afterwards and stay over. There's no better atmosphere for wrestling. It was so weird being on that stage last year, because I would always watch it when I was young. It was crazy being down on the mat, looking up at my dad and saying, "Hey, I'm here now."
SJM: What are your parents like during your matches?
CP: My mom is so nervous. My dad has gotten better; he used to be so intense and on the edge, but now he's more laid-back. He just sits there and watches.
SJM: Who do you see as the biggest roadblocks to a state title this year?
CP: I really try not to look at names. I used to be obsessed with names and I feel like that hurt me. I don't want to stress about it.
SJM: What is your ritual before a big match?
CP: I go somewhere so I'm not surrounded by everyone—like down the hallway—and I close my eyes and try to visualize the match. I try to see what I want to do and not what his moves are. I also listen to a lot of rap music, like DaBaby.
SJM: How is the recruiting process going?
CP: It's really just starting. I haven't been on any official visits or anything. I'm looking forward to visiting some colleges after this season and getting recruited. I'd love to go somewhere in the Ivy League, like Princeton, UPenn or Columbia. That would be really nice.
SJM: What do you want to pursue career wise?
CP: Economics or business; something in that realm. That has always interested me.
SJM: Will wrestling remain a big part of your life, even after college?
CP: Definitely. Once I have kids, they'll definitely be involved in wrestling. I'll try to stay around wrestling, because if it's this big a part of my life now, I can't imagine it ever leaving.
SJM: What do you like to do for fun?
CP: Usually just hang out with friends and watch TV or play Xbox. Dexter is probably my favorite show on Netflix. I binge watched that in like a month. As for games, Call of Duty is one of my favorites. I was into Fortnite but not really anymore.
SJM: What do you like about Cherokee?
CP: Middle school was so structured and you had the same classes every day. I like how our schedule rotates; it keeps everything fresh. I also like eating lunch with my friends every day and talking about wrestling.
SJM: What's the best wrestling movie out there? Has to be Vision Quest, right?
CP: Vision Quest is a good one. Surprisingly I only saw that for the first time about three years ago. My parents were like, "You never saw Vision Quest?" Win-Win is another good one.
SJM: Who's the funniest guy on your team?
CP: Probably Nick Aromando. He always cracks me up, even when I'm cutting weight and feeling sorry for myself. He'll crack a joke and make me laugh and lighten the mood.
Emily Johns, Washington Township girls basketball
A four-year varsity player and one of the most dominant centers in South Jersey, Johns scored her 1,000th point as a junior. She is hoping to lead the Minutemaids to their second straight 20-win season before moving on to Division I American.
SJM
: You've been an impact player at Washington Township since your freshman year. Is it hard to believe you're a senior already?
EJ
: Yes. It's definitely flown by. I've been playing basketball with three out of the five seniors since seventh grade and I can't believe we're seniors now. It's not even real.
SJM
: Did you come into high school expecting to be this successful?
EJ
: I've been working on my game since I was little. My grandpop, Charlie Blank, has been helping me establish my game since I started playing at 4. Luckily, when I got to high school and started varsity as a freshman, I actually came up with Julia Marino, our point guard. That made it easier to get acclimated to the higher level because I wasn't alone.
SJM
: I was going to bring up your grandfather, who was a great player and has coached a lot of high school teams in the area. Was he a big influence on you?
EJ
: Oh yeah. He's been inducted to so many halls of fame and had such a successful career. I'm lucky to have this man to teach me all the basics and even the more modern stuff that you're seeing in the NBA. He basically taught me my game and I'm very grateful.
SJM
: Do you feel like you've gotten better each year in high school?
EJ
: Oh yeah. I've worked every single summer with him and I've especially focused on my outside game. I think that's improved the most.
SJM
: Washington Township won 20 games last year and is off to a great start this year. Is this the best team you've played on in high school?
EJ
: Yes, because of how close we all are. Our team motto this year is, "Your team versus our family." Because of those connections, I think we play well together, and if we continue to play well together we're going to go far. I've been playing with Julia Marino, Katie McCusker and Rachel Roda since I was little. We know how each other plays and what each person's strengths are. We're a veteran team; we have five seniors, two juniors and a couple of sophomores. I think we're going to be playing our best at the end of the season.
SJM
: Which players do you like going up against?
EJ
: Alexa Therien [from Cherokee] is an amazing player. When I was a freshman I went up against her older sister, Isabella Therien, who was the South Jersey Player of the Year, and I remember thinking I wanted to be like her one day. All three of the Theriens [including Ava] are amazing players. We just recently played Cherokee and unfortunately we lost, but I love playing against people who make you work hard and hopefully we can get them the next time.
SJM
: Washington Township has produced a lot of great players through the years. Are you aware of that history?
EJ
: Yes. I remember when we had the Giedemann twins (Kelly and Kylie) and I still talk to them to this day. I was like 5 and I was running up and down the bleachers when they played. I had scrapbooks from when they went on their Cinderella run, winning Group IV three years in a row. It was my dream to have a career like that. Back before them, we had the Wert twins, Shawna and Dana. The Minutemaids have had so many amazing players come through the program.
SJM
: Your coach, Jenn Natale, was a great player herself.
EJ
: Yes she was. One of my goals was to score 1,000 points, and seeing her name up on that list was motivation for me. ... My AAU coach, April Auer—who's now April Steidle —is actually up there too. So it's cool that I got to meet her and talk about Township.
SJM
: What led to your decision to commit to American?
EJ
: As soon as I walked on the campus and had my first visit, I kind of knew that's where I wanted to go. It's very spacious and not too crowded. The coaches and the players were all welcoming and I can't wait to get there next year.
SJM
: Do you know what you want to major in?
EJ
: Graphic design. At first I wanted to do marine biology, but then I took a class in graphic design my junior year and I fell in love with it.
SJM
: How do you get ready for a big game?
EJ
: When we're home, we usually shoot in the gym across from our main gym. Then we get together and say a little prayer that goes: "God of players, hear our prayer, to play this game and play it fair; to conquer, to win, but if to lose to abide and not abuse; to understand and try again." Then we all hold hands. It's something we've been doing all four years, and it started even before I was there. Then we all pump each other up, and the main music we come out to is called "4 minutes" by Justin Timberlake and Madonna. My friend Rachel came up the playlist; it was a hassle but we finally got it done.
SJM
: What do you like to do when you're not playing basketball?
EJ
: I really like graphic design. I'm in the interact club at school and we actually have an event coming up called Monzo Madness; it's an all-night dance-a-thon to raise money for ALS. I designed the logo for our shirts and that was cool. I also designed the T-shirt for our senior trip to Disney. It's awesome when you see people wearing the shirt and you know you did it. It's a good feeling. That's why I love graphic design and I'm excited to do it in college.
SJM
: If you could pick four other South Jersey players to run with in a pickup game, who would you choose?
EJ
: That's a good question. I've played with so many great players. One of my good friends is Kylee Watson from Mainland; she's going to Oregon. It's always tough to play against her and it would be nice to have her as a teammate. I would say Bella Runyan [from Moorestown Friends], who's another good friend of mine. She's very versatile and a great player. Abby Babore from Paul VI is a great point guard and a beautiful shooter. And for the last spot I'd take Bella Steidle from Clearview, another beautiful shooter who can play inside and out. Now that I think about it, we're all from the Philadelphia Belles, so we've all played together before.
SJM
: What do you like about growing up in Washington Township?
EJ
: I used to live in Glassboro but I've always come to the girls games because my mom was an assistant coach. It's crazy, because my grandpop coached my mom when she played and now she coaches me. Who knows, maybe I'll coach my kid in the future. It's awesome because you always have someone you can go to after the game. It's good to have someone to talk to who knows what you're going through.
Jackson Brookover, Cherry Hill East boys swimming
A senior, Brookover is the latest in a long line of standouts to come through this renowned program. The Penn State recruit placed in the top eight at states last year in both the butterfly and the backstroke and helped the Cougars claim the Public A state title.
SJM: Club swimming is obviously important in your sport, but do you enjoy competing for the high school team as well?
JB: Yes. It's a lot different than club and a lot more fun. It brings all of my close friends together and it's very exciting at times. Once playoff time comes around, everyone gets super excited. I guess club is more individual; you're always working to make sure everyone does their best. But high school is more of a collective thing.
SJM: Cherry Hill East has forged a nice rivalry with Bridgewater-Raritan, meeting in the state final the last three years. Is that a matchup you look forward to?
JB: Yeah, every year we've faced them and this will be four in a row if they make it again, which they probably will. It will be interesting once again. I think this will be our 12th sectional title in a row if we win again, so that would be exciting too.
SJM: Are you confident in getting back to the state final?
JB: Yes. It's always something we strive for. We always want to be the best we can, especially in South Jersey. We always try to compete and show people what we're made of. We're definitely looking to win at least sectionals every year and then strive to win the state championship.
SJM: What are your personal goals this year?
JB: I'm all about the team. I just try to do my best in whatever events [coach Joe Cucinotti] puts me in. When the individual Meet of Champs comes, it's a little bit of a different vibe because you're not swimming for the team, you're swimming for yourself. It's almost like a showcase. When it comes down to Meet of Champs, I'm always looking to get my best times and be competitive.
SJM: What's your favorite event?
JB: I don't know; they're all hard. I would probably say the backstroke. The relays are the most fun part of high school swimming and the most exciting. When you're working together, it makes you want to go as hard as you can for each of those guys. If you put in the work for them, they'll give it back to you.
SJM: I know you come from a swimming family. Did you get started in the sport at a young age?
JB: Yes. I'm not exactly sure but I believe I was around 2 years old when I first started getting in the water. I was probably around 6 when I started swimming competitively for Old Orchard in the Tri-County Swimming Association. I still do that in the summer and it's fun. All of my friends from high school are on different summer club teams and we all race against each other.
SJM: Has your dad had a big influence on you as a swimmer himself and your club coach?
JB: Yes, definitely. Every practice he tries to push me and get the best out of me, like a coach should. I don't think about it too much though. When I'm at practice he's a great coach, but at home he's a better dad.
SJM: Do your siblings give you a lot of advice too?
JB: I'm the youngest and they gave me a lot of advice when I was younger. My sister is done swimming and she's in New York, so she's kind of out of the equation. My brother has coached me for summer club the last two years, so he gives me little tips here and there. It helps.
SJM: What led to your decision to commit to Penn State?
JB: I liked the coaches and it seemed like a great fit for me. I really liked the team atmosphere and everyone was so nice. I looked around at other schools but there was something about Penn State and I knew I wanted to go there.
SJM: What are you going to major in?
JB: I'm not sure yet but I think it's going to be business related.
SJM: Do you have any favorite swimmers to watch?
JB: Caeleb Dressel is really fast and he blows my mind sometimes with his times. He continues to push the sport to limits people haven't seen. I've been a fan of Nathan Adrian for a while too. He's a really entertaining guy.
SJM: What are your interests away from swimming?
JB: When I have free time, which is kind of rare sometimes, I watch a lot of movies and TV, listen to a lot of music and play video games with my friends. I like movies a lot … and I've thought about doing screenwriting.
SJM: What are some of the films that have moved you?
JB: There are so many. I just saw 1917 recently and I thought that was incredible with the one-shot filming. It was tense the whole time and you really felt for the characters. I like Interstellar and Inception, two Christopher Nolan films. Interstellar was crazy with the whole idea of space and time, and Inception just twisted your head. Another recent one I liked was Joker; Joaquin Phoenix did a great job of acting and I wouldn't be surprised if he won Best Actor. There are a lot more; I could go on for days. … I saw Avengers: Endgame three times in the theater and loved it and I've been in love with Star Wars since I was a little kid. I always had the toys and I would hit my brother with a light saber, trying to reenact the fight scenes.

Keegan Douglas, Haddonfield girls basketball
A junior point guard, Douglas is coming off a memorable sophomore campaign in which she averaged 16.8 points and received all-South Jersey honors. She scored her 1,000th career point earlier this season and has committed to Division I Loyola.
SJM
: What are your goals for your junior season?
KD
: I knew we were going to lose a lot of people from last year so I knew I would have an even bigger role. I'm trying to guide the freshmen and have better chemistry with the people who might have not had a big role last year. Coming in I knew I'd have to score more and be more of a vocal leader on the court.
SJM
: Are you happy with how things are going so far?
KD
: Oh yeah, I couldn't be happier with our start. ... We knew teams were going to underestimate us because we lost a lot of people, but we've been playing as a unit.
SJM
: Would you rather score yourself or look to set your teammates up?
KD
: My coach actually gets mad at me because I look to pass a lot and I like to get my teammates involved. But I know my role on this team is to score. I look to score, but getting your teammates involved is one of the biggest things you have to do as a point guard, so I try to balance it out.
SJM
: You have a great outside shot. Have you spent a lot of time refining it?
KD
: Last year I actually had to adjust it and I focused more on finishing in the paint. This year in the offseason I worked a lot on my outside shot and I've been getting a lot of open looks. I've put in a lot of hours ... but it's worth it and it pays off.
SJM
: Haddonfield's gym is finally done after two years of renovations. How does it feel to have a true home court for the first time in your high school career?
KD
: Oh my gosh, it's so special to be playing in that gym knowing all of the players who have come through and how successful this program has been. It's definitely a lot easier to go from school to practice and not have to find a carpool to the other gym [at Cherry Hill East]. I've been looking forward to playing in this gym ever since I was little.
SJM
: What other sports do you play at Haddonfield?
KD
: I play soccer. I took a break from lacrosse last year to focus on AAU [basketball], and it's going to be a last-minute decision this year. I'm leaning toward playing again. I like playing other sports because I get to be with my friends and taking a break from basketball makes it even more special when I get back on the court. It also helps with conditioning and staying in shape.
SJM
: What led to your decision to commit to Loyola?
KD
: I loved everything: the campus, the facilities, everyone on the team, the coaches. One of the biggest things was the feeling of being wanted by the team and I could just imagine myself there. Everything clicked.
SJM
: There's a nice South Jersey connection at Loyola with the Therien sisters, Isabella and Ava. Do you know them?
KD
: Yes; I love the Theriens. Alexa, who goes to Cherokee now, is on my AAU team and we're really close. She hasn't committed yet but we'll see.
SJM
: Do you know what you want to study in college?
KD
: Not yet; I'm still trying to figure that out. I'm more of an English and history person than math and science.
SJM
: What do you like to do when you're not playing sports?
KD
: I love hanging out with my friends and family. I love watching movies and TV. I'm just a normal teenager outside of sports.
SJM
: Any favorite movies?
KD
: That's a tough one. I love any Disney movie: Toy Story, Nemo, all of those.
SJM
: Do you like to watch basketball?
KD
: Definitely. College basketball, NBA, WNBA, all of those. I love Sue Bird­­—I try to model my game after her. She's great at passing and of course she's a scorer, and she's one of the best to play the game.
SJM
: Have you always lived in Haddonfield?
KD
: I was born in Virginia but I've spent most of my life growing up in Haddonfield. I love how small it is and how you just know everyone. We have a great support system, and now that we have our gym back more people are able to come to the games. It's a cute little town and I love it.
SJM
: Who is the funniest person on your team?
KD
: Juliet Walls. She's a sophomore and anything she does makes us laugh. Jordan Siok, a senior, is also funny. It's great to be around both of them.

Derek Simpson, Lenape boys basketball
It did not take this sophomore point guard long to have an impact at Lenape, as he earned the starting job as a freshman last year and averaged 11.6 points per game. A terrific scorer and distributor, he is already receiving Division I college interest.
SJM
: You had an immediate impact last year as a freshman. Did that surprise you or were you confident coming into the season?
DS
: I came into high school confident, but I wasn't sure what role I was going to play. I played well in the summer and the fall, but I didn't know I was going to be starting with the seniors and everything.
SJM
: I know you missed some of your freshman year with a broken wrist. How did you deal with that?
DS
: It was frustrating, but my team did pretty well. We won seven of the games that I missed. I thought I could have had a bigger impact and it did set me back a little bit.
SJM
: What are your goals for your sophomore year?
DS
: As the point guard, my goal is to be the leader of the team. Coach [Matt Wolf] told me that everybody is listening to me during practice so I have to make sure everyone knows the plays and is doing what they're supposed to be doing.
SJM
: Do you consider yourself a pass-first point guard?
DS
: I do. I like to find open teammates, especially when they're hitting shots. At the same time, I feel like I can get to the basket and score myself too.
SJM
: Is there a point guard you like to model your game after?
DS
: I like Kyle Lowry a lot, because he's a tough point guard and he takes a lot of charges. He also gets his teammates involved.
SJM
: How did you get into basketball in the first place?
DS
: I've always been into playing sports and I've always been an active kid. I started playing basketball when I was 4 or 5 years old in the rec league, and a few years after that I started playing more competitive.
SJM
: Do you come from a basketball family?
DS
: I have two older sisters and my sister Courtney played at Cherokee. My dad [Ron] played at Rider and he's a big influence. We watch film together and he talks to me about the importance of setting your teammates up. He gives me good advice on a lot of things.
SJM
: Rider is one of the schools looking at you. Does your dad want you to go there?
DS
: He just wants what's best for me. It's good to know these coaches are looking at you and it's nice that all of these schools want you to go there. I used to think about college basketball a lot but now I'm trying to focus on my season.
SJM
: What do you think Lenape can accomplish this season?
DS
: I think we can win our division and I think we can go all the way to the Group IV championship game. With the group we have and the talent we have, I think we can go pretty far.
SJM
: If you could have four other South Jersey guys to run with in a pickup game, who would you choose?
DS
: Ooh. I would definitely pick up Deywilk Tavarez from Highland; he's a sophomore and he's my guy. I like Taj Thweatt from Wildwood Catholic a lot, and I'd also go with Ta'Quan Woodley from Camden because he plays defense and grabs boards, and that's what I like. For the last spot, I have to go with Tayvon Gaither from my team. I like him because he gets my assists up, he's always running the floor and he's a great rebounder. He jumped up to varsity this year and I think he's doing really well so far.
SJM
: What do you want to study in college?
DS
: I'm interested in becoming a police investigator or something in law enforcement. I like law enforcement and I watch a lot of Law & Order. I like learning about the law.
SJM
: What's your favorite basketball movie?
DS
: I don't really watch a lot of movies. If anything I'd have to go with Space Jam.

Kelsey Price, Shawnee girls bowling
Price, a senior, has made great strides since joining the bowling team as a sophomore and has built herself into one of the Renegades' most reliable competitors. She is a major reason Shawnee has put together back-to-back winning seasons.
SJM: How did you get interested in bowling?
KP: My friend's dad took over as the coach at Shawnee and several of my other friends decided to do it. When I found that out I said, "Sign me up." That was my sophomore year.
SJM: What was your experience in the sport before that?
KP: It was just something we'd do at night if we didn't have anything else to do. The [bowling alley] in Medford is really small. I think it only has 16 lanes, so it's not like the places you see in Marlton or Mount Laurel.
SJM: Have you gotten more serious about bowling the last several years?
KP: I definitely have a better idea of what to do when I go up there. Before I would just go up and throw it. Now I have a process and a plan. The owner of [Medford Lanes] will give us tips so we understand it more.
SJM: What do you like about the sport?
KP: It's just a fun thing to do. Both of my coaches coach baseball too and we always make jokes that bowling is just as serious and they should treat it just like they treat baseball. It's a fun environment, there's not a lot of pressure and we all enjoy [participating] together. … Sometimes I walk in and it's bright outside, and when I walk out it's dark. I think, how did I just spend three hours in a bowling alley?
SJM: Do you have any personal goals for this season?
KP: I definitely just want to keep my average going up. I think my high game is a 191 but I couldn't tell you how it happened. I got five strikes in a row so that was great. Sometimes it works out and it benefits the team, and we're doing well this year. Hopefully we keep it up. … I don't really pay attention to other scores, but my coach told me I had one of the highest averages on the team and I could do well at sectionals. We'll see.
SJM: What is the setting like at a tournament like sectionals?
KP: When I first went my sophomore year, I couldn't believe it. It's team after team down the lanes and you hear a lot of cheers and chants. I had no idea it was such a big thing. It's something else and I think it's pretty cool to see all the bowlers and parents.
SJM: I hear you have an exchange student from Norway, Isabella Kolstad, on the team this year. What has that been like?
KP: One of my friends is actually her host family and she's so nice. She didn't bowl in Norway and I'm not really sure how she got into it, but we love having her on the team. She absolutely adores the family she lives with and they always come and watch her, and I think that's awesome. During the holidays I was so intrigued just hearing about the differences. She said they open all their presents on Christmas Eve; Christmas morning is not that big of a deal there, so she liked that part.
SJM: Do you see yourself bowling in the future?
KP: I'm not sure what it's like in college, but if there was a team at the school I go to I would definitely do it. My friend's dad is in a league and it's so funny because he'll ask me questions and we'll sit there and talk about bowling. I would totally join a league someday.
SJM: Do you know where you're going to school?
KP: I have applied and I have my top picks but I haven't chosen yet. My mom went to West Virginia and I would say I'm leaning toward going there. In the big [student center] there, they have a huge bowling alley in the basement and we always joke that I'll be spending my Friday nights there.
SJM: Do you know what you want to study?
KP: Not yet. There are a whole bunch of different career paths I've looked into. I love shopping but I'm not very artsy, so I've looked into the business side of the fashion industry. That would be a lot of fun.
SJM: What do you like to do in your free time?
KP: I love hanging out with my friends—they're a big part of my life. I also work at an Italian restaurant in Marlton called Casa Nostra. During the week, if I'm not bowling I'm there. The menu is huge; they have everything. My family comes in a lot just to visit me.
SJM: What do you like about going to school at Shawnee?
KP: One of my main things for college is that I need a big sports school, coming from Shawnee. I love the big environment there and the energy and the school spirit. I need a school with a football team because I love going to the games.

Noah Klinewski, Eastern boys basketball
After a breakout junior season in which he averaged 15.3 points, this senior guard has become the leading scorer for the Vikings. An outstanding outside shooter, he will continue his career at Susquehanna.
SJM
: Your senior year is off to a good start. What are your goals for this final season at Eastern?
NK
: We have a young and inexperienced team given the fact that we graduated most of our [key players] from last year. We're trying to have a winning season and a 20-win season. Overall, we just want to learn and get better. Personally, my goal is to reach 1,000 points this year—it's going to be close. But I just want to get better and have fun.
SJM
: Last year was a breakout season for you. Did you know all along you could play like that at the varsity level?
NK
: I always had confidence in myself. From the start, I knew I could step up and play with anybody. I think last year was a good statement to prove what I can do.
SJM
: Eastern's schedule is loaded with tough competition. Do you embrace that?
NK
: Oh yeah. Here and there I wouldn't mind [some easy games], but it's always nice going against the toughest teams every night in Group IV and the Olympic Conference. It helps you get better.
SJM
: You come from a family of basketball players, including your older brother Matt and your mom Joyce. Did you know growing up that you were going to become a basketball player too?
NK
: Yes. From the start, I always had a ball in my hands and I was following my brother to his tournaments and games. I was always that little kid dribbling and running out to the court during halftime and the end of quarters, asking the ref for the ball so I could shoot. I was always training with my brother and competing against him.
SJM
: Did he have a big influence on you?
NK
: Definitely. He and my mom paved the way and showed me how to play the game that I love.
SJM
: Do you ever get mad that you don't have the same height as Matt, who's 6-8?
NK
: Oh yeah. [Laughs] It was rough to realize I wasn't going to be as tall as him. I wish I was 7-foot every day; I think it would make the game much easier. But I kind of learned how to work around it when we played one-on-one. I don't think I'm the smallest in the family anymore—I think I'm taller than my mom. I'm around [6-3], and a lot of people tell me that I'm really tall, like if I'm in the grocery store or something. But around my family, I just don't feel like it. My brother is 6-8, my dad is 6-4 and my mom is 6-3.
SJM
: What made you commit to Susquehanna?
NK
: The coach was really active in talking to me and when I went up there to visit, he was really nice and the players were nice. The school is great and the location is nice. It was just a great all-around experience and it felt like a perfect fit. They also have my major—I like business and accounting and I'm interested in that aspect.
SJM
: Which basketball players do you like to watch?
NK
: That's a tough question. Obviously, LeBron James is always a good player to watch because he does all of the fundamentals and he can play every position. He's arguably the best player to ever play. It's funny, because when the Warriors and Cavaliers were in the NBA Finals all those years, my brother would always root for the Cavs and I would always root for the Warriors. I like Steph Curry too because he can shoot the ball so well and he's a good point guard, and I'm a point guard too.
SJM
: If you could pick four South Jersey guys to run with in a pickup game, who would you choose?
NK
: The first name that comes to mind is [Camden's] Lance Ware, because he's big and he's going to Kentucky, which is amazing. There's a bunch of great guys so it's really hard to pick. Gavin Gibson from Cherokee would be a good one, and I'd have to say Taj Thweatt and Jahlil White from Wildwood Catholic too. I think that's a solid five.
SJM
: What do you like to do aside from basketball?
NK
: I like to go down the Shore, I like to go fishing. I like to play soccer too. I played all through high school; this year was my first year playing varsity and I made third team all-South Jersey. When I was younger I played on this [club soccer] team out of Medford and we were the No. 1 team in the nation. I actually played with Brenden Aaronson, who's now on the Union. I'm really good friends with him and it's crazy to see what he's doing.
SJM
: What Shore down do you visit?
NK
: Cape May. My grandparents had a house and we inherited it. My dad has a boat and we like to go fishing. It's a nice way to relax and get away from everything.
To read the digital edition of South Jersey Magazine, click
here
.

Published (and copyrighted) in South Jersey Magazine, Volume 16, Issue 11 (February 2020).

For more info on South Jersey Magazine, click here.
To subscribe to South Jersey Magazine, click here.
To advertise in South Jersey Magazine, click here.