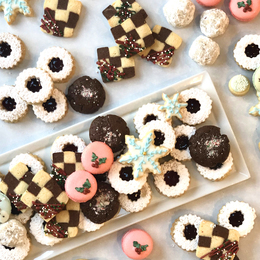 A Matter of Taste: Foodie Guide 2020
Our annual culinary guide for food lovers.
Food fills our heart and soul as much as it does our stomach. There's an emotional attachment we share with a good meal that lingers long after the plate's been cleared. And the exciting part is there's always something new you can learn: a recipe, a certain technique, a new ingredient; there are no limitations when it comes to the wonderful world of cooking. This is why our annual foodie guide serves as a compass to use along your culinary journey. This year, we took a closer look at the nuances of olive oil and quality cheese, got caught up on the latest trends in cocktails and heard from notable pastry chefs on how to be less intimidated when it comes time to make dessert. As if that wasn't enough to satisfy your appetite, we also spoke with celebrity chefs Scott Conant, Robert Irvine and Rachael Ray to get some advice on how to throw an unforgettable, not to mention stress-free, dinner party.
The Right Ingredients
Expert advice on how to throw a dinner party to remember.
Few things bring family and friends together like food. Sitting around the table, sharing stories and plates is a beloved ritual for many of us. But, sometimes, being the host of the party can cause anxiety and undue stress. What kind of cuisine should you serve? Did you make enough food for all the guests? How much prep work should you do in advance?
We aimed to take the headaches out of hosting a dinner party by tapping three of the culinary world's biggest names for some valuable advice. Scott Conant, host of Food Network's Chopped Sweets, Robert Irvine, host of Food Network's Restaurant Impossible and syndicated television host Rachael Ray. Here, these three celebrated chefs give us some pointers on how to make your next get together one for the books.
"A relatively simple dinner could turn into a disaster if you don't do as many tasks as possible ahead of time," says Irvine. "Be clean, be organized and be realistic about the time you have. Chop onions and veggies, make sauces, marinades and sides long before anyone arrives. Aside from your main protein, just about anything can be kept warm in a crock pot or heated up just before you serve."
"If there's a soup or sauce, that can also be done ahead of time," Ray says. "If you're doing a big batch of a pasta dish, you can make the sauce ahead of time, so that way when it's closer to dinner, all you have to do is cook the pasta and toss it in the sauce. But, never cook the pasta ahead of time."
"I start with an antipasto. I always like to warm olives and have cheeses there so people can nosh on certain things," says Conant. "I'll start to move on to the next round of food, but this allows me enough time so that I can cook certain things while people are eating."
"I applaud risk and adventure, but if you're not confident in what you're making—or it's the first time you've ever made something—and it's for a crowd, you are kind of asking for trouble," Irvine says. "You, your spouse, your kids … they are your test audience. Ask them to rate each new dish you make from 1 to 10. Remind them that if they rate something above a 7, they're going to have to eat it again. This will keep them honest."
"You always need help and what I've found to be beneficial is to choose someone from the group of people and ask them to come in the kitchen and help me. You get some one-on-one time with that person and they are lending a hand which adds a sense of inclusiveness. All too often you get stuck in the work and you forget you are supposed to be bonding with people," says Conant.
"I tend not to host sit-down dinners. Whether I'm cooking for three people or 30 people, like I do in Italy every year for my anniversary, I like to do big family-style bowls and platters of things. As I cook, I spread them out all over the counter or a table. This lets people choose what they want to eat and how much they want to eat of a certain dish," Ray says.
"I like buffet style; people can get up and get what they want. Meats, main courses, all that stuff will be out. I'll get pieces of tape and write on the table where the food is going to be served; the sides here, the sauces there. I'll have 10 to 12 platters laid out and then I'll fill those platters in. It makes my life really easy and super organized," Conant says.
"There's no right answer, so I say have fun," adds Irvine. "I cook plenty of [multi-course dinners] myself for formal fundraisers and things of that nature, but if I'm hosting friends? Forget it. Formal is not a descriptor you could use on me, so we're doing family style."
"I'm a big fan of risotto for groups. It takes a little bit, 18 to 22 minutes of cook time if you are doing it the right way, but then it's done. You can do it as you're talking to people, it's not a difficult thing to make. Last Thanksgiving I did a caramelized onion risotto with braised beef cheeks and I shaved white truffles over it. I assembled it while everyone was there and it resonated with people," Conant says.
"I'm old-fashioned in this regard, but a roast chicken dinner, done with a lot of care can wow a crowd," says Irvine. "Find a good rub that you really like or a brine … with creamy mashed potatoes and seasoned roasted root vegetables; that's four-star cuisine as far as I'm concerned. Remember, too, that a side dish made completely from scratch like sweet and sour collard greens or maple bacon Brussels sprouts can elevate a standard dish."


Added elements
"I like to theme out a meal; so if I'm doing Mexican food, I will usually do something like different flavored guacamoles to start and then maybe serve enchiladas or tacos," says Ray.
"An affordable, simple thing to do is to keep a few different seasonal table cloths in the linen closet. Add one seasonal centerpiece and the rest of your dishes and cutlery take on a whole different look on the table," Irvine says.
"It's a balance, you want to push yourself a little bit, but also take into consideration that you are there to make people happy. One dish could be ambitious, but the others should be things people most identify with. As a chef we get caught up making it about ourselves, but it's about the guest you are trying to please. … The most important thing is to make your guests feel comfortable," says Conant.
Robert Irvine's Fresh Crab and Corn Spaghetti
(as featured in the new book Family Table, Serves 6)
3 tbsp shredded parmesan cheese
1. Begin by shucking the corn and removing the kernels with a knife, by standing the ears up vertically and running your blade between the kernels and the cob.
2. Place the bacon in a pan over medium high heat with one tablespoon of butter. Render the fat from the meat and heat until butter begins to brown. Add corn and allow to cook for approximately three minutes. Next, add vegetable stock and bring to a boil.
3. In a separate pot of boiling water, cook spaghetti. This should take approximately 10 minutes.
4. Add spaghetti to corn broth and finish with parmesan cheese, heavy cream, black pepper and crab meat.
Scott Conant's Vanilla Caramel Budino with Salted Caramel Sauce
1.5 cups plus 2
t
bsp heavy cream
1.5 cups plus 2
t
bsp whole milk
1 each vanilla bean, split/scraped (reserve all)
1. In a medium bowl, whisk together the egg yolks, the 2 tablespoons cream, the 2 tablespoons milk, and the cornstarch.
2. In a medium saucepan, combine 1.5 cups of cream, 1.5 cups of milk, a 1/4 cup of brown sugar, and the salt.
3. Add the vanilla and the pod; bring the mixture to a simmer over medium heat.
4. In another medium saucepan, combine the remaining 3/4 cup brown sugar and the butter and cook over medium low, stirring occasionally with a wooden spoon or heatproof spatula, until the butter is melted, the sugar dissolved, and the mixture smells nutty, about 5 minutes.
5. Slowly stir in the warm cream mixture (be careful as it will bubble and spatter) until well incorporated.
6. Whisk a small ladleful of the warm cream into the egg yolk mixture a little at a time as this will temper the eggs and prevent scrambling.
7. Slowly mix the egg yolk mixture into the saucepan stirring constantly, until a thick custard forms.
8. Strain through a fine mesh strainer into a large heatproof measuring cup or bowl.
9. Cool quickly by nestling the measuring cup or bowl on another bowl of ice and stirring the custard occasionally, you want it to thick but still be able liquid enough to fill your desired serving vessel.
10. Divide the custard among 6 or 8 serving dishes (we use plain juice glasses), filling them no more than three-quarters full.
11. Cover with plastic wrap, pressing on the surface to prevent a skin from forming, and refrigerate for at least 2 hours and up to 2 days.
1/2 vanilla bean, split/scraped (reserved all)
4 oz unsalted butter, cubed
1. In a small saucepan, combine the cream, salt and vanilla with the pod, bring the mixture to a simmer. Set aside
2. Combine the butter and sugar in a medium saucepan, and cook, stirring occasionally with a wooden spoon or heatproof spatula, until the butter and sugar have melted are a deep amber color. This may look a little strange like wet sand at first. Once the sugar melts, and the moisture from the butter evaporates, the mixture should become thin and glossy.
3. Carefully add the hot cream mixture to the sugar/butter, it will bubble somewhat violently at first but will settle down.
4. Stir well to combine then strain though a fine mesh strainer.
5. The sauce will keep covered and refrigerated for at least 1 week. Reheat it gently before using.
3 oz milk chocolate, cut into pieces
3 oz hazelnut praline paste
3 oz feuilletine (may substitute ground cornflakes cereal)
1. Line a sided baking sheet with a silicone liner or parchment paper.
2. In a double boiler or a bowl set over (but not touching) a saucepan of simmering water, melt the chocolate and praline paste together, stirring occasionally.
3. With a heatproof rubber spatula, fold in the feuilletine, then spread the mixture out on the baking sheet and freeze until hard.
4. Break into pieces by hand or in a food processor for a more finely ground product.
1 tsp confectioners' sugar
In a medium bowl, combine the heavy cream, confectioners' sugar, and vanilla and whisk to medium peaks. This can be done by hand or in an electric mixer.
1. Top each individual cup of the budino with 2 tablespoons of the softened caramel (room temperature).
2. Add a spoonful of the freshly whipped vanilla cream on top of the caramel, then sprinkle with the gianduja crumble.
3. Finally garnish with a light sprinkle of high quality/flaky salt (Maldon brand works great and is available at most grocery stores).
Room for Dessert
Baking can be intimidating, but it doesn't have to be.
Sure, you've gotten pretty skilled at making cupcakes for the kids' classrooms or cookies during the holidays, but how's your soufflé? The fact is, the art of baking is a fine science that even the most adept cooks struggle with. That's because there are no shortcuts. Whereas with regular cooking, you can make adjustments on the fly, baking does not afford the same flexibility. So, in an effort to make dessert seem less intimidating, we spoke with some area experts who know a thing or two about sweet treats and found out there's hope for all of us yet.
The biggest issue that home cooks struggle with when it comes to baking? For Robert Bennett, executive pastry chef at Classic Cake in Cherry Hill, it's all about technique. "A lot of people, they don't understand things like when it says to cream the butter and sugar; they are not executing the technique properly," he says.
Diane Fehder, adjunct chef instructor at Rowan College at Burlington County and a pastry chef who has competed on various Food Network and Netflix programs, says many mistakes are made when ingredients are not measured carefully. Her preference is to measure everything using metrics in grams, pounds or ounces and recommends using a digital kitchen scale to ensure accuracy.
"Baking can be intimidating," says Fehder. "I think part of it stems from not understanding the language or ingredients. There are some tricky terms that are actually very common, simple techniques like tempering, emulsion or folding."
Both Fehder and Bennett cite the accessibility of the Internet as a major tool at your disposal. Whether that means taking online classes, studying pastry-focused publications or simply screening instructional videos, today's modern age has made baking more approachable. "I recommend going on YouTube and watching the masters and seeing how they do it," says Bennett.
"If you have a good quality cookbook or source you can trust, really do follow the directions. Bring eggs up to room temperature when you are baking. When you are separating your egg whites, make sure they are nice and clean or they won't whip up," Bennett says.
"Don't think you are going to successfully bake, build and decorate a cake moments before your guests arrive," says Fehder. "If you think something is going to take three hours, give it four. Always leave room for error."
"If you attempt a dessert with multiple components, measure each component separately. For instance, if you are making a layer cake paired with a buttercream and a lemon curd filling; measure out the ingredients for the cake and set it aside. Measure out the ingredients of the buttercream and set it aside, etc. Then take one step at a time, focusing on each piece separately. It will make the project less daunting," Fehder says.
"Sometimes it's out of your control, but your oven may not be calibrated correctly. So, if the temperature says cook at 325 [degrees], but your oven is running hot, you're going to burn [the dessert]; it's going to be way off," says Bennett. "Get a little digital thermometer with a probe to check the temperature of the oven to make sure it's calibrated and adjust if need be."
"When people are making a dessert with chocolate, they'll use chocolate chips instead. The chips aren't meant to be melted. They are meant to be included in things as they hold their shape well. But when you melt them down, they are very thick and don't have the cocoa butter that good chocolate has, so it won't set as firm," Bennett says.
"I think French tarts are very underrated and can be very beautiful. They are more sophisticated than a pie. A basic ganache tart can simply be a tart shell, ganache and chocolate curls, fruit or a piped decoration on top," says Fehder. "Another pastry that has a wow factor is pâte à choux—once you master the dough, the options are endless. You can make éclairs, cream puffs, ice cream filled profiteroles all with one dough."
The Recipe
Robert Bennett's Silky Chocolate Mousse
150g simple syrup (1:1 / sugar: water)
400g heavy cream, whipped to soft peaks
285g bittersweet chocolate (64%), melted
1. Heat egg, yolks, and simple syrup over a bain marie until very warm.
2. Remove from the heat and whip until very thick.
3. Incorporate 1/3 of the whipped cream into the chocolate to form a ganache.
4. Fold the ganache into the whipped egg mixture.
5. Fold in remaining cream.
6. Fill glasses or cups. Chill two hours.
Say Cheese
How to venture beyond the basics.
If you're like us, you have a love affair with cheese. Aged Gouda, creamy goat, fresh mozzarella; we love it all. But, unfortunately, quality cheese carries the same connotation as fine wine; that its complex appreciation is solely reserved for haughty gourmands.
Hunter Fike has dedicated his life to breaking down those stereotypes and connecting the customer to a world of cheese they never knew existed. Fike has been around the business since he was a teenager when he started sweeping floors at the famed Di Bruno Bros. location in Philadelphia's Italian Market. Today, he manages the company's cheese and charcuterie categories and has final say on all new products.
"Other kids had chips for snacks, but [my family] always had asiago and grapes," he quips.
Fike filled us in on the nuances of the cheese world and even shared some of his favorite varieties for those looking to expand their horizons.
"First of all, what makes for a good cheese is whether or not you like it," says Fike.
Fike says a good identifier of quality is the price tag and he advises gravitating toward cheese that is handmade by the producer as opposed to being made along a production line. "If you see an advertisement for a brand of cheese on TV, it's not as good as the cheese your local farmer is making," he says.
For those looking to discover something new, Fike suggests visiting your local cheese shop and sharing which styles you are fond of and then asking the person behind the counter to steer you in the direction of something similar.
"I wish more customers did this," Fike says. "Please come up and say, 'Help me.' We live for customers like that. Start by saying, 'Here's what I like, where do I go from here?'
"If a customer says they like Parmigiano-Reggiano, I'll first ask them what they like about it. If it's because of it's sweet, nutty flavor or crystallized texture, I may steer them toward an aged Gouda. But, if they want it because it's a classic grating cheese, I'll show them something that matches that."
In some cases, aging cheese is a necessary tool. And in other cases, it's nothing more than a carefully used marketing tool. "Be wary of any cheddars that say they are aged 10 or 15 years. Oftentimes, those cheeses are cryovaced and frozen and are barely aging at all," warns Fike.
Fike also cautions that extra age on cheese doesn't necessarily mean it's of better quality. It truly comes down to the particular styles. "Handmade cheese, more artisan-produced cheese; that will develop more flavor and nuance in one to two years at most," says Fike. "Brie, fresh mozzarella, fresh goat cheese … those are higher-moisture cheeses that go bad quickly, so you don't want them to be old. Pecorino, parmesan, Gouda; they have lower moisture and need to be a year old before they develop the right amount of character."
If you were to poll several cheese experts as to what their favorite style is, Fike says an overwhelming number in the industry would say washed-rind cheese. Decidedly not for newbies, the cheese is similar to brie, but the rind is washed with a brine solution that promotes bacteria and plenty of funky odor.
"If you want an entry way into washed-rind cheeses, Taleggio is really great for snacking or melting on a burger or in a risotto. It's really wonderful and a versatile cheese," says Fike.
Montgomery's Cheddar is another favorite—so much so Fike named his son Montgomery eight years ago—as well as Colston Bassett Stilton, which has been produced in England for more than a century, and Fiore Sardo, a pecorino that is lightly smoked over balsam wood.
"One of the most fun things to do is to make a party out of [exploring new styles of cheese]. Buy a bunch of different kinds of cheese—one from every major family—and wine; put out some honey, some charcuterie items and set them on a table and let everyone take notes on what they like," says Fike.
All About Olive Oil
Why the bottle in your cabinet right now is not what you think it is.
A few years back while spending the day in Princeton, Bobby McVicker had an epiphany as he and his wife did some window shopping. That is when they came across a specialty store that sold olive oil and the business concept seemed quite curious to McVicker. "I used to buy big jugs from Costco, so I thought to myself, how can this guy have a whole store that just sells olive oil?" he recalls.
After being "dragged" into the store by his wife, he began to sample the many varieties and everything he thought he knew about olive oil was turned upside down. Now, years after that chance encounter, McVicker gets to share similar experiences almost daily as the owner of Blue Moon Premium Olive Oil and Vinegar, which houses stores in both Collingswood and Bordentown.
"Our main goal is to have people have that same experience I had when I walked into that store," he explains. "I felt deceived. It really educated me and opened up my eyes. I don't look down on anybody because I was the same way."
Similarly, Marcello De Feo, owner of Valente's Italian Specialties in Haddonfield says the only way to become better educated about quality olive oil is to do your homework.
"Olive oil is no different than beer or wine," De Feo says. "You need to taste and savor different oils to become better versed. … Take notes, it's going to be impossible to remember every oil you taste, let alone the details. So, writing tasting notes in a notebook or in your phone will help you make a more informed decision."
In order to get a better understanding of all things olive oil, we asked McVicker and De Feo to give us some pointers so that you, too, can see what all the fuss is about.
"Yeah, it's cheap and convenient, I get it," says McVicker, "but when you are going to the supermarket and picking up a clear bottle … without even tasting it, it's already expired. Light and heat effect olive oil and so you have no idea how long it's been sitting in a warehouse or in the backroom or on that shelf. Any olive oil store you go to is going to tell you when it was crushed."
"The most notable food products from Italy are knocked off, including San Marzano tomatoes, parmesan reggiano and olive oil," De Feo says. "Producers count on you not paying attention to anything other than the price tag and they make a fortune doing that. … It's best to steer clear from supermarket oils in most cases."
"It all starts with the quality of the olives," De Feo says. "If an olive oil is made without defects and is unrefined, it can be granted the status of 'extra virgin.' This status does not mean that it is great, per se, but all great oils have attained extra virgin status. The variety of the olives used determine the flavor profile, making different oils good for different uses—and subject to your particular palate. If you are going to invest in a high quality oil, do not let it sit as a showpiece on your kitchen counter. Make sure you use it."
"It's all about the condition of the fruit at the time of the harvest. When they are harvesting the fruit, is it ripe? Is it overripe? There's a time period that is upheld to ensure quality. It's got to be within six hours between harvest and crush," McVicker says. "Store bought oils are often made with fruit from off the ground, what's left after the first harvest. It has to go somewhere, so [manufacturers] refine it. They add saffron oil, doctor it up and make it taste like olive oil. The U.S. doesn't have the regulations that Europe does, so it gets to skate by."
"Olive oil is regional and grown in both hemispheres. Most people think Italy, Spain, Greece; and I get good oils from there, sure. But some of the best I get come from Australia or South Africa," McVicker says.
"Spain and Italy lead the pack, but any country surrounding the Mediterranean will have good quality options. Just follow the olive trees and you will find great oils in Greece, Croatia, Turkey, Tunisia, Lebanon and so on," says De Feo. "My favorite olive oils come from Tuscany, but it is important to be open to oils form different regions, since each one has its own olives and unique flavors."
"There are different oils for different purposes. If you fry with it, a cheaper oil does the trick. If the oil is a featured ingredient, like in a vinaigrette or to finish a dish, then you are going to want a high quality olive oil. You could easily spend $50 on a good finishing oil, but a little bit goes a long way and the taste is well worth the price," says De Feo.
"I think you can find a good small bottle of olive oil for between $12 and $20, that's a good starter" to introduce you to the higher quality offerings, says McVicker.
Are infused oils a gimmick?
"It's an easy way to add flavor without adding anything extra," McVicker says. "Butter olive oil is great for eggs. Mushroom and wild sage oil is great on popcorn. I make a chocolate cake and instead of using vegetable oil, I use a blood orange olive oil. You can use it for baking, sautéing; the possibilities are endless."
"Infused oils need to serve a purpose for me. Little touches like infusing an oil for a specific dish can have a big impact on the outcome. To me, that's what it means to do it correctly," De Feo says.
In Good Spirits

What's trending with cocktails.
Bigger and bolder craft cocktails may be easy to find across the bridge, but that doesn't mean South Jersey is in need of a mixology lesson. In fact, boozehounds across the area can find any number of signature drinks that introduce them to new concoctions full of intrigue and that challenge the palate.
Kira Williams, beverage manager at The ChopHouse in Gibbsboro, keeps close tabs on the bar scene, no pun intended. And she sees lots of excitement with the current trends, especially with the cyclical rebirth of some of the classics that are getting modern day twists.
"The craft cocktail is more popular and more prevalent. Everyone wants to try the new drink, the new flavor … they want bright, bold colors," Williams says of the desire for people to stay ahead of the curve.
And in a sense, what's old is new again. Williams says traditional cocktails are making a big push these days, but that doesn't mean updates aren't in order. At the restaurant, they take the classic Old Fashioned and smoke the glass and add chocolate bitters to the base recipe for added depth of flavor.
Buzz is also being generated these days over cocktails made with cold brew coffee. Everything from martinis to whiskey libations are getting a dose of iced coffee to create sophisticated showings that prove things have evolved well beyond the White Russians you're accustomed to.
And while it may seem odd to equate health with liquor, there's been a big push nevertheless for calorie-friendly options. "Right now, there's a big push for seltzer drinks," Williams says. Not only is the liquor store full of options, but several area breweries from Forgotten Boardwalk to Iron Hill, have unveiled their own offerings as well. To that end, The ChopHouse recently created their own line of spiked seltzer which they flavor in-house, using seasonal modifications like blueberry or lavender syrups.
The health-conscious crowd is also gravitating toward the increase of botanical spirits. Most often associated with gin, these days ingredients like brewed tea are being used to create different colors and flavors to layer with drinks. And with its heavy popularity, it's no surprise that vodka has made the transition to the botanical world as well.
"Vodka is trying to follow up the spiked seltzer movement and the botanicals are very low in sugar and have lots of flavor and go well over club soda," says Williams.
Ketel One was the first to debut this new style of vodka, which is classified differently than the flavored varieties and a single 1.5 ounce serving contains only 73 calories. Comparatively, your basic vodka and soda will contain 110 calories.
Whiskey is also expanding its reach, according to Williams. "There are so many more options, with both local and big names making themselves more approachable. Now you have flavors … cinnamon infused bourbons; there's a peanut butter one making a splash on the market right now."
But perhaps the biggest movement in whiskey comes not from Kentucky, but by way of Japan. "Japanese whiskeys are really hard to keep, they sell out really fast," Williams says. "It's kind of like the Pappy Van Winkle phenomenon. People want to try it because no one can ever find it. So when they see it, they want it."

2 ounces Bulliet Rye
3 dashes chocolate bitters
1. Start with a cedar plank
2. Torch the plank to almost set it on fire then place a mixer glass over the smoke to catch it.
3. Grab the smoked glass, add one square ice cube and pour the drink over the cube
4. Garnish with a filthy cherry and an orange twist
To read the digital edition of South Jersey Magazine, click
here
.

Published (and copyrighted) in South Jersey Magazine, Volume 16, Issue 11 (February 2020).

For more info on South Jersey Magazine, click
here
.

To subscribe to South Jersey Magazine, click
here
.

To advertise in South Jersey Magazine, click
here
.