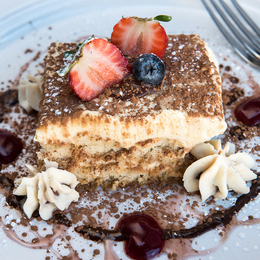 Palate: Il Classico

Restaurants in South Jersey come and go. Menus change, chefs move on, dining rooms close for good. As a lifelong local and food lover, it's always a bit heartbreaking to find one of my longtime favorites gone or evolved into something new. Knowing you can't return for that dreamy plate of pasta, or having to search for a new sushi spot, comes with the territory.

But in the midst of all that change sits Nunzio Ristorante Rustico. Now in its 16th year, Nunzio's has been led by chef and owner Nunzio Patruno—a Puglian chef who trained in Italy before coming over to Philadelphia—since opening on Collingswood's main drag and helping launch the vibrant borough's dining scene.

Nunzio's even has a similar layout to its 2003 roots. The interior is designed to look like an Italian piazza, complete with murals of neighboring houses and windows decorating the space. When it comes to food, Patruno has played it close to the heart, building a reliable menu of pastas, seafood-rich entrées and fresh-focused appetizers and sides.

A starter of Fave al Granchio featured fresh fava beans, sautéed with jumbo lump crab meat and served over dressed romaine hearts. The crab was a decadent touch and the beans were perfectly cooked, tender but not mushy, with a bit of a chew. Meanwhile, the romaine was dressed simply in lemon and olive oil, but those flavors alone added the perfect bit of brightness, and when combined with the beans and the crab, it created a rich and harmonious flavor that I could have drank with a spoon.

Gamberi e Cannellini introduced us to Patruno's vast seafood skill set. The appetizer featured sautéed shrimp tossed with cannellini beans, finished with chopped herbs and a bed of arugula. While the fava beans from the previous dish had a bit of a bite, the cannelinis here melted into almost a creamy sauce that went perfectly with the big, juicy shrimp that piled the plate. A bit of lemon and peppery taste from the arugula helped round out the flavors, giving us a well-balanced and thoughtfully composed dish.

What would a night out for Italian food be without dipping into the pasta menu; especially when so many of Nunzio's options are made in-house. Like the Casconcelli Boscaiola, a half-moon ravioli that is packed with minced mushrooms, stewed with prosciutto, peas and a mound of fresh wild mushrooms, then finished off in a demi glace cream sauce. The sauce was mercilessly good, and the fresh mushrooms that sat on top of the plate added an unforgettable earthy richness that had me sopping up every morsel with extra bread.

Loyalty and a commitment to service is an added perk of the Nunzio's experience. In fact, our server Celina had taken care of our table several times before, always with a smile and ease. That was especially helpful as she—rather impressively— recited what seemed like a novel's worth of specials, which make up almost half of the weekend menu. You can find some particular specials popping up regularly, like the Osso Bucco and Risotto. The meat was slow-cooked and developed in a rich sauce before it was piled over an al dente risotto. It was a warm, rich dish that is particularly satisfying during the frigid winter temperatures.

While the rest of the evening was full of twists and pleasant surprises, the dessert menu played it a bit safe. We went for a classic Italian dessert, tiramisu, but the espresso flavor that you know and love in the dish was almost completely missing. A cup of espresso helped make up for the taste a bit, but it would have been great to have that strong punch that I know and love.

Change may be a good thing, but there's something to be said about walking into Nunzio's with zero worries. Every time you put yourself in the care of Patruno, you know you're going to be rewarded with a quality meal. Time hasn't tarnished the attention to detail coming out of this popular kitchen; it's simply gotten better with age.

Nunzio Ristorante Rustico
706 Haddon Avenue | Collingswood
856-858-9840 |

Nunzios.net



To read the digital edition of South Jersey Magazine, click

here

.

Published (and copyrighted) in South Jersey Magazine, Volume 16, Issue 10 (January 2020).

For more info on South Jersey Magazine, click

here

.
To subscribe to South Jersey Magazine, click

here

.
To advertise in South Jersey Magazine, click

here

.