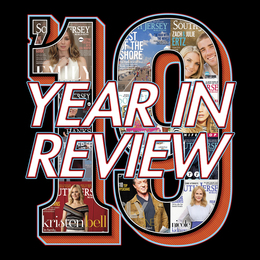 Year in Review 2019
As we look forward to a great 2020, we wanted to take a moment to rewind and revisit all the things that made 2019 so memorable. From interviews with big stars, the best local brunches and desserts to the top attorneys and doctors, there was a lot to love about the year.
They Said It!
Memorable quotes from our best interviews in 2019:
"My first job was as a dishwasher in a diner. When I was 13 and 14, I worked under the table washing dishes at a tiny diner where I grew up in Needham, Massachusetts. My parents noticed that the business owner was stiffing me and they ultimately had to confront the guy. I have never forgotten how that made me feel." –Gov. Phil Murphy
"As an actress you're always expected to look perfect, wear the latest design, and always look your best. Sometimes you want to wear a T-shirt and jeans when you go to the grocery store, or to a café and read a book or magazine." –Emily Blunt
"Last summer I moved to South Jersey. I bought a house in Gloucester County that I am now renovating. So what was my welcome gift from the Garden State? I was bitten by a deer tick and caught Lyme disease working in my yard." –Jim Donovan
"I've played some not-so-nice people but I would rather play characters who face up to challenges and say something more positive about the human condition. I find it interesting to learn how people find something within themselves and rise to the occasion." – Tom Hanks
"A lot of times for me there's a subtlety when you hear someone tell a story. I was at a dinner party once and this woman told a story, it was very interesting but it went nowhere. I told her it was very interesting but asked her if I could tell her how to tell it. You need a great intro to draw everyone in. And then it needs an arc and in my opinion, it has to have one flip of the switch that you didn't see coming. And more importantly, every story needs an ending. Everyone messes up there, you need [the audience] to know the story is over. I'm not perfect with coming up with endings, I acknowledge it. I chew over it like sunflower seeds nonstop." –Bert Kreischer
"[My wife and I] were planning on living in Philly and my wife went to check out the areas and she ended up in Haddonfield and loved it there. Other players who live there were pushing the area on me. We are suburban people, not really into the city life, and we have our chocolate lab with us so we were looking for a house and a backyard, a place we could wind down and get away from the city life. We pulled the trigger as soon as we could." –J.T. Realmuto
"I always wanted to be a writer. I always loved reading, and as soon as I figured out that there were actual, living people who made up stories, I knew that was the job for me." –Jennifer Weiner
"[The Little Mermaid] changed my career, changed my trajectory and the direction in my life and I probably reflect on it daily. Ariel is a big part of my family's life." –Jodi Benson
"Actually, [both my daughters] hate when I sing, and when I come home to share tidbits from [the set of] Frozen that no one else will ever hear, they are not really interested." –Kristen Bell
"My favorite songs are ones that speak to the things that we feel in our hearts and that we all have in common—songs that relate to the experiences that we all share together, the greatest one being love. Some of my favorites are 'Love Is a Many Splendored Thing,' 'I Only Have Eyes for You,' 'When I Fall in Love' and especially 'Till.'" –Jerry Blavat
"It reminds me of when I first saw magic and I lost my parents and just that moment of forgetting all your problems. What else is cool is when you are walking through an airport in a random state and someone says, 'Hey, it's not just the magic, it's what you say and you are a positive influence for me and my kids.' When I did America's Got Talent and did the finals, I was like OK; this is who I want to be. You have David Blaine, David Copperfield, these guys have their niche. I'm the inspirational guy and I love it." –Jon Dorenbos
"That's why I love going on tour, there's nothing like that face-to-face connection and relationship with the audience, it's amazing. It's funny when I hear certain performers say they don't like meet and greets. I love those VIP experiences before the show, getting to take photos and hugging and connecting with people. They are some of my favorite moments honestly. They give me such energy to go out and perform for them." –Derek Hough
"I wake up at 3 a.m. for work. I always think it's funny that people say someone wakes up "bright and early"... because in all actuality when I wake up it's STILL dark and early!" –Alex Holley
"The first time we played in Camden was the first time we knew 'Meet Virginia' had a chance to be a hit. We were playing at a festival and I remember someone saying, don't call it Philadelphia. This is New Jersey." –Pat Monohan
"As an actor, there's no retirement plan, you hope you can continue working. After being on such well-written shows like Everybody Loves Raymond and The Middle, I thought it was going to be difficult to find something that was fresh and was well written." –Patricia Heaton
"I don't think 'Smooth' is the best song I've ever written or the best song he's ever done, but it was the right song and the right time. Obviously it was a big help for me and a big help for Carlos to help him connect with a new audience. [The song] is very special for those reasons." –Rob Thomas
"Honestly outside of Orlando, the Jersey Shore in the summertime is one of my favorite places. I went to college at Valencia and USF, and especially at USF three quarters of my class were from Philly and Jersey. I always had a close connection to the people up there. I love Jersey, it has some of the best Italian food I've had outside of Italy." –Howie Dorough
"I told my parents at graduation I wasn't going to law school. I was so nervous and stressing about telling them, but they were thrilled. I got a couple of [acting] jobs right away, but I also had to work second jobs to make ends meet—driving a forklift, modeling dresses. I got on a soap opera within the first year. From that point on, that's how I made my living. Once I didn't need the second job, that's when I felt like I just made it." –Lauren Holly
"One funny thing is that still have the two turtles from the first Rocky film almost 45 years ago and they're about as big as I am. They are the only friends that I have left [laughs]." –Sylvester Stallone
"My love for music is my grandfather and Lloyd Price's fault. No one in my family played a musical instrument, but music was on wherever we were. I grew up listening to standards and big bands until Elvis came along. For my 9th birthday my grandfather gave me an Emerson transistor radio. One of the first songs I heard was Lloyd Price's 'Personality.' I've been addicted to music ever since." –John DeBella
"But I like true stories and I actually like doing dramatic roles or doing a dramatic movie and adding a little comedy to it. I actually prefer to do that rather than like a straight-out comedy because, for me, I get my fill of comedy through stand-up. And to do a dramatic piece is a nice change for me because I'm not a real life-of-the-party type of guy. I'm not always trying to make people laugh." –Sebastian Maniscalco
"It's awesome being married to Julie, being able to support the people we love doing what they love to do. I've seen all the work she does each and every day and I've seen all the adversity she's faced over the past seven years we've been together. I've seen the injuries. I've seen her cry. I've seen the blood. I've seen the tears. Because she loves the game, I'm so invested in seeing her succeed." –Zach Ertz
"I already know I'm living a dream, so the appreciation and gratitude are there, and from that, the energy comes. … Nothing wears you out more than when you become ungrateful and you don't want to be where you are. You have no energy, and you start to feel kind of low. So I'm just going to keep doing what I love, and it feels so amazing that I could literally go on forever." –Terry Crews
"No. 1 is to accept your weaknesses and fears, we all have different fears. I didn't raise my hand in school, I was afraid if I said something wrong, people would laugh at me. In tournaments, I missed shots on purpose because I didn't want to be on the podium and have to give a speech. My parents noticed that I was always missing shots at the end … I sucked it up and it wasn't as bad as I thought it would be. I realized that I am extremely competitive and that outweighed my fears." –Annika Sorenstam
"I feel incredibly lucky that I grew up in Cherry Hill. I have such fond memories of my time there. I lived in the same house until I was 18 years old. My sister and I walked to school with our dog Dusty. We'd ride our bikes to Covered Bridge Swim Club. My parents would take us to an old bar called The Pelican; they would get cocktails and we'd get hot chocolate." –Ali Larter
"I was doing a play in New York in December 2001, and [my now wife and I] had a mutual friend. [She] came to see the play, and she charmed me with her sense of humor. My friends and I went to a bar afterward, and I arm-wrestled my buddy to see which of us would get to talk to her. I won." –Charlie Day
"My mother and grandmother have been great role models for me. My mom was the one who taught me that if your worked hard in life then you can achieve your dreams. My mom and dad both worked different jobs so we could have a better life and I really appreciated how they accepted their responsibilities and never complained. You learn that if you want to be successful at anything you're going to have to work for it. No one is going to give it to you." –Jennifer Lopez
"I've always said George Clooney is someone I admire. He's an incredibly generous and beautiful man. He's also one of the best directors I've worked with. And the more I get to know him, and the older he gets, the more I respect and appreciate what a great and good man he is. It's almost frustrating to be his friend, because you know that you can never repay his generosity. I've never found one thing I didn't like about the man in all the time I've known him." – Matt Damon
"I've never really been the type of person to sit down and think about making plans. I have always been someone who is more comfortable operating from a spontaneous kind of place. At times, that does work in my favor, but other times I can fall flat on my face due to that." –Nicole Kidman



BEST OF THE BEST


We spent the past year seeking out the Best of the Best in South Jersey, including the most amazing food, the finest shops, the must-visit salons and more to be able to bring this celebratory list to you.


Click here



BEST OF THE SHORE
We traveled from the shores of LBI all the way down to the top of Cape May to find the best food and drink items in each town.


Click here



SUPER WOMEN
10 selfless women who are changing the lives of so many in South Jersey and beyond.


Click here



MEN OF THE YEAR
11 model citizens who find purpose in lifting others up and ask for nothing in return.


Click here



ULTIMATE FOODIE GUIDE
Recipes, how tos, and what to know.


Click here



BEST OF THE BRUNCH
We scoured South Jersey—including down the Shore– to uncover the dishes you should be ordering the next time you sleep in a little late.


Click here



ROOM FOR DESSERT
24 fantastic ways to satisfy your sweet tooth.


Click here



TOP TOWNS
To help determine this year's Top Towns' rankings, we spent time factoring in various aspects of what makes each town stand out from the pack.


Click here



TOP TEACHERS
Find out which local educators are making the grade in classrooms throughout South Jersey.


Click here



RANGEFINDER
A look at what's new and notable at some of South Jersey's foremost golf clubs.


Click here



TOP PHYSICIANS
310 of South Jersey's leading doctors.


Click here



MOVING UP
Meet 100 of the Top Real Estate Professionals in South Jersey.


Click here



ORAL REPORT
South Jersey's premier dental health professionals.


Click here



AWESOME ATTORNEYS
Across 44 specialties, our readers choose the area's top lawyers.


Click here



To read the digital edition of South Jersey Magazine, click here.

Published (and copyrighted) in South Jersey Magazine, Volume 16, Issue 10 (January 2020).

For more info on South Jersey Magazine, click here.
To subscribe to South Jersey Magazine, click here.
To advertise in South Jersey Magazine, click here.