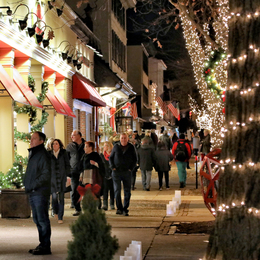 Feeling Festive: Holiday Event Guide
Celebrate the season with these holiday happenings taking place across South Jersey.


Through December 22
Candlelight Shopping and Holiday Festivities
Every Friday for four weeks the streets of Haddonfield get transformed into a winter shopping extravaganza featuring carriage rides, musical performances by various artists such as The Brass Consort, festive holiday decor and discounted shopping. Downtown Haddonfield, times vary, free, DowntownHaddonfield.com, (856) 216-7253
Christmas 'Light Show' Hayride
Travel through a dazzling display of illumination on a tractor decked out in its own Christmas lights, synced to classic holiday hits. Enjoy fire pits, s'mores kits, a light show on the lake and the Christmas Cafe open every weekend. Johnsons Corner Farm, times vary, $6.95 per person, Medford, JohnsonsFarm.com, (609) 654-8643
Adventure Aquarium's Christmas Underwater
Go underwater this year as Adventure Aquarium gets decked out in holiday decorations. This year deliver Scuba Santa a letter and see the tallest underwater Christmas tree. Adventure Aquarium, times vary, prices vary, Camden Waterfront, AdventureAquarium.com, (844) 474-3474
Learn how to ice skate, take an intro to curling class, play arcade games and so much more as special events take place this winter season such as a tree lighting, holiday movie week and Noon Year's Eve. Cooper River Park, times vary, prices vary, Cherry Hill, CamdenCounty.com, (856) 404-7138
Moorestown Holiday Celebration
Come together in unity as the Moorestown Community House lights up its Christmas tree and menorah in celebration of what makes the holidays so special: family, friends and delicious treats. Moorestown Community House, 5:30-6:30 p.m., free, Moorestown, MoorestownJewishAssociation.org
The Washington Township High School Music Department will be performing holiday and winter hits with songs by Mariah Carey, Mannheim Steamroller, Trans-Siberian Orchestra and more. All proceeds will benefit the Township Toys/24 At the Core children's toy drive. Investors Bank Performing Arts Center, 7 p.m., tickets start at $5, Sewell, WTPS.org, (856) 589-8500
Kicking off the holiday season, this parade will feature something dazzling. Fire trucks and floats will be strung up with glittering lights and fun holiday displays, while the holly jolly man himself drops by bringing extra Christmas cheer. The parade will travel around Knight Park, starting and ending on Grant Avenue. Knight Park, 7:30 p.m., free, Collingswood, Collingswood.com, (856) 854-0720
Thanks to the Westmont Fire Co. 1, a dazzling light display filled with floats and marchers will be parading down Haddon Avenue. Watch as the Municipal Building lights up and becomes a home for refreshments and pictures with Santa. Haddon Avenue, 7 p.m., free, Haddon Township, HaddonTWP.com, (856) 854-1176
Holly Jolly Trolley Lights Tour
In its first season, this ticketed trolley will bring passengers by dazzling homes located throughout Collingswood, giving patrons the chance to enjoy holiday shopping, carolers and visit with Santa. Trolley guide services are provided by the Collingswood Rotary Club, which is accepting donations and support for future Rotary scholarships and projects. Downtown Collingswood, 5-8:30 p.m., prices vary, Collingswood, Collingswood.com, (856) 854-0720
Travel to Christmas' past during this old-time festival, bringing out the joy of the holidays. Dress up in Dickensian attire for the costume contest, enjoy carriage rides, a live nativity scene, magicians, crafters, food trucks and Santa as he makes his grand appearance by fire truck. Main Street, 4:30-9 p.m., free, Medford, MedfordBusiness.org
Moorestown Holiday Parade
For the 59th year in a row, the Moorestown Lions Club will host the annual Moorestown Holiday Parade. Performances include string bands, bagpipers, the Moorestown High School Band, the Liberty Band and Santa as he makes his way down from the North Pole. Main Street., 12-2 p.m., free, Moorestown, Moorestown.com, (856) 778-0108
Christmas Tree Lighting Ceremony
Join in the annual Christmas tree lighting, listen to live Christmas carols performed by the Washington Township High School choir and pose for photos with everyone's favorite snowman, a couple of Disney mice and Santa and Mrs. Claus. Washington Lake Park Amphitheater, 5 p.m., free, Twp.Washington.NJ.us, (856) 256-7903
For the seventh year in a row, High Octane will host its annual Running of the Toys Santa Claus Rally to gather toy donations for South Jersey kids in need this holiday season. Every pediatric patient at Deborah Heart and Lung Center will receive a new toy this Christmas. Flying West Airport and Resort, 8:30 a.m.-12:30 p.m., free, Medford, HighOctaneSJ.com
Christmas Festival at Duffield's
Duffield's is being transformed into a winter wonderland this Christmas season as holiday decor and lights decorate the farm and market. Enjoy crafts, cookie decorating, hayrides, hot chocolate and the chance to meet Santa Claus. Duffield's Farm & Market, 11 a.m.-4 p.m., free, Washington Township, DuffieldsFarm.com, (856) 589-7090
With over 70 vendors, kids' crafts, a poinsettia sale and plenty of food options, WinterFest is the perfect spot for last-minute gift shopping. Be on the lookout for singing performances and a special appearance by Santa Claus himself. Cinnaminson High School, 10 a.m.-3 p.m., free, Cinnaminson, VisitSouthJersey.com, CHS.Cinnaminson.com, (856) 829-7770
Bask in a winter wonderland as popular holiday music comes alive and lights project onto the planetarium dome of bells, reindeer, presents, snow, and nutcrackers creating a spectacular show. Edelman Planetarium at Rowan University, times vary, prices vary, Glassboro, Rowan.edu, (856) 256-4389
Victorian Holiday Celebration
Travel back in time to a Victorian holiday celebration including ice carving demonstrations, kids activities, entertainment and a chance for Christmas shopping within the holiday marketplace. Check out the fully decorated Historic Smithville Mansion with carolers, Victorian re-enactors, s'mores and hot cocoa as Saint Nick arrives by horse-drawn carriage. Historic Smithville Park & Smith's Woods, 12-5 p.m., free, Mount Holly, Co.Burlington.NJ.us, (609) 265-5000
Santa comes to Mount Laurel
Santa Claus is traveling all the way from the North Pole to Mount Laurel this holiday season, spreading joy and holly jolly fun in his wake. This free event allows kids of all ages to make fun holiday crafts, play games and enjoy hot chocolate and delicious cookies. Mount Laurel Community Center, 4-7 p.m., free, Mount Laurel, MountLaurel.com, (856) 234-0001
Be transported through time as the Ritz Theatre Company retells the story of a beloved Christmas tale following Ebenezer Scrooge and his encounters with the ghosts of Christmas Past, Present and Future. The Ritz Theatre Company, times vary, tickets start at $19.50, Haddon Township, RitzTheatreCo.org, (856) 858-5230
Voorhees Ballet Theatre: The Nutcracker
As a tradition for over 30 years, the annual production of the Nutcracker comes to South Jersey. Explore the magical story of young Clara as her Christmas present comes to life in a fairytale experience set to Tchaichovsky's score. Voorhees Middle School, times vary, tickets start at $21.50 per person, Voorhees, VoorheesBalletTheatre.com, (856) 784-0062
The Miracle of Chanukah Magic Show
This one-night, adults-only holiday show at the Katz JCC features talented magicians and a delicious buffet dinner for a relaxing night of entertainment. Katz JCC, 7-10 p.m., prices vary, Cherry Hill, JewishSouthJersey.com, (856) 751-9500
Participate in a holiday 5K around Marlton Lakes with bells attached to each runner, ringing in the holiday season. Runners will get the chance to win awards overall, within their age groups and during the costume contest. Lakeshore Drive, 9-11 a.m., $20 per person, Marlton, RunSignUp.com
The Magic of Christmas event
Go on a Christmas-themed holiday treasure hunt that includes readings of The Polar Express in the Blackwood Train Station, visiting Bunker Hill Presbyterian Church to listen to live Christmas carols and spending time at the Turnersville Post Office writing and mailing a letter to Santa. Don't forget to grab yummy snacks and stop by to meet the jolly man himself. Olde Stone House Village, 5:30-8:30 p.m., free, Washington Township, Twp.Washington.NJ.us, (856) 589-0520
Deck the halls at Valenzano's with freshly baked sweets, holiday music and numerous artisan vendors selling the perfect last minute gifts. Get the chance to taste test and even purchase some delicious local wine while also enjoying a seasonal afternoon spent with loved ones. Valenzano Winery, 11 a.m.-3 p.m., $10 admission, Shamong, ValenzanoWine.com, (609) 268-6731
Party like no other during a fun-for-all-ages Hanukkah celebration. Enjoy tasty snacks, fun Hanukkah crafts, listen to live music performed by the Odessa Klezmer band and even participate in the best kugel contest. Moorestown Community House, 4-5:30 p.m., free, Moorestown, MoorestownJewishAssociation.org
Barclay Menorah Lighting & Car Parade
Celebrate the first night of Hanukkah with a parade featuring local police, fire trucks and classic cars all leading back to the lighting of the 18-foot menorah. Listen to live music and entertainment while enjoying doughnuts, crafts and kids activities. Barclay Farms Shopping Center, 4-6 p.m., free, Cherry Hill, JewishSouthJersey.org, (856) 751-9500
Fireworks Display and Hanukkah Celebration
Bask in this festival of lights as Hanukkah gets celebrated with a little more dazzle this year. Enjoy a special ceremony of the Hanukkah candle lighting, songs, delicious doughnuts, hot chocolate, crafts and fun games before an amazing fireworks display lights up the night sky. Kellman Brown Academy, 5-7 p.m., free, Voorhees, JewishSouthJersey.org, (856) 751-9500
Collingswood Community Menorah Lighting and Chanukah Celebration
Come together with the community this holiday season to celebrate Chanukah. Enjoy the lighting of the menorah with music, latkes, delicious doughnuts, choco-gelt and the spinning of dreidels. Lumberyard Garden, 6 p.m., free, Collingswood, Collingswood.com, (856) 854-0720
New Year's Eve Fireworks at Battleship NJ
The new year will come in style this year on the deck of Battleship NJ as two amazing firework shows commence. Enjoy music, food and bar service while also getting the chance to fire the five-inch historic gun. Battleship NJ, 4 p.m.-12:30 a.m., $10 donations, Camden Waterfront, BattleshipNewJersey.org, (856) 966-1652
Ocean City Christmas Parade
Downtown Ocean City will be filled with amazing local performers bringing joy to the holiday season. There will be clowns, dancers, cheer squads, musical groups, drill teams and even antique cars driving by. Downtown Asbury Avenue, 6 p.m., free, Ocean City, OCNJ.us, (609) 525-9284
West Cape May Community Christm
as Parade
For the 54th year in a row, travel through the town as spectators enjoy one-of-a-kind float displays, award-winning string bands, high school bands, dance groups and beautifully decorated first responder vehicles. Broadway, 5-8 p.m., free, West Cape May, WestCapeMay.us, (609) 884-1005
December 7

Avalon Historical Society Annual Holiday Party
This annual holiday party is an open house for anyone in the community to have a spirited good time with delicious food, refreshments, music and good cheer. Avalon History Center, 4-7 p.m., free, Avalon, AvalonFreeLibrary.org, (609) 967-7155
December 7
Ship Bottom Christmas Parade
Marching bands, floats, antique cars, local responders and Santa will be marching down the boulevard in honor of the 40th annual Christmas parade. Support local businesses and organizations as vendors and shops will be open. Ship Bottom, 1-3 p.m., free, Long Beach Island, WelcomeToLBI.com, (609) 361-3395
Family Holiday Celebration
Enjoy fun for the whole family as the Wildwoods community comes together by participating in holiday-themed crafts, movies, face painting and so much more. Take in amazing choir performances, dance performances and even a magician while Santa poses for photos. Wildwoods Convention Center, 4:30 p.m., free, Wildwood, WildwoodsNJ.com, (609) 729-9000
For the first night of Hanukkah celebrate with the community as Rabbi Rappaport leads the congregation in the menorah lighting. Enjoy spending time with family and friends during this festival of lights celebration. Ventnor Shul Congregation, 4:30-6:30 p.m., free, Ventnor, VentnorCity.org, (609) 823-7900
Bundle up and head to Sea Isle City as the beach becomes immersed in lights as the ball drops, ringing in the new year. JFK Blvd. Beach, 8 p.m., free, Sea Isle City, VisitSICNJ.com, (609) 263-8687

To read the digital edition of South Jersey Magazine, click
here
.


Published (and copyrighted) in South Jersey Magazine, Volume 16, Issue 9 (December 2019).


For more info on South Jersey Magazine, click
here
.

To subscribe to South Jersey Magazine, click
here
.

To advertise in South Jersey Magazine, click
here
.