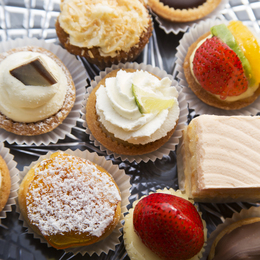 Room for Dessert
24 fantastic ways to satisfy your sweet tooth.
With the holiday season in full swing, we thought it was only right to highlight one of the best parts of this time of year: dessert. From must-try baked goods consumed at family get-togethers to elaborate encores found on menus at some of the area's leading restaurants, we give you the scoop—with a cherry on top—on some of the finest sweet treats in South Jersey.
Mason Jar Key Lime Pie
The ChopHouse in Gibbsboro
No meal at this swanky steakhouse is complete without something from the dessert menu. We suggest this melt-in-your-mouth finale which arrives to the table with the smooth pie filling neatly packaged with additional touches of graham cracker and candied lime.
Butternut Squash Cake
Two Fish in Haddonfield
This seasonal dessert will be available all winter so plan accordingly. The natural sweetness of the squash gives added depth to the cake which is studded with hazelnuts and finished with whipped cream cheese and pecan syrup.
Tiramisu
Allora in Marlton
Incredibly light and airy with notes of coffee and mascarpone running throughout, the love and care put into this staple Italian dessert is evident as you savor every morsel.
Olive Oil and Ricotta Cake
Park Place in Merchantville
Simple yet elegant, this silky smooth cake satisfies the soul. Dusted in powdered sugar and plated with whipped mascarpone and a pool of elderberry syrup, the blend of flavors is simply divine.
Red Plum and Yuzu Tart
Porch and Proper in Collingswood
This citrusy tart has amazing consistency and works so well with the acidic diced fruit and spot-on bourbon mascarpone. A thoughtful touch of fresh thyme only further enhances the dish's aromatic allure.
Dark Chocolate Budino
Denim Bistro in Haddonfield
Short, dark and handsome, this rich and creamy dulce de leche offering demands any chocoholic's full attention. A sprinkling of sea salt adds a bit of texture and does wonders to bring the sweetness of the chocolate to the forefront.
Salted Caramel Blonde Brownie Sundae For Two
Farm and Fisherman Tavern in Cherry Hill
This communal dessert is certainly large enough for two (or more) people, but we wouldn't judge if you wanted it all for yourself. Dense brownie squares are wedged into a goblet with a large portion of homemade ice cream and drizzles of caramel and chocolate sauce to create a scintillating sendoff.
Bread Pudding
Catelli Duo in Voorhees
A clever interpretation of a timeless classic, glazed doughnuts are baked in the oven with a creamy custard and then bathed with a bourbon crème anglaise before being served with vanilla gelato.
Karidopita
Estia Greek Taverna in Marlton
A popular Grecian dessert, this indulgent honey walnut cake whisks you away to the isles. Soaked in cinnamon citrus syrup and topped with candied walnuts, the cake oozes flavor and is good enough on its own without the accompanying vanilla gelato.
Oreo Cookie Cake
Sweetsboro Pastry Shoppe in Swedesboro
This quaint spot goes big with this exquisite work of art. Scrumptious chocolate cake is filled with whipped cream and crushed Oreo bits before it is topped with even more whipped cream and chocolate shavings.
Chocolate Babka
Summit Cakery and Café in Woodbury Heights
We are suckers for a well-made babka and thus we cannot get enough of this special rendition. A gooey, chocolaty crust gives way to lightly sweet bread enveloped with swirls of more chocolate for a match made in heaven—especially when sliced and thrown in the toaster.
Chocolate Mint Cheesecake Brownie
Sweet T's Bakeshop in Haddonfield
This decadent brownie is rich, incredibly moist and downright delicious. The distinct flavor of the mint is perfectly counteracted by the velvety cheesecake filling making for one harmonious tickling of the taste buds.
Guava Cheese Danish
Dulce Artisanal Pastry in Collingswood
The artful baking skills this shop is known for are on full display with this mind-numbingly good pastry. An addictive guava paste is married with buttery brioche while a cream cheese icing provides added balance.
Cream Doughnut Cake
McMillan's Bakery in Westmont
What's better than a cream doughnut from McMillan's? Not a lot, actually. But this spinoff is impressive in its own right. The oversized doughnut cake is light, filled with that dangerously delectable signature cream and properly coated in powdered sugar to create a guilty pleasure we just can't resist.
Cake Bombs
Olde World Bakery in Eastampton
Perhaps these are called "bombs" because they absolutely explode with sugary goodness. They change frequently, but a memorable recent option included the White Chocolate Cranberry Bomb—cranberry white chocolate pound cake, filled with a cranberry mousse and a cranberry cheesecake center, dipped in white chocolate ganache and topped with white chocolate shavings and a fresh cranberry.
Strawberries and Cream Gelato
Gelato Dolceria in Haddonfield
Serving up wonderfully creamy gelato made and imported direct from Italy, this dessert café is one of the most revered spots in South Jersey. If this flavor is in the current rotation, don't hesitate. The delightful mix of vanilla gelato and strawberry sorbetto only gets better with each spoonful.
Cookies and Cream Lobster Tail
Carlo's Bakery in Marlton
This twist on Carlo's signature sfogiatelle is what dreams are made of. An Oreo French cream is piped into hand-pulled puff pastry and then drizzled with vanilla glaze and topped with crushed Oreos and powdered sugar.
Cheesecake Stuffed Chocolate Dipped Strawberries
Devour Desserts in Mantua
If chocolate covered strawberries are your go-to Valentine's Day gift, you may want to up your game. At this spot known for bite-size wonderment, cheesecake filling is tucked into the fruit before it's dipped in homemade chocolate for good measure.
Chocolate Nut Party Crepe
T-Swirl Crepe in Haddonfield
This trendy Japanese crepe shop raises the bar with this creative treat. A fresh crepe is formed into a cone and jammed with almonds, chocolate truffles, whipped yogurt, chocolate custard cream, chocolate sauce, chocolate gelato, crushed pistachios, chocolate pearls and chocolate pocky sticks. Talk about a party.
Liquor-Infused Cupcakes
Ray's Boozy Cupcakes in Voorhees
The 93-year-old baker who is behind these unique cupcakes has gained national attention, but trust us; they are hardly a novelty. With flavors like Tequila Sunrise, Peach Schnapps and Guinness Stout, the alcohol is noticeable but doesn't overpower so you can actually taste how well-made these cupcakes truly are.
Mini Desserts
Desserts by Design in Audubon
This polished bake shop does everything right, but it's the miniature showstoppers that make our heart sing. Mini cheesecakes, bite-sized chocolate mousse, shrunken éclairs; they are all certified hits. Fill a box, fill your stomach, and thank us later.
White Chocolate, Chocolate Chip Bombé
Sweet Eats Bakery in Marlton and Voorhees
One of the most beloved items at one of South Jersey's most beloved bakeries; this dome shaped dessert packs a serious punch. Vanilla cake with chocolate chips is encased in a hard white chocolate shell and topped with drizzles of chocolate ganache for added extravagance.
Italian Rum Cake
Classic Cake in Cherry Hill
An iconic dessert gets the royal treatment at a place that's known to impress. Fluffy vanilla sponge cake is layered with rum-soaked vanilla and chocolate custard and refined with whipped cream, slithers of shaved almonds and, of course, maraschino cherries.
Peanut Butter and Jelly Bars
The Cake Stand in Voorhees
These superb cookie bars are like grown-up versions of the childhood snack we all grew up with. And since we are all adults here, try not to completely devour the crumbly peanut butter cookie that encases a blissful raspberry jam in the middle.

To read the digital edition of South Jersey Magazine, click

here

.

Published (and copyrighted) in South Jersey Magazine, Volume 16, Issue 9 (December 2019).

For more info on South Jersey Magazine, click

here

.
To subscribe to South Jersey Magazine, click

here

.
To advertise in South Jersey Magazine, click

here

.