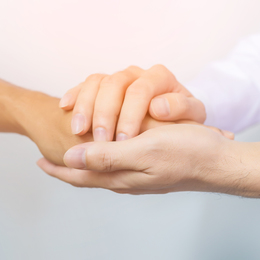 Sponsored Content: Integrative Psychiatry
Offering holistic mental health services and specializing in TMS Therapy, The Healing House helps patients battle depression, anxiety and more.
When Dr. Rachel Schmuts was first introduced to The Healing House—a practice dedicated tooffering a holistic approach to mental health treatment—she was intrigued on several levels. The Healing House got its start in Orlando, Florida, and has served the Central Florida community for over 20 years. The practice's second location opened in South Jersey in January, and as an experienced psychiatrist in the area, Dr. Schmuts was approached about coming on board.

From the generous spirit of founder Anita Riggs to the genuine desire of the entire organization to help others, she was instantly hooked. Now, almost a year later, the concerted efforts to treat patients experiencing depression and anxiety that she witnesses on a daily basis are further evidence that she made the right decision.

"The Healing House is a special place and I knew I wanted to be part of their family," Dr. Schmuts says. "I haven't seen a lot of other practices that are willing to bend over backwards to work with the patients to get them the treatment they need, and they do it in such a warm and collaborative way.

"Pretty much the entire staff, both at the Orlando location and at the Cherry Hill location, has a meeting every Monday to discuss every single patient in the practice and to make sure we're all doing the right things for these patients. That's just one example of the culture of this place—it's really wonderful."

The Healing House treats a wide range of patients with integrative psychiatric care and behavioral counseling. The primary focus of the practice is the use of TMS Therapy—which stands for transcranial magnetic stimulation—a cutting-edge procedure that aims to end the revolving door that many patients endure with drug therapy.

TMS Therapy is a non-pharmaceutical treatment that uses highly focused magnetic pulses to precisely target key areas of the brain that control mood and behavior. It is FDA-approved to treat major depressive disorder (MDD) and obsessive compulsive disorder.

"What I like about The Healing House is that they are open to all treatment modalities as long as the patient gets a sense of well-being and leaves feeling better," Dr. Schmuts says. "We welcome all options, and I actually do keep a lot of people on their medication. But we also have the understanding that medication may not treat everybody all the time, and that's why we're there to provide additional services to complement that or be in lieu of that."

Dr. Nicole Post, who has her own private practice in Haddonfield and serves as a program psychiatrist at The Healing House, first came across TMS Therapy about 10 years ago as a resident at The Medical University of South Carolina. Mark George, a psychiatrist who Dr. Post calls "the father of TMS," was beginning to gain traction with the treatment at that time.

Fast forward to today, and Dr. Post is grateful to be affiliated with one of the leading providers of TMS in this region.

"Basically, the people seeking TMS are probably going to fit into one of two categories," she says. "Either they have tried everything and nothing worked in terms of medication; or they've tried many medications and kept getting side effects, such as weight gain, sexual dysfunction or gastrointestinal problems. When they hear there's an alternative treatment available, they can't wait to try it."

TMS is administered at The Healing House under the guidance of Dr. Schmuts and/or Dr. Post, and the program consistsof five 30-minute sessions per week for between four to six weeks. Most people are able to relax and watch television during the procedure, and some even fall into a meditative state.

Dr. Post, who is also certified in electroconvulsive therapy (ECT), believes TMS is an improvement over that option for several reasons.

"ECT is a more complex procedure that requires anesthesia, and the patient has to be watched in the post-op room afterwards," she says. "With this, patients can drive themselves in and drive themselves home after just 30 minutes. It's fascinating that they came up with a device like this, using the very same principles that ECT uses except delivering it through a magnet instead of through electricity.

"I think ECT will still have a role for people with very serious depression. But as time goes on and as TMS is more [widespread], ECT is going to be the absolute, last-ditch option, almost like hospice."

TMS has not only gained more acceptance in the field but also more insurance coverage. The Healing House is now contracted with all of the major carriers—including BCBS (Horizon), Cigna, United, Aetna, AmeriHealth and Medicare—and will submit a prior authorization request on each patient's behalf after completing a clinical workup.

"That's part of the service we provide," Dr. Schmuts says. "Kevin Davis, our site manager, will go through the whole process of making sure they're appropriate candidates, and he works with each person to get through all of the insurance hurdles."

With The Healing House care team being so committed to helping patients navigate the frustrating roadblocks to care, TMS will continue to be a cornerstone of the practice.

"So far we've gotten very good results, and the feedback from patients has been great," Dr. Post says. "TMS is a safe alternative. It is my hope that more and more people learn about this idea for treating depression."
The Healing House
911 Kings Highway South | Cherry Hill
856-528-2899 |
SouthJerseyBrainHealth.com
To read the digital edition of South Jersey Magazine, click
here
.
Published (and copyrighted) in South Jersey Magazine, Volume 16, Issue 8 (November 2019).

For more info on South Jersey Magazine, click
here
.
To subscribe to South Jersey Magazine, click
here
.
To advertise in South Jersey Magazine, click
here
.