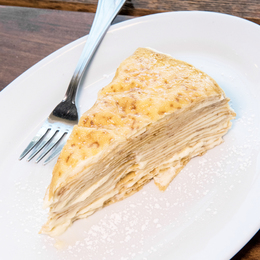 Palate: French Connection

Ernest Hemingway—a longtime Paris resident—once said, "Paris is a moveable feast." That's because if you ever get lucky enough to experience the food or culture of France, it tends to stay with you. The intimacy around dining and respect for ingredients and food in France is electrifying, and always leaves visitors wanting more. It's nice to know that the French vibe is now sitting right in the heart of Haddonfield with one of Kings Highway's newest eateries, The Little Hen.

Opened in June, The Little Hen is the second restaurant in town for chef Mike Stollenwerk and co-owner Felice Leibowitz, who also run Two Fish just around the corner. The duo transformed a former candy shop along the main drag into an incredibly intimate dining room, with just 18 seats inside and a handful of small tables on the curb. The dining room also plays host to the open-kitchen concept, so diners get the feeling that they're sitting right in the middle of Stollenwerk's personal kitchen.

The setting may be intimate and cozy, but the food that Stollenwerk is putting out is anything but quaint. The Little Hen specializes in classic French food that has been hard to find in its quintessential form across South Jersey for several years. The menu matches the size of the restaurant, and leans on technique and traditional French proteins.

I decided to delve into the menu completely and kick things off with the ultimate in French eats, an appetizer of Escargots. Bite-size land snails are removed from their shells and sautéed in a hazelnut butter packed with fresh herbs. The snails were perfectly tender, but the sauce itself had a slightly bitter taste from an abundance of raw garlic which overpowered a lot of the flavor of the butter and the herbs.
Raw garlic made another appearance in a serving of Frog Legs, sautéed alongside parsley and lemon in a butter sauce. But the bright lemon helped cut down on that garlic flavor and helped to develop a cohesive plate. I had always believed that frog legs were similar in texture to chicken, but I realize now that when prepared properly they are more like a light and flaky white fish, delicate and soft, acting like a vessel for their sauce.
An entrée selection of Duck Frites immediately evoked a mouthwatering response. A duck breast filet is sautéed skin-on and served in a rich jus, then finished with a heaping pile of thin-cut fries. When I bit into a perfect medium-rare piece of the meat, it was wonderfully tender and mild. The sauce meanwhile was well-developed, great for both the meat and the super-crispy fries. I loved how playful the whole dish was, not too stuffy but still thoughtful.
It would have been a mistake to end the meal without trying a fish selection from Stollenwork, a chef long known for his mastery of the sea. The Skate Wing Meuniere consisted of a sautéed skate filet alongside a nutty brown butter with capers. It was the most indulgent combination of buttery, briny flavors, absolutely luscious and surprising thanks to the burst from the capers. The plate was finished with a bit of mustard that surprised your palate but didn't overpower the flaky skate.
With the exception of the Duck Frites, dishes arrive to the table à la carte, so sides are encouraged. When embracing French food, I have two rules: Don't neglect the potatoes, and never stop to think about how much butter you're consuming. If you can follow those basic principles, the Pommes Puree is the perfect treat. Pureed potatoes are mixed with a seemingly endless supply of butter, and served in rich dollops. It's pure gluttony, beyond silky smooth and completely encased in flavor.
The side of Cauliflower Au Gratin may parade as a vegetable, but don't let that fool you. One scoop of this standout offering reveals its true form, thanks to beautifully browned cauliflower coated in a cheesy sauce and finished with buttered bread crumbs. The entrées at The Little Hen may lack vegetarian selection, but I could picture this dish as more than substantial when looking for a veggie-minded meal. It was hard not to lick the bowl.
I was thrilled to find all desserts matched the theme of the menu, and were also made in-house. We settled on the Mille Feuille after much debate. Also known as a crepe cake, it featured layers of traditional crepes sandwiching a rich vanilla crème patisserie, finished with fresh whipped cream. The vanilla burst in every bite, and the crepes helped to cut through the sweetness of the custard and cream. It was the perfect ending, especially when paired with French press, local coffee.
I really appreciate The Little Hen for bringing our area this much-needed cuisine and atmosphere. Dinner under Stollenwork and Leibowitz's careful eye is like an escape to Paris in autumn; nestled into a tiny space where the sounds of clattering pots and pans are the background music to the view of Kings Highway's bustling clientele. The Little Hen has built a romantic energy packed with warmth, made all the better thanks to dishes that Francophiles across our area have been desperate for.
The Little Hen

220 Kings Highway E., Haddonfield
856-528-2282 |
LittleHenBYOB.com
To read the digital edition of South Jersey Magazine, click
here
.
Published (and copyrighted) in South Jersey Magazine, Volume 16, Issue 8 (November 2019).

For more info on South Jersey Magazine, click
here
.
To subscribe to South Jersey Magazine, click
here
.
To advertise in South Jersey Magazine, click
here
.