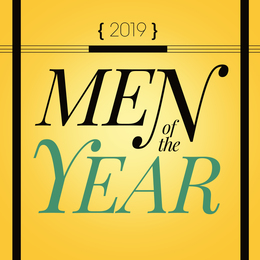 Men of the Year 2019
These 11 model citizens find purpose in lifting others up and ask for nothing in return.
Sean Kennedy,
Man of the Year
For this Medford resident, when it comes to fundraising, the word "no" is just not in his vocabulary. Kennedy, who is the director of government and external affairs, Rowan University School of Osteopathic Medicine in Stratford, is a longtime volunteer coach for his town's youth basketball, baseball, soccer and flag football teams, and has previously coached for special teams at both Delsea and Shawnee high schools. He has helped fundraise for these young athletes through the Shawnee End Zone Club, Delsea Touchdown Club and the Medford Youth Athletic Association, but his efforts extend beyond sports. Kennedy has served on the board of advisors for the Alicia Rose Victorious Foundation and raised over $150,000 for the organization. He has also supported Bianca's Kids, ALS research, Smile Train and V Foundation. In 2018, Kennedy ran the Boston Marathon and raised over $26,000 for the Dana Farber Cancer Institute, a cause close to his heart after having lost his sister-in-law to a rare form of stomach cancer. He is also a strong supporter of Hamilton-based Joey's Little Angels, which provides financial and emotional support for families with children undergoing medical treatment, and Cut the Ties, founded by his close friend and seeks to encourage others to help those in need.
Taylor has had a lifelong interest in building birdhouses and once sold custom creations at local craft shows. The 84-year-old Mount Laurel resident has himself been battling bladder cancer for two decades and decided that the same birdhouses that brought him joy throughout the years could do the same for cancer patients. Taylor purchases unfinished wood birdhouses from various craft stores and paints and decorates them in all colors for the different types of cancer, often adding words of encouragement and a bell representing the one patients ring once they are finished with radiation treatment. These birdhouses are donated to hospitals all over the area including Virtua—over 2,500 so far. Taylor, who also credits the encouragement of his wife of 61 years, says knowing that people appreciate receiving a birdhouse makes him happy and he plans to continue this passion project for as long as he can.
Along with his wife Jamie, Moore owns and operates Underground Martial Arts and Fitness Center. A core value of the school is to build character by giving back to the community, earning it the moniker of "the dojo that makes a difference." Every project is approached as a team, and in 2019 alone they have raised over $6,000 for Autism awareness, donated 230 pairs of sneakers for underprivileged students and raised almost $3,000 for Night to Shine—a special needs prom—among many others. Moore has been a guest speaker at colleges and high schools and has performed character inspiration assemblies at Title One schools. He also holds martial arts and motivational workshops for special needs adults and inspires fellow business owners to give back.
A professional in the title insurance industry, Godofsky is active in several organizations, including the Burlington County Regional and South Jersey Chambers of Commerce and was appointed to the board of the Camden County Workforce Development. While these relationships and roles are important, he places equal importance on being an advocate for the community and volunteerism. His favorite quote is from poet John Bunyan: "You have never really lived until you have done something for someone who can never repay you." He lives this through his work on the board of the Covenant House of South Jersey and the South Jersey Young Professionals Association. He also chairs the Camden County Advisory Board for the Philadelphia Freedom Valley YMCA. Other organizations close to his heart are Robins Nest, Inc. and Camp No Worries. In recognition of his efforts, Goldstein received the Community Partner Award from the Nonprofit Development Council of South Jersey in 2018.
Although Isabella's career was as a self-employed accountant, the U.S. Navy Reserve veteran admits to always having had a passion for the hands-on aspect of construction. This led him to volunteer with the Gloucester County Habitat for Humanity in 2007, and one year later he joined its board of directors. In 2012, Isabella became its executive director. He thrives on being involved with every aspect of the organization's mission, whether it's family selection, supervising the Pitman ReStore management team, overseeing construction on homes or even plating turkey dinners on Thanksgiving morning, Isabella enjoys lending a hand and watching projects progress. The Mullica Hill resident says "every family is a success story and we are building communities one success at a time."
Brooks has dedicated much of his life to health care, specifically breast cancer screening and treatment. The Cherry Hill resident is chief of endocrine and oncologic surgery and director of the Integrated Breast Center at the University of Pennsylvania Hospital, as well as a professor of surgery at the UPenn Perelman School of Medicine. Over the past 18 years he has created and implemented two programs that provide access to breast cancer screening and treatment for the uninsured in the Delaware Valley, and through community partnerships has screened more than 10,000 women and diagnosed/treated over 170 uninsured women with cancer. Brooks also holds multiple patents for surgical devices, including the Intelligent Breast Exam, which brings low-cost, simple breast cancer screening technology to areas of the world where mammography screening is limited or nonexistent. This device has been used in over 280,000 exams worldwide. He has received several awards, including the Humanitarian Award from the Melanoma Research Foundation in 2018 and the Jamie Brooke Lieberman Remembrance Award from the Philadelphia affiliate of Susan G. Komen in 2019.
Years ago, Warren and his wife volunteered with a program to read to young children. That experience helped him realize the importance of giving back and it's been a part of his life ever since. Warren has dedicated more than two decades as a trustee to the Virtua Foundation and almost as much time as a trustee for Oaks Integrated Care and the Boys & Girls Clubs of Camden County. In 2019, the latter organization honored him as a Citizen Champion for his commitment to children. His professional experience in the banking industry lends itself to his membership on Virtua Health System's Finance and Investment Committee since 2009 as well. Warren was recently appointed to the Samost Jewish Family and Children's Services Advisory Board, which provides affordable social services to Jewish families, furthering his responsibility as an advocate for the community in which he lives and works.
Murabito is the vice president and co-founder of the Johnny M Foundation, which he formed with his wife Patti in their son's memory after his untimely death. Even before the foundation was made official in 2010, the Murabitos dedicated themselves to projects for children, their first being a suite at the Ronald McDonald House in Camden in 2006, followed by Johnny's Clubhouse, an indoor toddler playroom in 2011. The foundation was also able to raise funds and purchase a second home for an Orlando-based organization called For Pete's Sake, which sends adult cancer patients and their families on vacation for a week. Their largest project to date is The Johnny M Child Life Center at Cooper Children's Regional Hospital, a play space and parent retreat area made possible with the foundation's pledge of $750,000.
A transplant from Indiana in 2018, Fraizer is the executive director of the Community Foundation of South Jersey (CFSJ), which helps donors generate funds for the philanthropic efforts they care most about in the community. Fraizer was a Fannie Mae Fellow and a Byron Fellow, a community of leaders striving to bring a renaissance to human and natural communities, and is treasurer for the National Alliance of Community Economic Development Associations. In just one year with CFSJ, Fraizer has created a renewed vision and mission that involves neighbors coming together for positive change, and includes the recently launched Transform South Jersey initiative, which will reconnect residents to the things they love most about their towns and create a foundation for future community decisions. Fraizer was named a 2019 Lead New Jersey Fellow, placing him in a class with 44 other community leaders who will connect and collaborate on issues facing the state and local towns.
After retiring a few years ago, Goldstein turned to a hobby he's had since 1985 to keep busy: fixing up old computers. The Cherry Hill resident was inspired shortly thereafter by another resident who was giving books away to families and after meeting with him, Goldstein learned about the need for computers many of these families had. In 2017, he founded Computer Smiles, an organization that acquires gently used computers from businesses and people which he then personally restores and refurbishes for donation to underprivileged students, families and senior citizens. Goldstein has teamed up with other nonprofits, including Women with a Voice Charity and Camden County Pop Up Library. In 2018, Computer Smiles was recognized with a Ceremonial Resolution from Sen. James Beach as a thank you for its work in the community. To date, the organization has donated nearly 250 computers to those in need.
Harting's love and appreciation for Haddonfield is something he hopes to share with others. He is the founder and chair of the Haddonfield Outdoor Sculpture Trust, with the goal of funding sculpture displays in town, and is also on the fundraising committee for the Haddonfield Historical Society's new Archives Center building, which will provide more space for historical correspondence, photographs, scrapbooks and other artifacts. Harting is a founding partner of the Haddonfield International Exchange, a nonprofit that provides services to international exchange students and hosts a cultural immersion tour in China for Haddonfield Memorial High School students. A member of the Haddonfield Borough Planning Board, Harting has received the Driscoll Award from the Haddonfield Civic Association and the Community Partner Award from the Nonprofit Development Center of South Jersey. Other board service includes the advisory board for Temple University's Fox School of Business and 20 years on the Board of Family Services. Harting, who worked in real estate development, has lectured at Temple, Drexel and Wharton.

To read the digital edition of South Jersey Magazine, click

here

.



Published (and copyrighted) in South Jersey Magazine, Volume 16, Issue 8 (November 2019).

For more info on South Jersey Magazine, click

here

.
To subscribe to South Jersey Magazine, click

here

.
To advertise in South Jersey Magazine, click

here

.