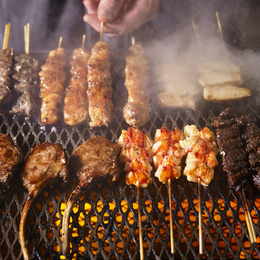 Casino Cravings
Sink your teeth into these 14 amazing entrees from Atlantic City's top restaurants.



Today's casino crowds are full of foodies who travel to the resort town to not only place a wager or two, but to also have world-class meals in some of the country's finest restaurants. We traveled all over town, from the Boardwalk to the marina to find out the best meals and the result is the carefully selected list of juicy steaks, superb seafood and more.






PRIME TOMAHAWK RIBEYE


Gordon Ramsay Steak at Harrah's

This 40-ounce behemoth is exactly what any carnivore would want when pulling up a chair at this swanky steakhouse from one of the world's most renowned chefs. Aged for a minimum of 40 days, the marbling of fat in the beef produces a tremendous amount of flavor that is evident with every tender and juicy forkful.

MOM'S LASAGNE
Angeline at Borgata
This is good old-fashioned Italian comfort food with celebrity chef Michael Symon's signature touch. A rich, piquant meat sauce is tucked in between layers—and we mean layers—of flat noodles and creamy ricotta cheese. Topped with mozzarella and baked to perfection, this is a fine homage to Italian moms everywhere.

LOBSTER PAELLA
Amada at Ocean
Chef Jose Garces certainly knows how to make diners salivate at the A.C. outpost of his revered first restaurant. An amalgamation of lobster, prawns and scallops is arranged thoughtfully around a fava bean salad along with slices of bread smeared with a smoked paprika aioli to create a real showstopper.

PORCINI RISOTTO
Il Mulino at Hard Rock
This delightful risotto is the ultimate dinnertime indulgence and while it may look quite simple, it masks its complexity rather well. A savory broth helps evoke the earthiness of the rice and assorted wild mushrooms while a noticeable but not overpowering hit of black truffle elevates its elegance.

ROBATAYA KI
Izakaya at Borgata
For those unfamiliar, robatayaki is the art of Japanese barbecue, where various meats and fishes are cooked over an open flame. At Michael Schulson's eatery, you can get everything from lobster tail and abalone to pork belly, eggplant and hangar steak, all of which is lightly glazed with Asian flavors to bring new dimension to some familiar bites. Go ahead and do yourself a favor and order up a variety of skewers for the table and thank us later.

PAN ROASTED VEAL CHOP
Robert's Steakhouse at Hard Rock
We love the dry-aged steaks here—and the can't-miss tuna tartar—but we've recently fallen in love with this mouth-watering veal chop. A thin layer of pancetta helps the veal obtain a nice sear in the pan and its saltiness is a great complement to the delicate meat which rests in a sweet madeira sauce.

LINGUINE AND CLAMS
Martorano's at Harrah's
This traditional pasta order is cited on the menu as being a favorite of chef/owner Steve Martorano. It's easy to see why. The strands of noodles help soak up all the buttery goodness and the juices from the clams while a sprinkling of fresh chili flakes adds just the right kick to accompany the fresh garlic.

CHILI LOBSTER
American Cut at Ocean
An interpretation of Singapore's famous chili crab, this version takes luscious lobster meat that has been sautéed with ginger and garlic and then allows it to bathe in a bold, spicy lobster sauce which you'll want to sop up with the accompanying thick-cut Texas toast.

WOOD-FIRED WHOLE BRONZINO
Council Oak Fish at Hard Rock
A staple on many a seafood menu, yet the bronzino here is anything but run of the mill. The fish is blistered over an Argentine wood-fired grill that uses cherrywood to help give a bit of smokiness that further enhances the taste. The result is a wonderfully flaky fish that is served simply with fresh herbs and charred lemon.

STROZZAPRETI ALLA BOLOGNESE
Capriccio at Resorts
This highly touted Italian eatery earns its stellar reputation on the back of dishes like this pleasing pasta number. The slightly elongated rolled noodles are the perfect vessel for clinging to the vibrant, meaty bolognese, ensuring you get the perfect ratio with every bite.

MAC NUT MAHI
The Chart House at Golden Nugget
This is one of the restaurant's most well-known and beloved dishes and we hope it never leaves the menu. Mahi-mahi is crusted in macadamia nuts and served with a warm peanut sauce to create a cohesive balance to accompany a diced mango relish and a side of sticky rice.

FILETTO DI MANZO ALLA GRIGLIA
Il Verdi at Tropicana
Though there are many eye-catching selections on Il Verdi's menu, we keep coming back to this dynamite dish. An expertly grilled cut of filet mignon is topped with gorgonzola cheese and rested on a bed of caramelized mushrooms and fennel before being finished with a robust red wine demi glace.

PAN-ROASTED ORGANIC HALF CHICKEN
Wolfgang Puck American Grille at Borgata
From the man who helped to define modern-day fine dining in America, this dish plays to all his strengths: great finesse, proper technique and unwavering attention to detail. The chicken is moist, tender and plated with an intoxicating sauce and aromatic garlic that has been blanched twice to help unlock new flavor.

VERACRUZ CEVICHE
Olón at Tropicana
There's just something about enjoying the oceanfront views from Olón's dining room while you nosh on fresh ceviche that is a bit intoxicating. This standout selection features two heavyweights— jumbo lump crab and Maine lobster— and mixes them with a marinated tomato for some added acidity while being offset by creamy avocado and salty caperberries.

To read the digital edition of South Jersey Magazine, click

here

.



Published (and copyrighted) in South Jersey Magazine, Volume 16, Issue 8 (November 2019).

For more info on South Jersey Magazine, click

here

.
To subscribe to South Jersey Magazine, click

here

.
To advertise in South Jersey Magazine, click

here

.