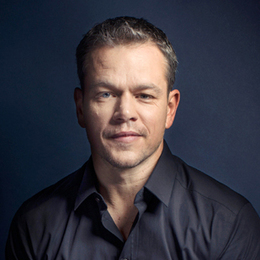 Enjoying the Ride
While Matt Damon goes full speed ahead in the new Ford v Ferrari flick, he's learned over the course of his career to slow down and appreciate the journey.


You could never say Matt Damon doesn't commit to his craft.

Whether that entails starving himself for one of his first major films in Courage Under Fire, piling on the muscle for his starring roles in the Bourne franchise, or losing his eyebrows for Downsizing, from last year.

"Let's just say I won't be doing the eyebrows thing again—any attraction my wife had for me … gone!"

After an intense year or two, it's good to hear Damon joking. With the harassment controversy still reverberating around Tinseltown, it has been a difficult period for all of the leading lights in the industry, but notably Damon, for whom Harvey Weinstein gave the then 27-year-old and best pal Ben Affleck their big break when he produced Good Will Hunting to Oscar glory.

By association, both stars have come under scrutiny; but Damon, now 49, surges ahead, both on the big screen and with a number of philanthropic roles and projects outside of the industry which, while not relinquishing from the ties of association, do at least paint a compassionate, caring, sympathetic side to someone who might easily let others do the hard work.

When he's not working on his string of seemingly neverending projects, Damon is very much the family man. The Boston native makes his home in LA with wife, Luciana Barroso and their four kids, Isabella, 12, Gia, 10, Stella, 8, and step-daughter Alexia, 20, from Barroso's previous marriage.

He will return to the silver screen this month in the highly anticipated Ford v Ferrari, where he rides opposite Christian Bale in a movie that is tipped even to give the Fast & Furious franchise a race to the line. The movie tells the story of the iconic battle between the motoring brands to win the 1966 Le Mans Grand Prix.
Damon spoke to us about the film, why he admires his good friend George Clooney so much and how he finds tremendous fulfilment in using his celebrity status to make a difference through various humanitarian efforts around the world.

The Interview
Ford v Ferrari has been talked about for a long time. Does the secrecy over this film make it frustrating?
I've had many movies over the years that have fallen under the same conditions. It's something you get used to, and usually by the time you're promoting it in junkets or press events you've moved on to the next project, or even the one after that.

All I can say is that it was a pleasure to be involved in something that was such an iconic part of history. And more than that, you look at how the race and the era shaped the fortunes of these two magnificent manufacturers, going forward, and it's a pleasure to be at the start of it.

It's also been exciting for me as a motor racing fan—who could imagine anything better than this for someone who loves anything on four wheels?

People are already talking about the film in terms of Fast & Furious.
You know, actors, some actors—I'll be diplomatic—who say they don't care about the box office return whatsoever, aren't being honest because it does invade your thought process at some point, there's no denying or running away from that. Especially huge movies like this with gargantuan budgets where there's a lot of investment and these investors want a return.

When I did The Great Wall, I said personally I wanted the movie to do really well because I was so proud of it—so proud of the thousands of people involved with what was undoubtedly the biggest movie I'd ever been a part of. But did that make any difference to how it was received? And would that change the success of any future movie, even Jason Bourne? No.

Speaking of Jason Bourne, will there be another?
There might be another, and there might have been the last. I don't know if I have it in me, physically [laughs]. The last one was rough. So I don't know, honestly. I said it after the one before, we're done, there's no more coming. I had to eat my words, happily eat my words.

Right at this minute, I don't see it happening but maybe I'll ring in my 50th with another chapter.

Back to cars—your relationship with them is rather ... schizophrenic?
I think people find it strange that I can own a Tesla at the same time as I've got a Toyota Hybrid in the garage. I guess that shows I have excitement and a conscience [laughs].

The truth is I don't believe in pigeonholing myself. I wouldn't just take film roles in one genre, so at the same time I see the benefits and the merits of having a car that respects and does the least damage to the environment while at the same time wanting something a bit sportier. Surely it's better to have something that is positive and good, rather than just a garage full of supercars?

Christian Bale is a formidable co-star, but who has been the best?
I wouldn't speculate as to the best, but I've always said George Clooney is someone I admire. He's an incredibly generous and beautiful man. He's also one of the best directors I've worked with. And the more I get to know him, and the older he gets, the more I respect and appreciate what a great and good man he is.

It's almost frustrating to be his friend, because you know that you can never repay his generosity. I've never found one thing I didn't like about the man in all the time I've known him.

George's philanthropic side is well known. Do you feel you can rival it?
I wouldn't dare even try.

OK, but what about the ecological and humanitarian work you've been doing for many years including your Water.org and H20 Africa Foundation. What led you to get involved in those causes?
I was raised to be actively interested and engaged in the world and be a responsible human being. Children are dying all over the world, particularly in Africa, from a lack of access to clean water and sanitation. The technology exists to provide everyone with clean, safe drinking water and I wanted to be part of the effort to stop children from dying so unnecessarily because of this problem. I'm the father of four children, and I couldn't live with myself if I did nothing to help other children in this way. At least I can make use of my name and whatever recognition I have to do some good for kids who deserve our care.

You travel to places which are affected, and you speak to the locals and hear them speak. What kind of stories are they talking to you about?
I have met people in various countries around the world who have been affected by the water crisis and there are some pretty incredible moments. Around about the beginning of this decade I was in Haiti and we had helped bring water to this particular village which had none. I was talking to a 13-year-old girl who said that this meant she was no longer going to have to scavenge for water and go on these organized water collections.

She was putting in three to four hours a day on these hunts for water and I asked her what she was going to do with all this extra time; I mean, she was going to have extra time to do her homework. She looked at me with some disdain and said: "I don't need extra time to do homework; I am the smartest kid in my class!" [Laughs].

So, taken aback a little by that reply, I said to her: "OK, hotshot. What are you going to do with all of this extra time?" She looked at me and she said: "I am going to play." That just shook me to my base, because these kids shouldn't be burdened with these things and this extreme poverty is this tremendous burden.



To read the digital edition of South Jersey Magazine, click here.

Published (and copyrighted) in South Jersey Magazine, Volume 16, Issue 8 (November 2019).

For more info on South Jersey Magazine, click here.
To subscribe to South Jersey Magazine, click here.
To advertise in South Jersey Magazine, click here.