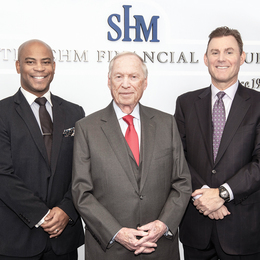 Sponsored Content: Predicting Your Financial Forecast
SHM Financial will be there to guide you through the financial ups and downs in life.

The economic environment is a lot like the weather, says Stan Molotsky, founder, president andCEO of SHM Financial Group. Although forecasts can at times be accurate when it comes to sunshine, thundershowers or a combination of both, they can never be100 percent predictable. The same goes into the economy regarding how the stock market can fluctuate. But according to Molotsky, that's exactly how you should look at the stock market—as a weather pattern.

"You have to be prepared, like the weather, as it pertains to the stock market, the same way. You have to have an exit strategy, knowing how much risk you're going to take," he says. "Are you going to drive into the storm or are you going to wait for the storm to pass and then go about your business, and it depends on a whole multitude of different circumstances."

There's no better financial advising company than SHM Financial to help guide you, in not just the sunshine, butthrough the storm. Started in 1958, SHM Financial has the experience of a multi-generational team of professionals and has grown into a firm providing clients financial planning on a conservative, predictable basis. This includes looking at the client's risk tolerance and understanding where they are in their life, from age, to health, to financial standing. From there, a plan is developed and presented based on the client's needs.

When SHM Financial advisors develop a plan for clients investing into the stock market, there is always an exit strategy and the risk you're willing to take. "If you look at what you have currently in assets, if all of a sudden things go against you by 20 or 25 percent, what will that mean to you? How will that affect you? How much can you safely, in your own mind, lose before you're going to get concerned and totally upset?" says Molotsky.

Retirement planning is also among the many financial services SHM Financial provides for the client. And many individuals who are getting closer to retirement are failing to notice certain aspects about Social Security. First and foremost, Social Security is still critical for those about to retire, but it's more critical to know at what age to take Social Security.

"Some people should take it earlier; some people should wait to take it later," Molotsky says. "You can make a case to do it either way; it's just a matter of what the person's goals and objectives, risk tolerance and [family history] as far as longevity is concerned."

At SHM Financial, the concept for retirement is to watch spending a few years before and a few years after retirement. It's best if the individual is conservative with their money and spending to get an idea of what the wiggle room is with expenses now, that a consistent income stream will end soon. It's a matter of collecting money and using it when you want to in the ways you want.

To prepare for the tail end of 2019 and the beginning of 2020 when it arrives, Molotsky suggests to have a reserve of at least six to 12 months of cash in relation to expenses. This is important to protect your family's income needs depending on age and health circumstances such as a disability income plan if you get hurt on or off the job. Also, you want to protect your spouse and children.

"What happens if something happens to the breadwinner or breadwinners of the family? How will that affect the family and where's that money going to come from?" Molotsky says. "You need insurances to protect against uncertainty, income disability insurance and life insurance, you need cash to protect against uncertainty and then you need an investment plan to put money into various kinds of things over a period of time."

SHM Financial works for the client and doesn't have any preconceived thoughts as to what the client should have when it comes to creating a balanced financial program. Clients become SHM's responsibility and the team is always keeping up to date with new and various options—new strategies that might not have been available in the past—to present to their clientele. The firm is always finding new and innovative ways in financial planning, making it one of the many reasons individuals trust coming to the firm and have been doing so since 1958.

"That's the fun of this business, the thrill of the chase; trying to predict the unpredictable," Molotsky says. "It makes it for some people, very interesting and for some people very tedious. Personally I love it and it keeps me going."

Molotsky also adds that this is not a time in the stock market to be complacent and you should take an active involvement and know your risk tolerance, especially in today's economy and political environment. SHM Financial has put together a risk tolerance profile and would be more than happy to make it available on a complimentary basis to anyone who reads this article. Request your profile by going to their website or calling the office.

SHM Financial
1010 Haddonfield-Berlin Road | Suite 305 | Voorhees
SHM Building | 100 Richey Ave. | Collingswood
1-800-MONEY-SHM |
SHMFinancial.com
To read the digital edition of South Jersey Magazine, click
here
.
Published (and copyrighted) in South Jersey Magazine, Volume 16, Issue 3 (June 2019).
For more info on South Jersey Magazine, click
here
.
To subscribe to South Jersey Magazine, click
here
.
To advertise in South Jersey Magazine, click
here
.