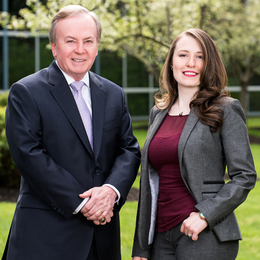 Sponsored Content: Financial Refresh
At Janney Montgomery Scott, Joseph Watson of The Watson Wealth Management Group helps you simplify your life.

Remember how you envisioned your life 25 years ago? Is it what you imagined?

As your life changes, your financial needs and goals might too. People often make the mistake of neglecting or putting off any financial planning needs because, well, life gets busy. But that's what Joseph Watson of The Watson Wealth Management Group at Janney Montgomery Scott is here for.

For over 35 years, Watson and The Watson Wealth Management Group have provided the highest quality of service and advice for their clients' investment and financial planning needs. No matter where you are in life, The Watson Wealth Management Group addresses any changes over time to ensure you have a plan that is properly aligned with your preferences to help meet today's needs and tomorrow's goals.

They lead a sophisticated practice, pro- viding sound financial advice and guidance to individuals and families, including many professional service providers such as Certified Public Accountants and licensed attorneys. They provide a personalized consultation process, with a focus on keeping client needs at the center. Through trust, respect, and most importantly, integrity, they have helped many clients accumulate, preserve, grow, and enjoy their wealth.

The Watson Wealth Management Group prides themselves on their strong client relationships, which are often developed through client referrals. "Our clients and their families appreciate the value of sound advice. We have the pleasure of serving a multigenerational book of clients," says Watson, Executive Vice President/Wealth Management at Janney Montgomery Scott.

We recently spoke with Watson and Ghazal Eghbali-Afshar, Account Executive, to learn more about the firm.

Q: Can you tell us a bit about yourselves and your experience in the industry?
Joe Watson: I've been serving investors for 35 years, 10 of them as a Financial Ad- visor (FA) at Janney. I'm currently a member of Janney's FA advisory council, and previously served as the chairman of the council, where I am able to provide guidance and best practices to help our firm succeed and grow. I have a bachelor's degree in economics from Rutgers University and an MBA in finance from St. Joseph's University.
Ghazal Eghbali-Afshar:
I joined Watson Wealth Management Group in 2015, helping to expand their service offerings with my focus on comprehensive financial planning. I have a bachelor's degree in mathematics from Rowan University. As a Certified Financial Planner™, I've completed rigorous coursework and exams, which prepared me to better work with [clients] to create a plan that encompasses the financial planning process including risk management, investments, tax planning and management, retirement and employee benefits and estate planning. I'm also a proud member of Janney's Women's Interactive Network (WIN). JW: Together we work closely to collaborate in an effective way that allows us to provide individualized financial planning and advisory services fit for each client's unique needs.

Q: Why is it important for someone to have a financial plan?
Joe Watson: People spend most of their lives working hard to build a nest egg. But as they get closer to retirement they become concerned they might not have enough money to live the retirement lifestyle they envisioned. Their greatest fear is outliving their income, and it is a valid concern, especially if you have not done the proper planning.
Ghazal Eghbali-Afshar: What we find is most individuals have no financial plan. What we do, with the co- operation of the client, is complete a questionnaire to get familiar with their current financial state and their retirement and other financial goals. We take stock of your assets, liabilities and expenses, and help make realistic estimates of retirement expenses and income needs. We get to know them and their financial concerns, challenges, and preferences, then tailor a strategy that addresses all of these things in a way that makes sense for the client.

That is where our expertise comes in. We use our experience and knowledge to provide comprehensive advice to help you make intelligent and informed decisions about you and your family's future, both in the short- and long-term. We go beyond investing, by helping to connect your life and finances in a simplistic, yet holistic way that allows you to stay on track toward meeting your financial goals, and making your income last through your lifetime.

Q: How does one begin the financial refresh process?
Joe Watson: We start by getting to know you: your goals, objectives and your vision for life in retirement. In addition to retirement goals, we assess family needs, current and projected expenses like health care and education costs, and philanthropic or charitable intentions. Then we do our "home- work," analyzing data and determining the strategy and solutions that best fit your particular needs. We then present a personalized financial plan based on these specific conclusions, and help you implement every step of the way, monitoring closely to ensure its effectiveness, and modifying as needed.

Q: How do you keep clients on track to meet their goals?
Joe Watson: Change in life is inevitable, so it's important to check in from time to time to consider whether your financial plans and overall investment strategy remain properly aligned with your current needs and circumstances.
Ghazal Eghbali-Afshar: While a particular goal may have been your primary focus when you began investing, your family's circumstances and priorities may have shifted. It may be time to step back and reassess whether your finances are working together to provide the best possible outcomes for you and your family. In fact, this may be a good time to review your beneficiary or trustee designations to ensure it is accurate and up to date to reflect your wishes and ensure protection of your loved ones.

The financial refresh continues…
That laser focus on personalized service and continuous connection is why The Watson Wealth Management Group has been a benchmark in the financial industry for many years.

Both Watson and Eghbali-Afshar understand the hard work it takes to grow your finances while making sure they align with your goals. With four decades of experience between the two, they emphasize the value of working with a Certified Financial Planner™ who upholds ethical standards to make sure recommendations are in your best interest.

They also stress the importance of being part of the fabric of the local community. It's part of the reason why they feel so passionately about giving back to places like Wills Eye Hospital, a global leader in the treatment of eye disease, as well as Helen L. Diller Vacation Home for Blind Children, which provides blind and visually impaired children with a summer camp experience.

All in all, The Watson Wealth Management Group is fueled by a desire to serve their clients with a personal touch that will help simplify the muddy waters of financial planning.

"While you can't predict everything that will happen in life, you can make plans now to help you stay on track through whatever life may bring," The Watson Wealth Management team says.

Contact The Watson Wealth Management Group today for a complimentary financial refresh.
The Watson Wealth Management Group of Janney Montgomery Scott

701 E. Gate Drive, Suite 210, Mount Laurel | 856-291-5001

jwatson@janney.com
,
geghbaliafshar@janney.com
WatsonWealthManagement.com
To read the digital edition of South Jersey Magazine, click
here
.
Published (and copyrighted) in South Jersey Magazine, Volume 16, Issue 3 (June 2019).
For more info on South Jersey Magazine, click
here
.
To subscribe to South Jersey Magazine, click
here
.
To advertise in South Jersey Magazine, click
here
.