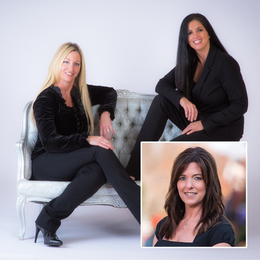 Sponsored Content: Protecting What Matters Most
Stolfe Zeigler New Jersey Divorce Group's extended influence in South Jersey is bolstered by the addition of veteran attorney Kimberly Packman.

It is only natural for an employee to feel a tinge of jealousy when a new hire enters the workplace, and there is always potential for conflict to arise. That is especially true when the setting is a highly competitive law firm and the individuals in question are both intelligent, strong-willed attorneys.

With that in mind, Abigale Stolfe and Sonya Zeigler easily could have been at odds when they first became professional colleagues more than a decade ago. Instead, they laid the groundwork for a successful partnership that continues to thrive to this day.

"We're both strong, aggressive female attorneys," Zeigler says. "So going into that situation, it was going to go one of two ways: We were either going to be constant rivals, or we were going to recognize there's strength in numbers. Obviously, we decided to join forces and the harmonization of our skill sets has resulted in an unstoppable combination."

"We didn't know at the time that we were going to eventually start our own boutique family law firm, but everything aligned and we haven't looked back," Stolfe adds.

Founding Stolfe Zeigler New Jersey Divorce Group in 2011, they combined experience and expertise in family law to help their clients navigate through emotionally charged legal situations such as divorce or child custody battles, successfully taking on complex cases involving high net worth individuals.

Ironically, while they are constantly dealing with clients suffering through a turbulent time in their lives, it is the successful "marriage" of Stolfe and Zeigler's contrasting but complementary styles that is the backbone for the firm.

The two attorneys have professional differences—Zeigler has an extensive knowledge of the financial and tax-related intricacies of divorce which exist in cases involving businesses, medical practices and law firms; Stolfe is a highly sought-after litigator and frequently retained to try high-conflict, complex matters. Stolfe has also developed a niche in handling religious divorce cases. The combination of the two creates a balance that allows them to view every case from all angles. These professional differences shape the firm and complement their relatability to clients.

Together it creates the perfect blend.

"We both bring equal attributes to the firm, they're just very different," Zeigler says. "It's always been a very successful combination of strengths. We're very different personalities, we have different backgrounds and interests and we live our lives differently. But the combination of those strengths has been very beneficial to us and our clients."

The team approach continues with the latest addition to the practice: Kimberly (Reiser) Packman, who has more than 20 years of experience in all facets of family law. Packman and Zeigler have a long-standing professional relationship and she has made a seamless transition into a valuable role at the firm.

"Sonya and I have known each other for nearly 17 years," Packman says. "We worked together as associates in the early stages of our careers. We have similar approaches and philosophies in regards to family law, as well as similar strategies in the way we handle clients. I look forward to contributing my skills and experience to an already successful team of highly qualified female litigators."

With its main office in Toms River, Stolfe Zeigler New Jersey Divorce Group serves clients in Ocean, Monmouth, Camden and Burlington counties. Due to great demand in this area, they also recently extended their influence in South Jersey by opening an office in the Strawbridge Professional Center on Route 38 in Moorestown.

For Zeigler, a longtime Medford resident who got her start in family law in the South Jersey area, this is an exciting time for the firm.

"We opened the Moorestown office in the last quarter 2018. In fact, we actually purchased the building we occupy so we are definitely making a long-term investment in serving this area," she says. "The response from new clients and the Burlington County business community has been overwhelming. We have sponsored numerous local events, which has also allowed us to form new relationships with our community members quickly. It has really been a great experience so far.

"Kim has a long-standing following in the Burlington and Camden County areas which has also been instrumental in allowing us to integrate into this market very rapidly. We have also changed the name of the firm to Stolfe Zeigler New Jersey Divorce Group to better reflect our larger geographic base."

Packman, a resident of Haddonfield, will manage the Moorestown location and continue to focus her attention on negotiating and litigating virtually all aspects of family law matters, including complex alimony and custody matters and matters involving closely held businesses.

She is a matrimonial early settlement panelist in Burlington and Gloucester counties, is a member of the Camden County Bar Association and is a member of the Family Law Executive Committee of the New Jersey State Bar Association.

Yet she also handles cases all over the state and is appreciative of the opportunity to get back to her roots through Stolfe Zeigler New Jersey Divorce Group.

"I was actually born and raised in Ocean County and I graduated from Central Regional High School in Bayville," she says. "When I graduated from law school in 1997, I clerked for the Honorable Barbara Ann Villano, and worked for a firm in Ocean County for a year before I moved to Camden County. I'm so excited to join a firm with offices in Toms River and expand my ability to service clients in the county where I grew up and where my family continues to reside."

In two decades of practicing family law, Packman has seen the significant effect she can have on her clients. It is what drives her to keep imparting her knowledge and experience in a positive way.

"I still enjoy the practice of family law and the ability to have a positive impact on a client during an extremely difficult, emotionally and financially challenging time of their life," she says. "Divorce isn't easy or desirable—there are no winners. I strive to protect my clients and guide them through the process by explaining each step and making it more manageable for them."

That mindset is another reason why Packman has found a home at Stolfe Zeigler New Jersey Divorce Group, because the founders of the firm feel the same way.

Whether it's Zeigler's proficiency in matters involving doctors, lawyers, and business owners or their spouses who are going through a divorce, or Stolfe's state-wide reputation for litigating complex family law matters, the firm has become renowned in the Ocean and Monmouth County areas for its customized approach to cases. Clients can expect that same level of personalized service at the South Jersey location.

"Our motto is, 'Protecting what matters most,' and the reason we selected that is because we recognize what is most important to each person is much different," Zeigler says. "What is most important may be custody of the children, or retaining their business or possibly excluding certain inherited assets from equitable distribution. Taking the time to determine what's most important to each client at the outset of their case helps us to customize and tailor our approach to best achieve the client's goal.

"I guess you could have a law firm that is cookie cutter and treats everyone the same way," she continues. "That's one way of doing it. But Abby and I have always stressed quality over quantity, and it has worked. The reward is giving our clients what they want, whether that's their children, freedom or money."

Stolfe Zeigler New Jersey Divorce Group
Strawbridge Professional Center
212 Route 38 W. Suite 580, Moorestown
856-812-9020 |

SZFamilyLawFirm.com



To read the digital edition of South Jersey Magazine, click

here

.



Published (and copyrighted) in South Jersey Magazine, Volume 16, Issue 1 (April 2019).

For more info on South Jersey Magazine, click

here

.
To subscribe to South Jersey Magazine, click

here

.
To advertise in South Jersey Magazine, click

here

.