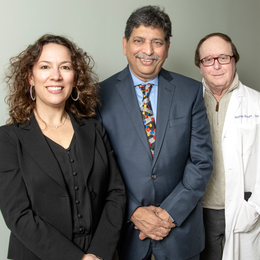 Sponsored Content: Patient-Centered Care Close to Home
At Comprehensive Cancer & Hematology Specialists, those suffering through a difficult time in their lives receive personalized, state-of-the-art treatment.

Receiving a cancer diagnosis is devastating for patients and their families. It's often described as feeling like their world has been turned upside down. Along with dealing with the disease itself comes navigating what might seem like endless doctors' appointments. For patients in South Jersey, that once meant trekking back and forth to Philadelphia for treatment. Now, patients are recognizing that there is a welcomed alternative close to home.

Comprehensive Cancer and Hematology Specialists (CCHS) in Voorhees offers cancer care close to home right here in South Jersey. With everything from financial counseling to truly patient-centered care, CCHS provides what cancer patients need the most—compassionate care and support in every sense of the word.

Dr. Ashok Bapat says that when patients receive the catastrophic news they have cancer, the last thing they're thinking about is the financial impact it's going to have. But with the escalating cost of medicine—particularly specialty services like chemotherapy—Dr. Bapat says the costs associated with cancer care can be enormous. Everyone's medical plan is different but Dr. Bapat says that even being required to pay a percentage of the overall cost can be a huge financial burden when the cost of treatment can be upwards of $20,000 per year. He says it's usually the medicine that patients require—like chemo—that are so expensive.

"Fortunately, there are resources, just not everyone is aware of what's available," Dr. Bapat says. "But our financial counselors are very aware of what funds and resources areout there for patients who might be in need of assistance. The dollar burden for a patient can be significantly reduced with the support of a financial counselor assisting."

CCHS makes financial counselors available to all patients. He says the reason CCHS believes so strongly in offering this service is three-fold: "It makes care affordable, it gives patients access to the best care, and it reduces the emotional burden on the patient."

Putting Patients First
The availability of financial counselors isone key way that CCHS practices "patient-centered care"—a term that is often thrown around in the medical world but not always put into action. At CCHS it's different. Dr. Bapat calls it a form of "concierge medicine," that is often unheard of in cancer care.

Doctors and nurses really get to know their patients and are available around the clock if needed. At the huge university and city hospitals, the focus is generally on the illness, not the patient—and that's not what most patients want.

"If you go to a large academic hospital, they have what we call 'high-cost, high-tech services,'" Dr. Bapat explains. "We may not be considered high tech but we're high touch and high quality. The fact is, the quality of the treatment being delivered—the drugs being chosen and utilized—is the same whether you go to a big-name hospital or to us. You're receiving the same medicine and excellent clinical care, closer to home."

Dr. Bapat says that patients are often lured by marketing campaigns that boast proton therapy and other super high-tech equipment. But for patients whose cancer doesn't require those services—as many don't—being close to home is a comfort and a convenience.

"Not having to drive 30 or 40 miles away for care, deal with city parking and its costs, and spend an entire day in the city can be highly valuable when you can receive the same expert care locally," Dr. Bapat says. "If you were going to see a doctor in the city a couple of times a year that wouldn't be such a big deal, but with today's cancer care you're seeing a doctor quite frequently. By getting that care closer to home you reduce the emotional burden and stress tremendously."

Going a step further, CCHS also offers an infusion treatment center in the comfort of the practice's medical suite, meaning that patients don't have to make separate appointments for their chemotherapy sessions.

"Whenever possible, we try to get all of the patients' services completed in the same visit—doctor time, blood draws and chemotherapy can all be done in a single visit whereas in other offices that may mean multiple appointments," Dr. Bapat says. "In general, cancer care can be frustrating for patients. It's stressful enough to be dealing with illness but it can also take up a tremendous amount of the patient's time. We try to keep everything as streamlined as possible to make it a little less burdensome on the patient."

Beyond being a comfort and time-saver, having the infusion center on-site also allows for "direct supervision" from the patient's doctor.

"If there are side effects, your doctor is right there," Dr. Bapat explains. "Like every other aspect of our practice, it's very hands-on care."

Expert Care
Beyond offering so many support services and comforts to the patient, it's important to recognize that CCHS also brings experience. The doctors at CCHS have more than 100 years of collective experience in treating cancer patients. They understand what works—and what patients need. Dr. Bapat adds that all of the doctors have strong community roots.

"We're a group that is truly committed to this area and to the patients that reside here and just want to find the best possible care," Dr. Bapat says. "When you're facing a diagnosis like cancer, you want to be treated with dignity and respect—but you also want great care. You can receive all of that right here in South Jersey."

Comprehensive Cancer & Hematology Specialists
705 White Horse Road, Suite D-105, Voorhees
856-435-1777 |

ComprehensiveCancer.com



To read the digital edition of South Jersey Magazine, click

here

.



Published (and copyrighted) in South Jersey Magazine, Volume 16, Issue 1 (April 2019).

For more info on South Jersey Magazine, click

here

.
To subscribe to South Jersey Magazine, click

here

.
To advertise in South Jersey Magazine, click

here

.