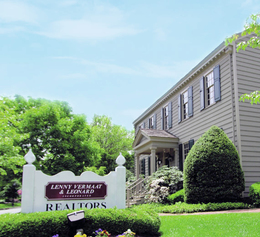 Sponsored Content: Right at Home
At Lenny, Vermaat & Leonard, clients receive experience, knowledge and confidence for their real estate transactions on a full-time basis.
In 1984, Mike Biemer was contemplating a move from his Westmont home to Haddonfield. A coworker recommended a young realtor from Haddonfield, Gary Vermaat, who ended up representing Mike Biemer and his wife on the buyer side, as well as the seller of the home they were purchasing. Mike Biemer remembers being "quite amazed that anybody would be as low pressure" as Gary Vermaat was. The transaction went smoothly and over the course of the last 35 years or so, Gary Vermaat has represented Mike Biemer 10 more times on both sides of the table.
"Over the years, the most telling thing about Gary is that he is always even handed," says Mike Biemer. "If he's on the selling side, he'll tell you what the house needs; he won't hide anything. … If a house isn't worth the asking price, he will say so. It's all about service with him."
Gary Vermaat and partner Mark Lenny operate Lenny, Vermaat & Leonard, a real estate agency originally founded by George Roney in the '50s. While the firm has changed locations over the years, it has always remained in Haddonfield, and its current location on Tanner Street inside a custom-built replica of a house in Williamsburg, Virginia, has been its headquarters since 1986. Consistency and high-quality associates are just some of the factors that have contributed to the agency's success, helping it become one of the most productive single-office brokers in Camden County.

All of the agents at Lenny, Vermaat & Leonard are full time and always have been. "We look at being a real estate agent as a professional service, like an attorney or financial planner," says Gary Vermaat. "You must be accessible and ready to respond to clients' communication quickly." In fact, technology has changed communication in the real estate industry. Gary Vermaat recalls the "old days" when a receptionist would collect messages on paper, and then it went to an answering machine. "Now most people call us right on our cell or send texts," he says.

Not only do full-time agents offer greater accessibility, it also means they have that much more time working in the field, building their knowledge of the marketplace. "The more time they spend in the profession, the better they learn the nuances of the areas, the desirability and trends of certain neighborhoods, what properties have sold for," says Gary Vermaat. "They learn to negotiate better and help clients navigate the emotions of selling a home. It's hard to replace experience and our agents are learning with every transaction, and if they have questions, they have two very experienced owners whose doors are always open."

South Jersey's real estate trends have changed quite a bit since GaryVermaat first entered the industry in the '70s. He recalls the high interest rates of the '80s (16 to 18 per- cent) and the creative ways clients would find financing. In the '90s, interest rates came down and home values increased, especially in the towns farther from the city, like Med- ford and Mount Laurel. Gary Vermaat says that's not the case anymore.

"Buyers today want to be closer to the city. They are not as willing to take a long commute," he says. This is con- tributing to what's driving much of the interest in Haddonfield and the surrounding towns like Haddon Township, Haddon Heights and Collingswood.

"The school systems play a huge part because buyers want that quality education for their kids, and if that's the No. 1 reason then the downtown communities are probably next on the list," Gary Vermaat says. "The speedline access is huge, allowing people to get into the city in 15 minutes without driving, and buyers love that feeling of community."

And because most of these towns don't have room for new development, the demand for housing is up, putting sellers in a good position to get top value for their home. "Location used to be the most important aspect of real estate, but if a home is remodeled or has new upgrades, buyers are looking at that more than just location. Many times, both parties on the side of the buyer are working so they don't have time to fix things up, so if it's a little farther from the center of town but doesn't need work, they'll consider it," Gary Vermaat says.

When clients list with Lenny, Vermaat & Leonard, they'll have access to marketing methods that put their home in front of as many people as possible, whether it's on industry websites or social media. And while the agents work through negotiations, the agency has a dedicated support staff helping to prepare paperwork and ensure no detail is left overlooked.

Mike Biemer has always felt well rep- resented. "Gary and Mark, and the people who work with them and for them reflect the same philosophy of making everything work," he says. "Gary's knowledge of the business is off the charts. He offers you all of the information, without the hype, and he makes sure both sides are happy."

Lenny, Vermaat & Leonard
90 Tanner St. | Haddonfield
856-428-5150|

LVLRealtors.com



To read the digital edition of South Jersey Magazine, click

here

.



Published (and copyrighted) in South Jersey Magazine, Volume 15, Issue 11 (February 2019).

For more info on South Jersey Magazine, click

here

.
To subscribe to South Jersey Magazine, click

here

.
To advertise in South Jersey Magazine, click

here

.