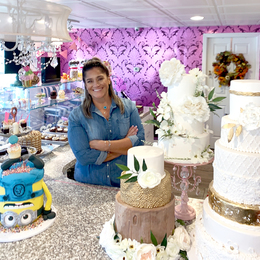 Sponsored Content: Cake Was Her Calling
The Cake Boutique owner Alexandra Benas is putting a smile on people's faces, one cake at a time.

Growing up in the restaurant business, Alexandra Benas was used to being in the kitchen. Her family, parents George and Andrea and brothers Constantine and Michael, owns the popular Harrison House Diner in Mullica Hill and Point 40 Diner in Monroeville. But when the time came to decide what she was going to do with her career, she was at a crossroads.

"I always thought the diner was the route I was going to go in," Benas recalls. "Other than wanting to teach."

With a bachelor's degree from Moravian College, she contemplated getting her master's degree, until a "crazy idea" came to her head—culinary school. Which really wasn't that unusual considering Constantine went to culinary school and now runs the Harrison House with their dad. Combined with Benas's artistic ability and love of creating things, it made sense to turn her love of cooking and baking into something greater.

"I love having fun in the kitchen, especially baking, so I thought culinary school would be a great use with whatever knowledge I had obtained from the diner," Benas says.

After she graduated from the Restaurant School at Walnut Hill in 2009, she thought she would make cakes for friends and family, and the diner, but George had much grander plans for his only daughter.

"My dad was pushing me toward opening a bakery; he thought my abilities would be better suited doing more creative work while still doing things for the diner," Benas says.

And he was right. Benas opened The Cake Boutique in 2011 in Mullica Hill, down the street from the diner, and hasn't looked back. She has a thriving business filling custom order cakes and other treats and finds the most satisfaction being able to use her creativity and wowing her customers with her over-the-top creations.

"What I love most is when someone gives me creative freedom; doing things that haven't been done before. I love to use my creative thought process and take something out of the ordinary and make it spectacular. To bring my ideas to life and have my customers see their cake or cupcakes as the final product and be shocked to see it was possible, it's rewarding," Benas says.

Benas's specialty is cakes and she creates them for every occasion—weddings, birthdays, baby showers, wedding showers, retirement dinners/parties, anniversaries and engagements, just to name a few. These aren't your regular sheet cakes—Benas creates elegant three-tier cakes you'd find in wedding magazines. All of her fillings and icings are melt-in-your-mouth buttercream, from cookies and cream and peanut butter, to raspberry, Valrhona [French premium] chocolate and mouthwatering Madagascar bourbon vanilla buttercream.

"There's always time for cake," she says with a laugh. "Even for a book club night or wine night. Or if you don't want cake, we can make a French Macaron mini cake, brownies, cake pops and cupcakes. Our most popular cupcake is very vanilla—every box of cupcakes we sell has very vanilla. We have things available for everyone."

Including a gluten-free menu and special orders on vegan items. "Even if you have dietary restrictions, we want to be able to offer something for everyone," Benas says. "We never want to tell you something isn't possible."

She never compromises and only uses high-quality ingredients, especially when it comes to vanilla extract and butter—she never bakes with shortening. "Sometimes the price reflects that," she admits.

The Cake Boutique offers seasonal items and it's no surprise pumpkin cupcakes are now available, along with a cinnamon buttercream streusel cupcake. Every October it has Halloween-themed cupcakes as well, using different candies such as Almond Joy and Reese's Peanut Butter Cups. Be sure to check out The Cake Boutique's Instagram page @thecakeboutiquenj to see more cakes and cupcakes that are featured this month.

Benas is proud of her business's success and being able to support the community she grew up in. She says she wouldn't be in the position she's in today without the love and support from her family, especially her father.

"My dad was a big inspiration. He saw what my capabilities were and how it could be something great," Benas says. "He and my mom encouraged me to jump forward and go this route."


The Cake Boutique
115 Swedesboro Road | Mullica Hill
856-418-1226 |
TheCakeBoutique-NJ.com
To read the digital edition of South Jersey Magazine, click
here
.
Published (and copyrighted) in South Jersey Magazine, Volume 16, Issue 7 (October 2019).
For more info on South Jersey Magazine, click
here
.
To subscribe to South Jersey Magazine, click
here
.
To advertise in South Jersey Magazine, click
here
.