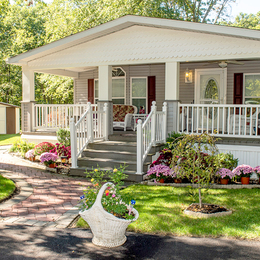 Sponsored Content: A Perfect View
Pine View Terrace offers tranquil retirement living at an affordable price.


Retirement can be an exciting time in a person's life, as he or she begins to shift from the hectic everyday schedule of the working world to a hard-earned period of relaxation. Many people in this situation may find it challenging to find an affordable home close to family and friends—but it doesn't have to be.

For almost 60 years, Pine View Terrace has been solving that issue for South Jersey residents who are at or approaching retirement age. Nestled in the Pinelands, the charming 55-and-older manufactured housing community has been owned and operated by the Skipper family since 1963.

Started by the late Verdon Skipper, the founder of the New Jersey Manufactured Housing Association (NJMHA), Pine View Terrace is now run by his daughter Debbie, who remains on the board of directors at the NJMHA.

"I'm so blessed to be part of such a beautiful community at Pine View Terrace," she says. "We have wonderful residents, it's a veryquiet and peaceful neighborhood and the grounds are immaculate. I'm very proud of what my family has built here."

Since many folks at retirement age no longer need the large, multiple-story homes they raised their families in and have little desire to maintain the property, downsizing has become common. While some may opt for the warmer climate of Florida, the majority of locals prefer to stay and enjoy their later years in the Garden State—but the high New Jersey property taxes often make it difficult.

Pine View Terrace alleviates that concern by not only offering affordable homes, but including taxes within a lower monthly maintenance fee than most manufactured housing communities offer. Water, sewer, snow removal, a dog park, garbage pickup, mail delivery, a full-time maintenance staff and basic cable television are among the other amenities included in the low price of $525. Many residents also take advantage of a heated saltwater pool, two lakes stocked with fish for catch-and-release fishing and scenic walking trails.

"So many people are moving out of New Jersey because of the high taxes, but now you don't have to worry about that," Skipper says. "People at that age don't want to move away from their grandchildren; they want to be within driving distance of them. We fill that need."

New homes at Pine View Terrace range from $79,000 to $169,000, and pre-owned homes are available between $35,000 and$50,000. There are two- and three-bedroom models, either with one or two bathrooms, and all come with central air conditioning, composite steps, sheds, appliances, window treatments and washer/dryer. Many homes also have multiple high-end features such as fireplaces, ultimate kitchens, entertainment centers, outdoor decks and large, ceramic walk-in showers.

If any of the available models don't fit a person's needs, homes can also be custom designed and built in 12 weeks, if not sooner. "They get to pick their own colors—exterior and interior—and they also pick their carpets, their cabinets and more," Skipper says. "It's a lot of fun and then it's like Christmas when the home comes in and we get it set up. We alsomake sure the home is built to fit thesite. If it backs up to the woods, we put a porch on the back so you can take the views in. We'll put in a walk-out bay window or transom windows as well."

All of the sites are sizable with a yard to plant flower gardens and enjoy the outdoors. There is plenty of natural beauty in the area, with a family of pure white deer and eagles calling the nearbywoods home.

The location is appealing as well— about an hour away from Philadelphia, 40 minutes from the Jersey Shore and 20 minutes from Mount Holly. Deborah Heart and Lung Center, now affiliated with Capital Health, is three miles away and several shopping centers are close.

"When we retired we wanted to relocate as close to the Jersey Shore as we could afford," says Linda, a current resident. "Pine View Terrace gave us that luxury. We love our home and the park is extremely well maintained and affordable. [We're] so glad we found Pine View."

Pine View Terrace is unique in the fact that it is one of the few 55-and-older communities left in the state that is family owned, compared to a large real estate investment trust (REIT) focused on the bottom line. Skipper's daughter Jill is a full-time employee and will one day become a third-generation owner.

"It makes a big difference when it's family owned and operated," Skipper says. "The community is clean and neat and you have an owner on the premises that you can talk to. We get to know our residents, their children and their grandchildren and it makes for a welcoming feel. We're constantly upgrading the community and making sure it remains a beautiful and affordable place to live."
Pine View Terrace
2 Terrace Road | Browns Mills
609-893-3388 |
PineViewTerrace.com
To read the digital edition of South Jersey Magazine, click
here
.
Published (and copyrighted) in South Jersey Magazine, Volume 16, Issue 7 (October 2019).
For more info on South Jersey Magazine, click
here
.
To subscribe to South Jersey Magazine, click
here
.
To advertise in South Jersey Magazine, click
here
.