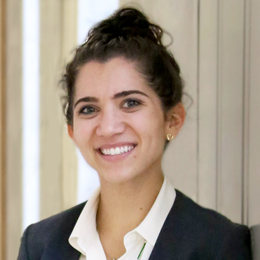 Names to Know
Local people achieving big things in South Jersey and beyond.

Kimberly Dickstein
Dickstein had the honor of being named Camden County's Teacher of the Yearfor 2019-2020. A teacher at Haddonfield Memorial High School for 11 years, Dickstein has dedicated her time to celebrating her fellow colleaguesand students' achievements. She wants to lift up every voice and recognize all of the county teachers' hardwork and dedication as well as having them know that someone believes in them.

Rebecca Leavens
As a young girl, Leavens struggled with self image and the pressures that come with being a girl. She watched other young girls go through the same insecurities, sparking her inspiration. Now a Shawnee High School student, she decided to create a nonprofit that helps girls going through cancer treatments become empoweredby their appearance. Princess Empowerment is more than just making a tiara, it is about enforcing beauty and uplifting a child's self-esteem.

Larry Abrams
A Lindenwold High School teacher and Cherry Hill resident, Abrams was given the idea for BookSmiles when a student of his said that she doesn't read to her own young child because it wasn'tpart of her culture. Beginning in 2017, BookSmiles aims to help every child have access to books and to excel in life through reading. The response to donations has been so overwhelming, Abrams has moved the operation out of his garage and into a building in Cherry Hill.

Kenneth Hill Jr.
Cinnaminson's Hill was inducted into the American Martial Arts Alliance Institute Hall of Fame in June for overcoming his hereditary disease and teaching special needs kids martial arts. After being carried out of a fight when he was 22 yearsold, Hill was diagnosed with Charcot-Marie-Tooth Disease which affects muscle tissue. Nowafter overcoming his difficulties, he teaches special needs kids more than just martial arts, but the ability to never give up on themselves.

Alyssa Miles
Miles, a Marlton resident, has been involved in pageants her entire life, winning numerous awards, scholarships, working on Nickelodeon and even getting to walkin NYC Fashion Week. But she also battled with Irritable Bowel Syndrome (IBS) her whole life. Through her pageants and being on the patient and advisory board for the International Foundation for Gastrointestinal Disorders, she has become an avid spokesperson for IBS, working on spreading awareness and helping those who are suffering.

Abbie Galie
Owner of Lower Forge Brewery in Medford, Galie was awarded theDowntown Excellence Award for her work as a social mediapromoter for DestinationMedford. She started Destination Medford because she wanted to show what every shopand restaurant has to offer. Galie and her husband are planning to launch awebsite and an app for Destination Medford in the near future.
Do you know a local person who is doing great things? Let us know by emailing Sydney@SouthJersey.com.


To read the digital edition of South Jersey Magazine, click
here
.
Published (and copyrighted) in South Jersey Magazine, Volume 16, Issue 7 (October 2019).
For more info on South Jersey Magazine, click
here
.
To subscribe to South Jersey Magazine, click
here
.
To advertise in South Jersey Magazine, click
here
.