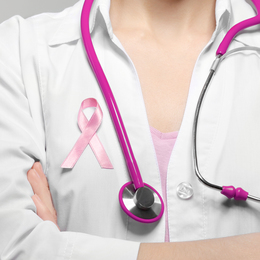 Hope in Every Step
Medical advancements are leading to better treatment and outcomes for those with breast cancer.
This year alone, an estimated total of 268,600 new cases of invasive breast cancer are expected to be diagnosed along with 62,930 new cases of non-invasive breast cancer. Though a breast cancer diagnosis is incredibly frightening, the ever-advancing research is generating better outcomes. From earlier detection, better treatments and even better reconstruction options, breast cancer patients are finding hope in each stage of their journey.
One of the best pieces of news we can report is that technology is making early detection more possible than ever before. According to Dr. Sherrill Little, co-director of women's imaging at South Jersey Radiology, 3D mammography, or "tomosynthesis," is an advanced form of mammography that creates a 3D image and can provide more accurate information about changes in the breast. According to Little, tomosynthesis can be helpful for detecting tumors in women with dense breasts.
Though women are sometimes reluctant to follow through on their yearly mammograms, Little stresses the importance of maintaining those checks in order to make early detection possible.
"The discomfort is usually mild for most patients but if they do tend to experience discomfort during their mammograms, they can take Motrin or Tylenol before they come in," Little advises. "If you experience any issues, you should always let the technician know as it should be their goal to make you as comfortable as possible."
Ultimately, your diligence in finding time for this important appointment can pay off greatly.
For those who do receive a breast cancer diagnosis, the treatments are improving. One positive change has been the fact that many patients with hormone positive breast cancer are able to be spared of chemotherapy, says Dr. Rachel Levenbach of Regional Cancer Care Associates.
"The new data coming out has suggested that not all patients require chemotherapy and those with hormone positive breast cancer may be able to be treated just as effectively with endocrine therapy," Levenbach explains. "By being able to spare certain patients from the toxicity of chemotherapy, we also spare them of the harsh side effects associated with it."
Levenbach says that endocrine therapy involves taking a medication that will decrease the production of estrogen in the body for those with hormone-driven tumors. This will therefore decrease the chance of the cancer returning.
Levenbach says that the advances in treatments continue to give hope to even the toughest cases.
"Even patients with metastatic breast cancer are living longer because of new advances in treatments that we can offer," she says.
Improved Post-Treatment Options
Many breast cancer survivors consider post-mastectomy reconstruction in order to restore their look and their confidence. Of course, many of the more advanced options were not available decades ago—which is why Dr. Steven L. Davis, of Davis Cosmetic Plastic Surgery, says that it's not uncommon for him to see people who had a mastectomy or radiation treatments many years prior.
"I've been in practice for almost 30 years and the progression of when patients had their mastectomy and what their reconstruction capabilities were has changed dramatically," says Davis. "We have patients who went through a mastectomy and/or radiation, maybe 10 or 15 years ago, but never went for reconstruction—and they're coming in now."
Davis says that patients are benefiting from the advancing options available. Today, he performs a lot of
fat grafting (or "transfer"), in which the patient's own fat cells can be used (usually from areas such as the belly or thighs) to give the breasts a more natural look and feel.
Beyond surgery, Davis says that he is also seeing breast cancer patients for skin rejuvenation therapies. Skin pigment and texture issues can arise as a result of radiation, medications and even surgery, but he is using the HALO laser to address these concerns.
"When you have cancer, your only focus is on getting rid of it. But once it's gone, a lot of patients just want the opportunity to feel like themselves again," he says. "New reconstructive and treatment options are offering that."

To read the digital edition of South Jersey Magazine, click

here

.



Published (and copyrighted) in South Jersey Magazine, Volume 16, Issue 7 (October 2019).

For more info on South Jersey Magazine, click

here

.
To subscribe to South Jersey Magazine, click

here

.
To advertise in South Jersey Magazine, click

here

.